Local News
'This is, like, worldwide known for baseball': Boston police seeking men who snuck into Fenway Park on TikTok
"Dude, this is crazy. We're on Fenway Park."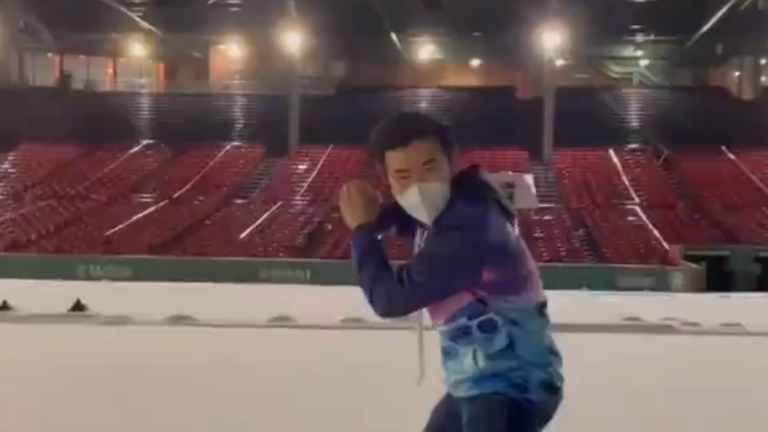 Boston police are searching for two young men who filmed themselves sneaking onto the Fenway Park baseball field in the middle of the night.
The video, which was recently shared on TikTok, was deleted by Monday. It's not clear how they entered Fenway Park, which recently became a mass COVID-19 vaccination site.
"Dude, you can just walk right into Fenway Park," says the "kind of messed up" man filming as he hops through a barricade from the stands.
"Dude, this is crazy. We're on Fenway Park," he says. "This is, like, worldwide known for baseball."
After confusing the pitcher's mound and home plate, the two make the most of their MLB debut by miming a pitch on the snow-covered field.
*NSFW* These guys made the most of it after appearing to sneak their way into a snowy Fenway Park. 🤷‍♂️

(🎥: TikTok/radekjaster) pic.twitter.com/LuGy6VgBez

— theScore (@theScore) February 15, 2021
Though the video is deleted, the associated TikTok account with close to 3,000 followers is still online. It primarily features dispatches from urban exploration excursions, sometimes referred to as "urbexing" — the practice of exploring buildings and structures that are typically abandoned or off-limits.
A Red Sox spokesperson told The Boston Globe that the trespassing happened around 1 a.m. on Feb. 7. The two men ran away after they were confronted by Fenway Park security, according to a statement.
"We are actively working with the Boston Police Department to identify the suspects," the statement said. "The Red Sox take matters of security very seriously and are constantly working to improve Fenway Park's comprehensive security systems to prevent future incidents of this nature."
The incident is still under investigation, the Boston Police Department said in a phone call.
Get Boston.com's browser alerts:
Enable breaking news notifications straight to your internet browser.