Local
A Bostonian moved to Texas, then lost power for nearly 5 days. These two strangers showed up to help.
She began to ask herself, "How long could I sustain myself if need be, and unfortunately the answer was: not very long."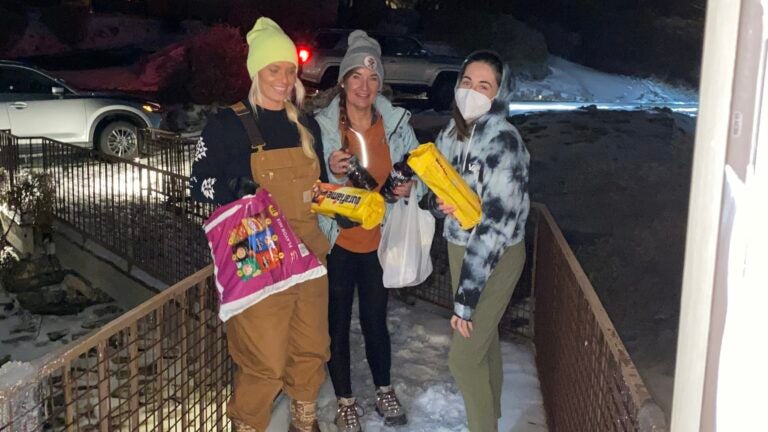 Amanda Pensack was sitting in the dark, shivering, dehydrated, and hungry. 
She wondered when the lights were going to come back on. The power came in waves for five days and nights. 
"The little things that we were all so concerned about every day like, you know, stressing out about a meeting at work or a deadline at work, or relationship problems," she said, "those did not matter at all last week." 
Pensack, who moved to the Lakeway, Texas area on a whim just two months ago, had lived in Boston her whole life. 
Alongside her friend from the city, she had decided to escape the New England winter. Thinking it was going to be in the 60s and 70s, they only brought lightweight clothing. 
Then, last Sunday morning Pensack woke up to about six and a half inches of snow and no power. Groceries from Whole Foods Market were supposed to be delivered to her house that day, but the order was canceled due to the storm. 
Without snowplows in Austin, there was no way to treat the roads and she knew there was no way she would be getting to a store. 
"I started panicking when I was taking inventory of foods," Pensack said, realizing there wasn't much in the house. She began to ask herself, "How long could I sustain myself if need be, and unfortunately the answer was: not very long."
Pipes had been freezing, exploding, then flooding units and households, so city officials turned off a majority of the area's faucets. Water supply was dwindling, she said, and she became dehydrated and was rationing her food. 
"That is a wake up call and a reality check," she said. "That's the kind of event that really changes your life and kind of changes your perspective on how you live your life and how you want to live your life." 
Through a friend of a friend of a friend, Pensack stumbled across a good samaritans Facebook group where Kami Irwin and Kim Hamilton-Pfeiffer were posting live videos as they drove around, delivering essential supplies to people, and helping in whatever ways they could. 
Half an hour after Pensack messaged them for support, they asked for an address and showed up at her doorstep. 
"Late at night, they brought over sandwiches. They brought over more food and a couple of bottles of water, which was the best we could get at that time because we were out," she said. "So they really saved us; they got us through the night and through the next day with their supplies."
Just yesterday the two women posted a video from inside their four-wheel-drive truck letting people know that they were out delivering again, supplied with milk, firewood, blankets, baby formula, food, and water. 
Delivering again today!!! Let us know where you need us! We have #milk #firewood #blankets #babyformula #food #water Kim Hamilton Pfeiffer Amanda Pensack Julie Childs also thank you Shannon J. Wood for the amazing donation we received during the live post! @kami-irwin Venmo #TexasStrong #texaswinterstorm2021 #milk #babies #blankets #prayfortexas #donationswelcome #austintx #HelpOthers #CBS #KVUE #FoxNews

Posted by Kami Irwin on Saturday, February 20, 2021
"Let us know where you need us!" they said, noting that no locations were off-limits. 
The duo have been driving throughout Central Texas helping those impacted by the historic winter storm. 
Pensack said their Facebook post began spreading like wildfire, and local needs ranged from the basics, to getting a diabetic woman her medication, to collecting spare milk from restaurants for babies, to picking up hand sanitizer and baby wipes for people after a week without a shower.
The pair even funded most of it on their own, only recently opening up personal Venmo accounts for donations to keep the help going, Pensack added. 
"I've cried tears of despair this week, but also a lot of joy," she said. "To witness two strangers, two amazing strong women who are braving icy roads, blockaded roads, really dangerous conditions at night to literally deliver me food and water, a perfect stranger, that they've never met before — it was the most touching gesture that anyone's ever done for me because they care." 
Before Kim and Kami stopped at her home, Pensack said she experienced a string of "sweet gestures" from other total strangers.
The first day she called the nearby fire department, which dropped off about 10 cans of beans, some tuna fish, and a couple of bags of open chips from the station. Later, one of her neighbors who she had just met for the first time let her raid their pantry, and another packed lunches for her and her roommate into brown bags.
"Even though it's 70 degrees outside and it's warm and sunny and we have our power back, there's still a big problem here," Pensack said, noting how it may seem like everything is okay but people are still trying to meet their basic needs. "Many people still don't have water and we're in a drinking water shortage now." 
Irwin and Hamilton-Pfeiffer are still out on the roads offering help, she said. 
"We moved down here to Austin to experience a new change of scenery, and we came down here to have warmth and a new climate and just a new experience altogether," Pensack said. "And, yeah, we ended up getting that and a lot more. We ended up getting more visibility with the community and new friends and new neighbors and people who you really know that they have your back, especially in survival situations, where it's just so heartwarming to be a part of something like that — a story that I'll never forget."
Get Boston.com's browser alerts:
Enable breaking news notifications straight to your internet browser.