Local
Smith College president denies 'racially hostile' environment toward white people following employee's allegations
"Members of our community ... are working every day to create a campus where everyone, regardless of racial identity, can learn, work and thrive."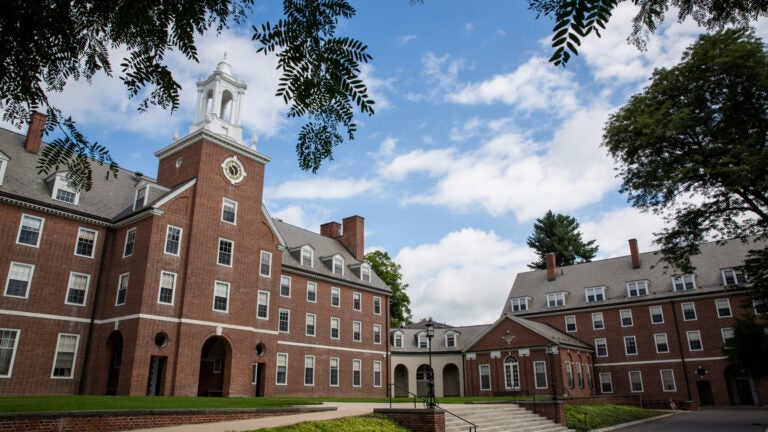 A now-former employee of Smith College, who also happens to be an alumna, says she resigned from her position due to what she called a "racially hostile environment" for her as a white woman.
In her resignation letter, which was posted as part of a Substack newsletter written by Bari Weiss, a former New York Times writer, Jodi Shaw wrote that she was leaving her position as a student support coordinator for the college's Department of Residence Life, saying that, "I have no choice. The racially hostile environment that the college has subjected me to for the past two and a half years has left me physically and mentally debilitated. "
In a letter to the college community in response, college President Kathleen McCartney doesn't identify Shaw as the former employee whose resignation letter was publicly shared. She said that while the college typically doesn't write public letters to the community about someone's resignation, she noted that "the former employee, in her letter, accuses the college of creating a racially hostile environment for white people, a baseless claim that the college flatly denies."
"In addition, her letter contains a number of misstatements about the college's equity and inclusion initiatives, misstatements that are offensive to the members of our community who are working every day to create a campus where everyone, regardless of racial identity, can learn, work and thrive," McCartney wrote.
A spokesperson for the college didn't identify Shaw as the subject of McCartney's letter when asked by Boston.com, noting that the college does not "comment on potential or pending litigation." The college did, however, confirm to The Boston Globe that Shaw worked there until last Friday.
Shaw claimed in her letter that the college changed after the July 2018 incident during which campus police were called on a Black student eating lunch in a campus building while on break from her summer job.
A 1993 graduate of the college, Shaw said that back in August 2018, she was told by a supervisor that giving a library orientation she'd prepared as a rap song could be thought of as "cultural appropriation," and she was told she couldn't present it. After that incident, Shaw said she moved on from the library position to the one at Residence Life.
"In my new position, I was told on multiple occasions that discussing my personal thoughts and feelings about my skin color is a requirement of my job," Shaw wrote. "I endured racially hostile comments, and was expected to participate in racially prejudicial behavior as a continued condition of my employment."
In January, Shaw said "the last straw" was when during a retreat centered on race, she said that when she told other participants that she didn't "feel comfortable" talking about race, it was a way of expressing "'white fragility.'"
"I was shamed and humiliated in front of all of my colleagues," she said.
Shaw set up an online fundraiser for herself for legal expenses, and living expenses. She said the money – so far she's raised over $215,000 – is not just for her but for others "forced to leave their jobs due to a hostile work environment and/or would like to take legal action but cannot do so due to lack of financial resources."
In McCartney's letter, she said she wanted to "ensure that each of you has accurate information," noting that, contrary to what Shaw claims, the college didn't attempt to offer her money to keep quiet, saying that she "demanded payment of an exceptionally large sum in exchange for dropping a threatened legal claim and agreeing to standard confidentiality provisions." 
McCartney also notes that she believes Shaw's claims are less about issues at Smith, but rather, based on other things she she's said publicly, "her grievances about equity and inclusion training run more broadly — as she puts it 'to the medical field … the publishing field, the tech field, it's in the schools, the legal field, public schools, private schools, colleges of course, government. It's everywhere.'"
McCartney said that Smith's approaches to equity and inclusion have to do with evidence.
"Research demonstrates the continued presence of systemic discrimination against people of color across all areas of society, from education to health care to employment," she said. "Redressing the reality of racism requires asking ourselves how we might, even inadvertently, reinforce existing inequalities or contribute to an exclusionary atmosphere. While it might be uncomfortable to accept that each of us, regardless of color or background, may have absorbed unconscious biases or at times acted in ways that are harmful to members of our community, such self-reflection is a prerequisite for making meaningful progress."
Get Boston.com's browser alerts:
Enable breaking news notifications straight to your internet browser.