Local
Thaddeus Miles started a project focused on Black joy a year ago. Here's what he wants you to know.
"When we have joy, we can dig deep."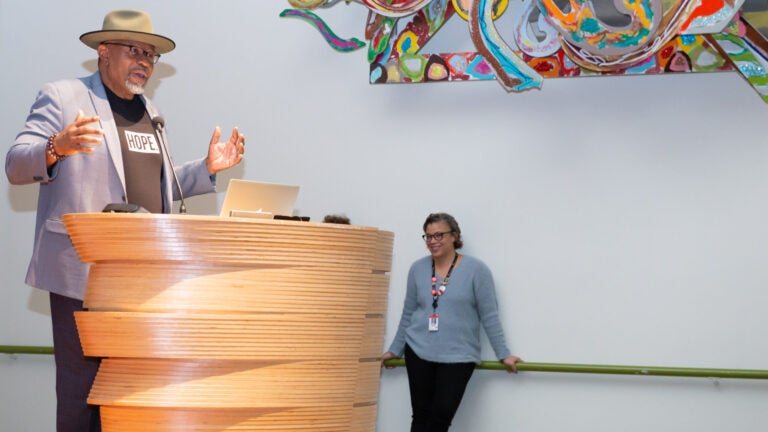 Thaddeus Miles was struck seeing a photo of himself laughing.
In the picture sent to him after attending an event in 2019, he saw himself smiling wide — eyes crinkled with delight — as he stood with four other Black men in conversation, all of them laughing.
For Miles, the photo captured what he calls "Black joy" — a celebration and conversation that often is not represented, he told Boston.com.
He quickly sent it to the others in the photo — Paul Francisco, chief diversity officer and head of workforce development programs at State Street; Suffolk County Sheriff Steve Tompkins; Conan Harris, who at the time was executive director of My Brother's Keeper (and is also the husband of Congresswoman Ayanna Pressley); and William Onuoha, executive director of fair housing and equity for the City of Boston.
Writing back and forth to one another, the men agreed that people needed to see more of such displays of Black joy.
"[People] don't always get to see Black men just enjoying themselves and being around each other," Miles told Boston.com. "And we don't have those conversations, especially, [around] what some would call powerful Black men."
Seeing the joyful image of himself in that moment made Miles realize he wanted to start a community project focused on celebrating and reflecting on Black joy.
The director of community services at MassHousing, who has focused on community work across the state for 25 years, decided to launch the "BlackJoy" project in early 2020, as part of his participation in YW Boston's 2019 LeadBoston Class.
To Miles, joy is what nourishes the "seed of resilience" each person is born with. But it is not the absence of pain — and it is not the same as just happiness.
Being happy, he explained, is like giving him a dollar. There's only so much he can do with it.
"But being joyful is like giving me $10,000," Miles said. "I can save it, I can do what I can do, and I can put some aside to save to tap into when I need it. Joy is that savings account in some ways."
It also comes through the process of living, he said.
"With joy, we can lift our voice and sing," Miles said. "We can't necessarily lift it and sing as strongly and as powerfully, or with as much conviction, without joy. So when we talk about protesting, when we talk about other components, there's something to that, to me, for sustainability."
From the start, Miles said he knew he didn't want the BlackJoy project to just be him alone.
"I have come to believe that it is important for us to document every part of the Black experience as both a form of cultural appreciation and preservation," he wrote in his artist statement on the website. "'BlackJoy' is my contribution to the collective narrative of the power and influence of black traditions in the world. It is a testimony of the strength and resilience of our people. Most importantly, it is a love letter to Black people. I see you in all your glory and splendor."
Though he knew he wanted to continue documenting joy through his own photography for the project, he set out to organize a series of events that curated Black joy for those who already knew what it was — for them to experience it.
But he also hoped the events would serve as venues for those who didn't know what it was or understand it to be able to engage and gain a different understanding of what Black joy means to members of their community. A diverse crowd of more than 300 people attended the project's launch on Feb. 17, 2020, held at the Museum of Fine Arts. The event featured dance performances, slam poetry, and speakers who talked about their own relationships with resilience and joy.
It was an amazing couple of hours, Miles said, and he was looking forward to holding more events through the year.
But then the COVID-19 pandemic hit.
"We couldn't create as many opportunities," the photographer said. "And then right after that, George Floyd. So there was a lot of different components that were put in place and we still continued to try to figure out how to actually express joy through all of that."
'When we have joy, we can dig deep'
As 2020 stretched on with the deadly pandemic and the protests calling for racial justice during the summer, Miles kept focused on Black joy with his own work, sharing his photography and writing on the project website, including a piece he titled "Open Letter to My Brothers," in which he delved into how he was struggling with sadness during the summer of 2020.
"It was my joy to be able to write it," he said. "It was me being able to express how I was feeling, so that left me with some joy."
At the same time, Miles worked in 2020 to partner with other organizations to highlight and celebrate stories of Black joy. Working with 826 Boston and GrubStreet, he helped create writing contests centered around the subject of Black joy, in partnership with My Brother's Keeper in Boston.
Both writing contests were launched after the City of Boston named Sept. 12, 2020, "Black Joy Day," which Miles advocated for. As part of marking the day, he organized an event in Franklin Park that kicked off with a sunrise healing service focused on joy, followed by socially-distanced qigong, spoken word performances, and virtual conversations focused on mental health.
On Feb. 15, GrubStreet announced the winners of their contest, "Writing Black Joy: True Stories From Real People," which was judged by novelist Lauren Wilkinson, author of "American Spy." Miles shared the winning submissions, which were awarded cash prizes, on his blog for the public to read.
We're thrilled to share the winners of the Writing Black Joy Contest. Sponsored by Thaddeus Miles in partnership with MBK Boston, 826 Boston, and the Black Joy Project. https://t.co/sweW0MO7Xn

— Thaddeus Miles (@Sifublack) February 15, 2021
Christopher Castellani, artistic director of GrubStreet, told Boston.com it was the first time the creative writing center focused a contest around the theme of Black joy. The three winning stories all focused on family, with family connections, traditions, events, and memories standing out as strong themes in the majority of the submissions, he said.
"Though we knew it already, especially from the members of our Boston Writers of Color Group, it was wonderful to be reminded of the power of writing to bring communities together, to document and celebrate small and large joys we might otherwise take for granted, and to illuminate our common humanity," Castellani said in a statement.
For the youth writing contest on Black joy, 826 Boston received more than 50 submissions of poems, narratives, essays, and artwork from young people across New England and in New York. Members of the organization's Youth Literary Advisory Board selected 26 submissions, which will be released as a book by 826 Boston in the spring. The youngest author to be featured in the collection is 11 and the oldest is 20.
Rashawnda Williams, a writer's room coordinator for 826 Boston at the Jeremiah E. Burke High School in Dorchester, told Boston.com what was so exciting about the contest and the project was to give young people a platform to express themselves about happiness.
"It's just like we're constantly hearing about a lot of the negative things happening related to the Black community, and we don't really have space in the media to really focus on the joy and the positivity. … Not even with just the unrest, but also things happening pandemic-related, it was really just cool to give them the opportunity to define what Black joy means to them," she said. "And I think one of the threads of just the book in general is we're hearing a lot about folks' families, we're hearing a lot about resilience, we're hearing a lot about just them feeling empowered and their self-identity and identity. Those are definitely the themes that constantly kept coming up."
The organization held a celebration in early February to allow the young writers to come together virtually and share their work with members of the Boston community and 826 staff. Williams said she hopes to keep the group of youths engaged together as a cohort in the future.
"This work feels urgent and important, and I'm looking forward to having the community be able to read and engage with poems and stories from youth they might not hear on a regular basis," she said. "I wanted these groups of students in particular to know that our stories as Black people extend beyond trauma. Additionally, for our self-care and self-preservation, we must look within ourselves to remember our joy, peace, healing, and happiness."
Miles, who attended the virtual celebration with the young writers, said the whole event was two great hours of reading and talking about Black joy, which is his hope with all the events connected to the project. That they both make space for people to share their own experiences with joy — recognizing those moments that spark happiness — but to also encourage participants and others to reflect on what makes them joyful.
He wants people to both reflect and engage around joy with the events. Because most often, he said, people don't have the opportunity to think about how they reach their own joy or to take a moment to "breathe through it."
"We're always like, 'I can't breathe,' but my question is — how do we breathe?" Miles said. "Because I get that constantly, we as Black folks have been constantly choked from our breaths. Constantly. There's always … that weight on us that's preventing us from fully expanding our lungs. … The reality is there are so many issues and there's so much stress and anxiety that we deal with every day that we have shallow breaths. But when we have joy, we can dig deep."
'We're all history-makers'
The project's next event, "We Belong Everywhere: Celebrating Those Living Their Dream," is being held virtually Tuesday. There has been some pushback against the talk, which is slated to bring together Black and brown FBI agents to share the challenges they face and why they chose to become part of the law enforcement agency. One of the sponsors of the event, Teen Empowerment, announced Sunday it was stepping back from the talk, removing its sponsorship in response to concerns raised.
Miles told Boston.com that he organized the event because even with the historic issues of systemic racism within law enforcement, he recognizes that there are Black members of law enforcement and young people of color who still want to enter the field. He wants the event to be a space where the agents can share why joining the FBI was their dream, how they achieved it, and how they use joy to "move through" the challenges that remain. He also expects the event will focus on accountability.
"The dialogue that has ensued is warranted and necessary," Miles wrote in response to the backlash on his blog, explaining why the event would go on. "Interrogating the meaning behind actions and protecting the things we hold dear as a culture fortifies our movement for justice, equity, and equality. I believe that this event will be transforming and enlightening. I am trusting that those who are meant to participate will be there. I am grateful to all of you for this opportunity to grow. This too, I count as joy."
Personal reflections on joy are just as important as the group discussions and events, Miles said. During Black History Month, he shared he has been reflecting on his own family's history and urged others to do so as well. Each Black History Month, he said he picks a member of his family to focus on and delves into their history. This year, it was an 80-year-old uncle who left home at 15 to move to New York and is "the happiest guy" he knows.
Miles said he's not just focused on the facts of the history, but on how the individuals — both family members and public figures like Martin Luther King Jr. — found their own joy and strength and resilience as they moved through their lives.
"We're all history-makers, and [it's important] to take some time to explore and reflect on our own history and our joy and our own purpose and how we are living in our purpose — and how is the joy impacting that?" Miles said. "That's really for me the aspects that I try to look at. [Choose] a family member, a historian, or whoever that you feel that's part of your north star. And then to do your own reflection around joy and how it's helped you move through — or what it is that you've lost. How do you regain it to empower yourself?"
While Miles initially started the BlackJoy project with the aim of organizing around it for a year — 12 months later, he said he plans to continue with the work because it continues to bring him joy.
He now sees it as an "ever-continuing project" and hopes that as things begin to open up after the pandemic, that he can partner with more and more groups for events. He already knows he wants to launch a photography contest around Black joy.
"There's so many different opportunities, and hopefully I will have the strength and the opportunities continue as we move forward," he said.
The community services leader said that it has been gratifying over the last year, too, to see more and more people speaking up and talking about Black joy, separate from his own project.
It is validating to see others uplifting joy and it tells him that he has been right in his purpose, on his path.
"It's an affirmation for me to continue to do — and to explore joy — in the many different ways that I have the ability to do it," Miles said.
Get Boston.com's browser alerts:
Enable breaking news notifications straight to your internet browser.