Local
Boston man bikes on frozen Charles river, falls through the ice, bikes on river again a week later
Pro tip: Don't do this.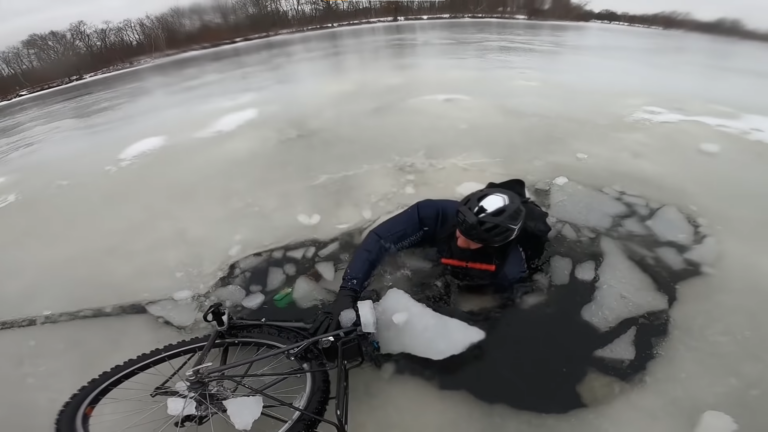 Lucas Brunelle, a Boston cyclist and vlogger known for filming dangerous feats on two wheels, recently departed from a parking lot in Allston and rode his bike onto the semi-frozen Charles River.
He made it approximately 800 feet before falling through the ice.
"I ride my bike the same way I trade stocks," Brunelle said in a phone call. "It's my nature to take high risks and high return."
Brunelle's blunder on February 15, which he shared on YouTube and social media this weekend, apparently did not deter him from hitting the ice again the following week. Social media users spotted a man biking on the river by the Harvard Bridge on Sunday, and Brunelle confirmed it was him. He said the most recent excursion was for a follow-up video which he plans to release soon.
"That one was really epic," Brunelle said of the ride.
If watching a man fall through the ice wasn't evidence enough: It is not safe to venture onto the Charles in the winter, no matter how solid the ice cover might seem. You might be able to safely ice skate on a frozen pond or lake, but a river is a different situation.
"Because the water is moving, it's not likely to freeze thick enough to support people recreating on it," said Julie Wood, the deputy director of the Charles River Watershed Association. "The flow of the Charles isn't so fast that it's an issue where you'd get swept up in the flow; the issue is the temperature."
Ponds and lakes are also usually free of saltwater, which freezes at significantly lower temperatures than freshwater. Though the Charles is also freshwater, Wood said that it acquires a lot of salt from the Boston Harbor and runoff from nearby roads.
The Department of Conservation and Recreation regularly uses signage warning people to not walk on the Charles. A notice from March 2015 (soon after "Snowmageddon," the snowiest winter in Boston history) pointed out that the shifting level of the river could create a large void of air under the ice when it lowers — or crack the ice when it rises.
And it's clear that even a protracted period of below-freezing temps doesn't sufficiently freeze the surface of the Charles to support one's weight, never mind the added pressure exerted by a bike. Boston temps were nearly consistently below freezing for a full week before Brunelle and his companion first went out onto the river, but he still fell through.
The underwater temperature probe at the MIT Sailing Pavilion, which Wood said is likely a foot beneath the surface, has not recorded freezing temperatures at all this winter, and Brunelle's bodycam footage shows that the ice sheet was no more than a few inches thick. Ice needs to be at least three or four inches just to walk on according to ice fishing experts.
To Brunelle's credit, he has pulled off the stunt and many others before, and he did quickly and efficiently rescue himself (and his bike) after he fell in.
"I've been under ice before," he said. "I actually take very seriously being able to be self-reliant, not having emergency or first responders having to dedicate time in a rescue."
It's something that first responders take very seriously. Eyewitness photos and footage shared on social media from the Harvard Bridge Sunday afternoon — around the time of Brunelle's second excursion onto the ice at that exact location — showed at least three Cambridge fire trucks gathered for an apparent water rescue.
Some speculated online that it was Brunelle who had to be rescued, but he says that he was off the ice at around 3 p.m., 50 minutes before Cambridge Fire came to the river. He said he had no idea about the incident, and it's not clear if the other person spotted on the ice has any connection to Brunelle. Cambridge Fire Department Chief Gerard E. Mahoney said in an email that the units investigated the scene after receiving a call about someone on the ice, but ultimately found nothing.
So why does Brunelle put himself in such risky situations? Like most aspiring daredevils, it's the risk itself that entices him.
"There's a real beauty to riding in the middle of this tranquil, surreal river of snow, it's so quiet yet it's in the middle of the city," he said. "And I love beauty and I love things that are risky. I like to defy the odds, and there's a real challenge when you get put into a situation that is that risky — I pride myself in not having fuzzy logic or blurry vision when time slows down and things become a matter of life and death.
"I mean, I can hold my breath for over two minutes," he said.
Though Brunelle considers himself an adept survivalist, he apparently doesn't feel the need to include safety disclaimers — a simple "Don't Try This At Home," perhaps — in the videos he shares with his audience, which includes 120 thousand followers on Instagram and 35 thousand on YouTube. From his perspective, encouraging people to take more risks outweighs the potential danger he may inspire in less-experienced riders.
"It is a big concern of mine sometimes… I see people get injured doing what I'm doing — like how I'm trading penny stocks and buying them super cheap, but others see it fail," he said.
"The liability is huge, but on the other side of that… there are a lot more people living on their own accord because they realize they only live once, then there are those cases of people getting injured or killed sometimes," he said.
Get Boston.com's browser alerts:
Enable breaking news notifications straight to your internet browser.