Local
What we know about the 'tragic incident' at a Boston construction site that killed 2 workers
"We will work tirelessly to understand how this happened in order to create safer conditions in the future."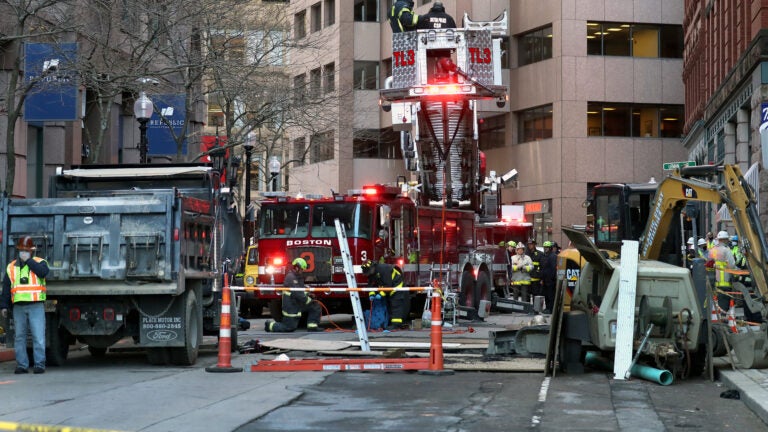 Two families are mourning the loss of loved ones and authorities are investigating after a "tragic incident" at a construction site in Boston on Wednesday morning left two workers dead. 
"We will work tirelessly to understand how this happened in order to create safer conditions in the future," Boston Mayor Marty Walsh said in the hours after the tragedy. 
Investigators have said they are still in the process of determining the exact series of events that resulted in the deaths of the two men, whose identities have not been released by authorities. Family members have identified the two workers as Jordan Romero, 28, and Carlos Gutierres, 32. 
Below, what we know about the incident at the construction site that claimed the lives of the two young men. 
What authorities have said happened 
At a press conference on Wednesday, officials said first responders were called to the scene near 190 High St. around 8 a.m. for reports that pedestrians had been struck by a truck. 
Upon arrival at the scene, first responders located the bodies of two men in a hole in the street. The two workers were pronounced dead at the scene. 
Boston Fire Commissioner John Dempsey told reporters that when the department arrived at the scene, firefighters initially prepared to be engaged in a technical, confined space rescue. 
Once the scene was made safe, a firefighter and member of EMS were lowered into the hole to "assess" the two men, at which time the operation switched from a rescue effort to a recovery, Dempsey said.
The commissioner said rescuers had to move a truck before they lowered the two rescuers into the hole.
Boston Police Superintendent-in-Chief Greg Long said Wednesday that police were still working to determine the exact timeline and series of events that resulted in the tragedy, and were interviewing witnesses and reviewing surveillance footage. An exact "blow-by-blow" of what occurred could not be provided, he said. 
Jared Petruzzella, who owns a barbershop near the construction site on High Street, told The Boston Globe he was waiting for his first appointment of the day to arrive when he saw a truck start, rev its engine, and grind into gear before it jolted backward, striking two men who were sitting over the construction hole. 
"It was pretty gruesome, pretty tragic," he told the newspaper. "It didn't look like anything collapsed on them inside. … It was a panic. It wasn't a good scene."
Family members of the deceased workers told the Globe the mattress-sized hole was about 20 feet deep. 
The investigation into the incident is being directed by Suffolk District Attorney Rachael Rollins, in conjunction with police and the federal Occupational Safety and Health Administration.
Rollins said Wednesday that it was not yet clear whether any crime took place, but she was prepared to partner with the other agencies in the investigation, as when two workers were killed in a South End trench collapse in 2016.
"We know that it's a tragedy," Rollins said of the Wednesday incident.
In a statement Wednesday, Walsh said the city immediately suspended Atlantic Coast Utilities' only other permitted construction site in Boston, saying the company will not be allowed to perform work in the city until "a thorough investigation is complete."
"As a former laborer, the safety of our workers is of paramount importance to me," Walsh said. "I'm heartbroken that two hardworking people lost their lives so suddenly and tragically."
According to the Globe, Atlantic Coast Utilities had been doing an emergency sewer repair for LDJ Development at 190 High St. 
The company has been cited "multiple times" for violating workplace standards in recent years, a spokesperson for OSHA told the Globe. The federal agency reportedly suggested Atlantic Coast Utilities be fined $34,920 in 2016 for one "willful" and two "serious" violations, but the company did not pay the penalties. According to the Globe, in 2019 the company contested citations from OSHA totaling $7,502 for allegedly failing to provide safety instructions to workers and allegedly violating safety rules. 
The company had no citations or violations in 2020, OSHA told the Globe. But the newspaper found in a review of U.S. Department of Transportation data that 15 vehicles operated by Atlantic Coast Utilities failed highway safety inspections almost 27 percent of the time, above the 21 percent national average for vehicle inspections of similar companies. 
According to the Globe, drivers for the company were twice ordered off the road due to licensing issues. 
MassCOSH, a local worker safety group, called the deaths of the two men "preventable" in a statement on Wednesday. The group said Atlantic Coast Utilities' record with  OSHA "raises serious questions regarding Boston's Inspectional Services permitting process."
"It is unclear at this time if the City did not conduct due diligence in awarding the permit or if Atlantic Coast Utilities failed to submit, or submitted incorrect information during the permitting process … One way to ensure that workers are safe is to prevent companies that have failed to protect their employees from receiving public contracts and/or permits," the group said. 
On Thursday, Walsh in a statement again reiterated that the company will not be allowed to perform work in the city until an investigation into the fatal incident is complete. 
"No worker should ever have to worry about their safety or well-being at the job site," Walsh said. "We need to understand what happened, so we can create safer conditions in the future."
What we know about the victims 
While authorities have not released the names of the two workers who were killed, family members are speaking out and sharing memories of the two men. 
Jordan Romero, 28, of Lynn, was an employee of Atlantic Coast Utilities working on the private sewer line repair, his 23-year-old sister, Leslie Villalobos, told the Globe. 
She described her brother as "a fun guy" who was full of life and a hard worker. He was the oldest of four siblings, she told the newspaper, and always served as her protector. 
Romero got married on Jan. 2 and leaves behind children, she said. 
Villalobos told WHDH her brother's two children are currently living in El Salvador, and he had been trying to find a way to make the money needed to bring them to live with him in Lynn.
"He found his job [to be] like an escape from reality," Villalobos told the Globe. "And he just wanted to work really hard for his kids. … He always told me, 'Life is gonna get tough, but you got to push forward, keep going.' "
Carlos Gutierres, 32, also worked for the Atlantic Coast Utilities, his sister, Edna Gutierres, told CBS Boston. 
Families Mourn Workers Killed In Boston Construction Accidenthttps://t.co/e8h90RXvn0 pic.twitter.com/txl9p2d9zF

— WBZ | CBS Boston News (@wbz) February 25, 2021
Originally from Guatemala, Edna Gutierres told WHDH her brother was living in Chelsea.
He was a hard worker, she told CBS Boston. 
"He was working for his family, trying to do the best for them," she said.
Get Boston.com's browser alerts:
Enable breaking news notifications straight to your internet browser.