Local
Q&A: Karilyn Crockett on what steps have been made since she was named Boston's first-ever chief of equity
"Partnerships with folks outside the building have been critical."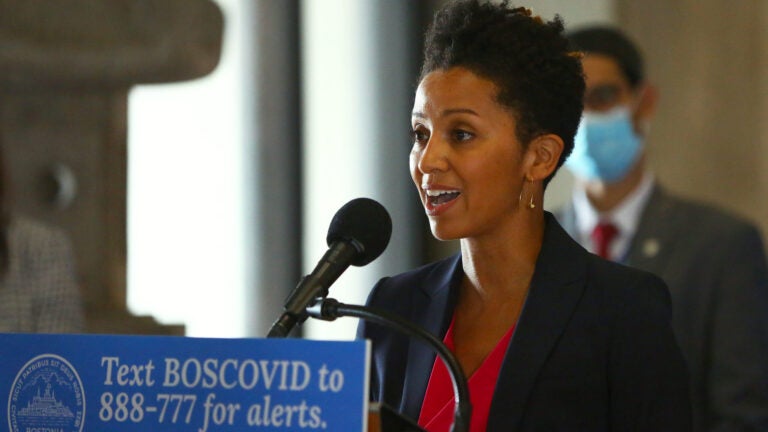 Karilyn Crockett was appointed to serve as the first chief of equity for the City of Boston last summer.
The Dorchester native and lifelong Bostonian spoke with Boston.com a few months into her appointment to the new cabinet-level position, heading the city's Office of Equity and tasked with leading efforts within Mayor Marty Walsh's administration to "embed equity into all city work" in the pursuit of actively working to dismantle racism within Boston.
Crockett, who previously served as the director of economic policy and research and director of small business development for the City of Boston before taking up a position as a lecturer at MIT, shared that she was starting her position by doing a "scan" of all city departments, initiatives, and budgets and outlined her priorities for the role moving forward.
With about eight months in the position under her belt, we wanted to know how things were going as the city continues to push forward in its efforts to address racism as a public health crisis.
Below, Crockett shares some of the efforts that have been ongoing to improve equity in Boston amid the COVID-19 pandemic, which has exacerbated existing disparities with communities of color disproportionately bearing the brunt of its impacts.
The conversation has been edited for clarity and length.
Boston.com: Based on the work you've been doing since you took the position and took over the role, how would you outline your priorities for this role? Have those priorities changed at all from when you first took on the position?
Karilyn Crockett: Much of the priority that I had coming in the door was really based on looking at the racial wealth gap and closing the racial wealth gap and understanding that. Alongside of that has been a deeper understanding of what [the racial wealth gap] means for health equity and also what that means for economic recovery in general.
What I've been doing is just building out the foundation of the work. On closing the racial wealth gap work, the Racial Equity Fund has been an important way for us to really drop anchor with a set of civic leaders, education leaders, and philanthropic leaders. And then to enter into a deeper partnership with the [Federal Reserve Bank].
On the health equity side, lots of powerful work there, teaming up with the mayor's office of human services and the public health commission, who have really been working on the mayor's declaration, which declared racism as a public health crisis. And trying to think broadly about what it means to really center our work — and what it means to call out racism in such a very, very particular way.
So a lot of what's been going on has just been working in partnership internally with city departments and agencies, and then looking outside of the building to see — who are these other partners who are really willing to take on this big work of equity? It's been an incredibly busy and productive time because there's such an incredible appetite, and even hunger, for understanding what equity is … across the city.
You took on this role at a time when we were seeing protests both locally here in Boston and nationally calling for justice and for addressing systemic racism. What progress do you think has been made in Boston around that discussion? Are there any efforts you feel have been successful that have originated with this role?
A big part of the progress is — we definitely have much more to go —  is a sustained focus on the issues of racial equity, economic inequity at a systemic level. So what has been so important for me in the work, and certainly for Mayor Walsh's commitment and vision, is to make sure that we're having a discussion about systems change. That this is about organizations, it's about policy, it's about investment. That this is not about old ideas of people's behavior, just people's attitudes or interactions with each other.
There's been a leap forward based upon how we understand systemic disadvantage, systemic practices, so that's the conversation that we've really been focused on. And [it's] very important to make sure we're understanding what that means for the public health space, in terms of data and research that's really focused on how systems are contributing to different life chances and outcomes. It matters in our economic institutions how we understand the decisions that are made by banks, sometimes by lending institutions, how that affects the entire trajectory of a population or a neighborhood. And so our history — with redlining or urban renewal — keeps us focused on the systemic need for change.
I do feel like that has been a very intentional articulation of the problem, which indicates that we are in a different place about how we understand, what are the underlying bases of racial inequity? And to understand that obviously equity and equality are different. Even that level of understanding puts us in a different place as we talk about systems.
So that said, partnerships with folks outside the building have been critical. We've had the sustained conversation with the Federal Reserve Bank. Also important conversations with our partners in the health care world and folks who are really saying, "OK, what else can we do?" I had a really good conversation with the folks at Beth Israel Lahey, also Mass General Brigham, just saying what can these large health care providers and major academic institutions do differently to make sure that they are helping us — not only heal from this moment of the pandemic of COVID — but also the public health crisis of racism. What can we do differently in our institutions that are downtown, in our supporting institutions that are health care centers in the neighborhoods? These to me are the kinds of conversations and commitments that we have been needing and waiting for — for more than a generation.
So I feel like in this moment [there is] a level of development or maturation of the conversation that Boston can be in very direct conversations about how to build a different set of solutions, a different set of tables, that definitely is informed by some of the demonstrations that we saw in the streets following George's Floyd's murder. … Those protesters and folks raising their voices were really demanding not only change, but different sets of folks engaged in those kinds of conversations. So when the mayor declared racism as a public health crisis, it wasn't just words, it was also about setting in motion a set of institutional changes.
One was the creation of a chief of equity, another was the creation of the equity and inclusion cabinet. Calling these pieces together has allowed us to really drill into what that means on a daily basis, in terms of what are some of the new practices that the equity office can bring into City Hall. … That has had an effect on the budget planning process, where we have brought equity frameworks into that process, which is internal. It's important to really lift up equity in the conversation around budget planning and organizing because we've been able to withstand a very intense year of change and need. And as we move forward, we want to make sure that our values, even our budget values, are prioritizing communities, populations, and efforts that allow us to have this full recovery. Thinking about people of color, immigrant families — those who have really been bearing the burden and brunt of this moment and pandemic — we want to make sure that we continue to focus on and prioritize these communities in everything through our budget planning.
Similarly through our legislative planning work, working with the intergovernmental relations office this year to think through our legislative package and how that is informed by an equity framework. I was really happy to work with a broad coalition to deliver our transparency bill. That's just one of the items in this package that we were able to get through that lets us for the first time start collecting data related to wages and raw wages and race. So [it's] a statewide effort that the administration has put forward to bring people into conversation about how we can start to think about pay equity, gender equity, what that means by race, and having a broader conversation. I mention these things — the budget planning piece, the legislative piece — to talk to you about broad processes where the office and me, working with internal leadership, has been doing this work of embedding equity into all the city's work. Some of it is not very glamorous, but very necessary if we're going to really drive equity as a value, as an outcome, and as a process into all the city's work, which is my mandate.
Are there any steps in particular that you really want to see taken by the end of the year based on the equity scan that you did when you first started this role?
One of the things that has been highlighted is a conversation on digital equity. … There have been multiple efforts in the city to support this need around digital equity, and there is a need for us to really lean into that space. So we've been talking with some providers about what it would mean to bring digital internet access to people's home that's safe and reliable and then some of the training that would need to go with that — in terms of digital training but also just the hardware.
What I found through the scan work was there were multiple parts of City Hall that were working on this issue, and some of what we did was to bring people together. And now working with Chief [David] Elges to talk about how we could hire someone or prioritize the hiring of a digital equity advocate, as someone who could really give us some focus and some capacity to help with these different departments and agencies that are working on this.
That's another example of how the equity office is trying to help identify issues that we see internally and externally and then provide some additional coordination and support to get work. So that every day, people in the city can feel the impact but also know that their tax dollars, and the resources that are a part of how the city runs, are being prioritized in ways that can really highlight and advance equity.
So again, that is how the scan, and even our ongoing conversations, have been important. Because it helps us see across what is a broad set of departments and agencies, but also helps us look at the city and what we know people are needing right now. Because COVID is continuing to really be, not only a source of stress, but an opportunity to reimagine what people can have and what they need.
What has the biggest challenge been?
There are so many challenges around just time sometimes. There's so much to do, and I think the work is so urgent and so important that we're constantly sort of meeting and talking to folks and looking at research and trying to move things. It's always just a matter of time, of trying to be able to move with intention and quickness. … We are again still in this moment of call to accountability, a call to commitment and wanting to make sure we use the time that we have to organize, to coordinate, to get folks in the private sector, folks in the health care sector and education sector and cultural worlds to come into some set of agreements — about what are we going to do to address the racial wealth gap? What are we going to do to address equity? What are we going to do to address health equity and even economic mobility? And how can we do that in a way that is coordinated and of the moment?
I have been really encouraged and inspired even by the level of commitment and sense of urgency. It just feels like making sure that we are using the time that we have to really prioritize the communities that really need and deserve it, that are carrying us through this moment. And that we're being thoughtful about our decision-making so that it is long term. It's not just reacting to a moment, but giving us a way to project into the future so that we can protect ourselves decades and even a generation or more into the future, which is important. You have an immediate crisis moment that we're in, but the need to take a long-term approach and vision to get us some place else.
In doing this work, what does it mean to you to see Boston City Councilor Kim Janey poised to become the first woman and first Black person to become mayor of Boston? What will it mean for doing this work related to equity in the city?
It's very exciting and powerful to see how the power of the council and even the composition of the council has transformed itself in the last number of years so we can have a historic number of women and women of color. So that we know that we have this strong pipeline of leaders who are ready to take charge of the city, of the council, and now City Hall. So this is nothing short of incredible, certainly historic, but also a testament to all of the work of the voters and the council to make sure that the city council and its leadership is reflective of the power of our city. A city that is majority people of color, a city that is definitely full of women, and it definitely needs to be reflected in all aspects of government.
Get Boston.com's browser alerts:
Enable breaking news notifications straight to your internet browser.