Local
Boston city councilors call for review of construction safety measures after deaths of 2 workers
"No worker or their family member in this city should have to worry about whether or not their loved one will make it home safely at the end of the day."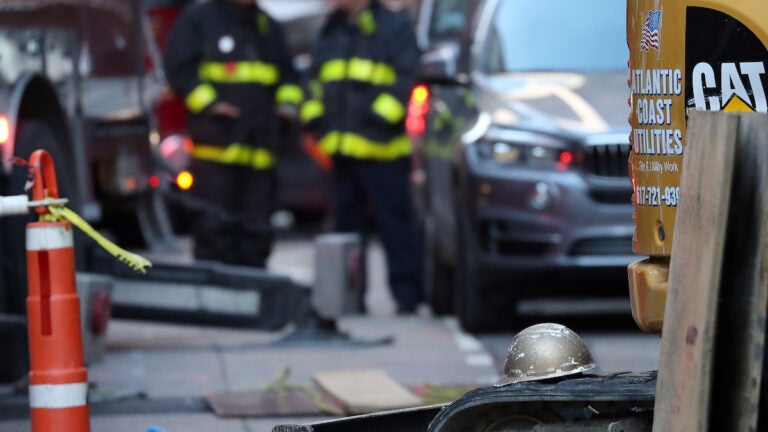 Boston city councilors on Wednesday vowed to probe existing safety precautions at construction sites across the city and potentially consider new ways to ensure workers and others at and around job sites are safe after two men were killed at a downtown job site last week.
"Construction workers are a critical part of our workforce in the city, and it is imperative that these sites have the appropriate measures in place to ensure their health and safety," said Councilor Ed Flynn, who sponsored an order for a hearing to review current practices.
On Feb. 24, Jordan Romero, 27, and Juan Carlos Figueroa Gutierrez, 33, were killed while working for Atlantic Coast Utilities at a site near 190 High St. The company was conducting an emergency sewer repair in the roadway, and first responders found the bodies of the two men in a hole in the street, which family members have said was approximately 20 feet deep.
A subsequent Boston Globe report cataloged a "lengthy history" of workplace safety violations and legal disputes involving the utilities company and its owner.
According to the newspaper, Romero and Gutierrez were knocked into the hole when the operator of a truck owned by the company struck them with the vehicle, a witness said. Suffolk County District Attorney Rachael Rollins is investigating the incident.
"These construction site tragedies are highly preventable and illustrate the importance of construction site safety, especially when cranes and machinery are set up in areas with dense pedestrian traffic or above streets with heavy traffic," Councilor Liz Breadon said.
In the hearing order, councilors listed a number of workplace deaths and injuries in recent years as Boston experiences an unprecedented building boom.
A construction worker was hit and killed by equipment while preparing "First Night" celebrations in 2019. A woman was seriously injured when debris fell from a North End construction site in July 2019, and a worker was killed in a 2016 crane accident in the Longwood Medical Area, the order highlights.
Shortly before the council met Wednesday afternoon, a worker was killed and another was critically injured when a stairwell collapsed at a parking garage in Cambridge.
A Globe report published on Feb. 26 found that the owner of Atlantic Coast Utilities had failed to disclose his company's workplace safety violations to the city before last week's incident. If he had done so, the company could have been disqualified from carrying out the job.
Breadon said officials must make certain the city does not award contracts to companies with a demonstrated history of safety violations.
Companies that fail to illustrate their entire track record — intentionally or not — should face a penalty, Councilor Michael Flaherty said.
"We should probably include an affidavit, by which they sign into the pains and penalties of perjury," he said. "And more importantly, in the event of a situation where someone with shady business practices comes in, and they lie or omit of previous incidents, and then they get the contract and something happens, it should be a significant ban, arguably, possibly even a lifetime ban of doing business with the city."
Other councilors said their review should also include consideration of issues surrounding workers' rights to payment and protections for undocumented workers.
"One of the greatest injuries to workers is not getting paid," Councilor Lydia Edwards said. "So yes, we're talking about death, but there's a slow death when you're freezing in your house because you can't pay rent."
During their hearing, councilors hope to solicit input from the Boston Inspectional Services Department, Boston police, and the Massachusetts Coalition for Occupational Safety and Health, among other parties.
Read the full hearing order:
Get Boston.com's browser alerts:
Enable breaking news notifications straight to your internet browser.