Local News
Meet the 23-year-old who launched her own game company to teach people about systems of oppression
"You can receive all the information without the pressure of feeling like you don't know enough."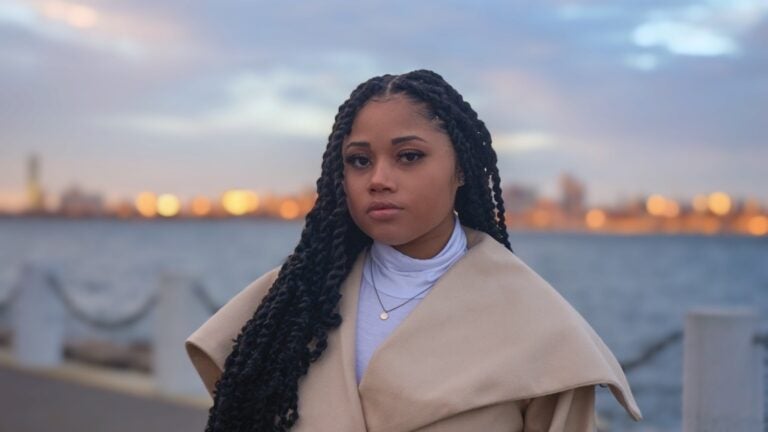 It was a game that sparked Toiell Washington's interest in math. 
She'd been struggling with the subject in third grade, so much so that she was held back to repeat the year. But after discovering an online math game, she found herself engaging more and more with the work. 
Unlike her previous math lessons, it was fun and competitive, she told Boston.com. 
She did so well that she ended up becoming advanced in math for the rest of her time in school, doing work in the subject beyond her grade level up through high school.  
The experience rooted in her a love for nontraditional learning, a passion that led her in 2021 to launch her own game company, The Master's Tools.
Washington, a senior at Salem State University and co-founder of the community organization Black Boston, said that while she always had a passion for nontraditional learning and using games in education, she was moved to start her company this year by a confluence of factors. 
In part, she was inspired by seeing parents struggle during the COVID-19 pandemic with working from home and also trying to help keep their kids engaged with learning and virtual instruction.
At the same time, Washington said she was struck over the last year by how hard it seemed to be for people to engage in conversations about race and racism related to the Black Lives Matter movement. Last summer, she and a group of other college-aged women founded the group Black Boston after organizing a protest in the city that drew thousands of participants, demonstrating against the killing of George Floyd. 
The 23-year-old said she began thinking and reflecting on what other ways there might be — beyond lectures, power points, and chalkboard presentations — to bring the conversations into the home — or other settings — where they didn't have to be so structured and academic. 
While she was developing a community workshop focused on the school to prison pipeline, she realized that structured a different way, it could be a card game. Then she had another idea for a game. And another. 
"I started creating a bunch of different games," Washington said. "I realized that I could actually make this entire company — because we don't have these types of games. They have reading games and you have math games and you may even have history games, but they don't have this specific subject. And so I thought, why not turn these into some competitive games?"
She launched her game company on Feb. 1 and released her first card game "Meet the Colonizers" a few weeks later.
Washington, a sociology major, drew on the social theory "The Master's Tools Will Never Dismantle the Master's House" by Audre Lorde, her favorite Black feminist scholar, for the name of her business.
"The theory suggests that we cannot use the tools (racism, capitalism, patriarchy, etc.) to fix society, because they are the tools that were used to destroy and divide us," Washington said. "I felt it was very reflective of my games."
Her card game, Meet the Colonizers, is focused on addressing systems of oppression and telling the stories of marginalized people across a range of topics, social movements, and time periods.
Washington said she's developed games that are more specific to certain identity groups, points in history, or systems, but with her first game, she wanted to keep it more broadly focused on dissecting legacies or systems that typically do not reflect the reality of the experiences of marginalized or oppressed groups in the history books.
"A very popular theme in 2020 specifically was calling out different systems of oppression, calling out different people, and just kind of unlearning all the things that we had previously learned," Washington said. "So I decided to drop the Meet the Colonizers game first because [it] is all about exposing American heroes, systems, and even ideas — like the American dream, which clearly is not as much of a dream as people might want … [and] pointing out that while we are praising people and giving them all of these holidays, [we need] to acknowledge all the wrong they actually did."
To play the game, participants take turns posing a question from a card that includes a description of a person, movement, or societal structure, followed by multiple choices of possible answers to the query. Players are given 30 seconds to pick the answer they think is correct. 
A correct answer means you take the card, with the goal of the game to win as many cards as possible. If you get the answer wrong, the turn just moves on to the next player. 
Washington said she sees the game being played in different ways, depending on the setting. She's seen competitive games where players are really focused on winning, especially if the participants are already tuned into the subject matter. 
"Then there are other people or even educators who might buy the game and as they go along, they might discuss it [or say], why is this the correct answer?" the 23-year-old said. "Because a lot of people don't know."
The Dorchester native said she doesn't believe that one game or one company is going to teach anyone the "end-all be-all" of all things related to oppression. But the point of her games is to start the conversation. 
"Because even with one card you get wrong and you go — 'I didn't know that' — then you want to go research, then you want to go look into it and learn more about it," Washington said. "And that's kind of the point, to teach but also to encourage people to teach themselves."
Since her launch, Washington said orders for the game have been coming in from across the United States. She said she's noticed a pattern that some areas where the games are being purchased appear to be college towns. 
"It seems like there are a lot of college students interested," she said. 
The college senior said she didn't develop Meet the Colonizers with any particular ages or groups in mind because she felt the conversation is important for everyone. But, given the nature of the conversation, she suggested that anyone in early middle school or younger play with parents or teachers to ensure they have someone guiding them if words or subjects come up that they don't know. She plans to release other games in the future that are geared towards younger learners. 
"Half of this is based on what prior knowledge you already have about the subject, even if the prior knowledge you have is wrong, which is kind of the point," Washington said. "That a lot of times we learn, 'Oh yeah, Christopher Columbus discovered America.' Which is obviously not true, because there were people here. So you would have had to learn that or supposedly learn that he discovered America, so when you read a question about him, you know who I'm talking about." 
The idea, she said, is that her game is just a jumping off point for people to learn more and educate themselves if they get answers wrong. 
Recalling her own experience with math, Washington said her hope with her games is to encourage people to engage with their learning and education in a fun way. In crafting the questions for the game, Washington said she worked to make sure that she structured the quizzes with a sense of humor, even with the serious subject matter she is tackling. 
For example one of the questions in the game reads, "A movement framed to empower women, but it's really just white supremacy with pink glitter."
"It takes a little bit of the pressure off because they read it and they laugh and go, 'Oh, wow, wow, you said that,'" Washington said. "So making sure that I framed it in a way that it didn't feel like you're in the spotlight — you better get this question right. Because that's not fair. So making sure that I said it in a way that there's some humor in our pain type of situation, just bringing light and not making it something that sounds super depressing and super dark."
Playing the game, she hopes people become less intimidated about not knowing the answers and instead feel empowered to learn more.
It's OK, she said, to not know. 
"There's always space to grow," Washington said. "I feel like the way that the game and rules are set up, it's going to get to the point where there are going to be questions that nobody knows the answer to and it's going to be fine … That's why I think it's important to do learning games. Because you can receive all the information without the pressure of feeling like you don't know enough."
After graduating this spring, Washington said she plans to focus even more on her company, developing and releasing more games. She already has several games ready, but plans to make them available one at a time as her business grows. She even plans to release updated versions of Meet the Colonizers that focus more on specific time periods. 
Above all, what she hopes people learn most from playing her games is that different learning styles need to be accommodated and supported, she said.
Washington said she also hopes her work helps people become more comfortable with being uncomfortable in their learning and education, particularly when it comes to addressing racism and its history.
"When you're uncomfortable, it means that you're learning," she said. "You can't learn inside your comfort zone where you know everything. You have to be OK with being wrong. Because it's OK to be ignorant, but it's not OK to stay ignorant. That is the big bottom line. It's one thing to not know something, but it's another thing to willfully not know something. To hear that these things are going on and to just scroll by or ignore it — that's when it becomes a problem. Because it's not your fault, you didn't have the tool. But once it's been presented to you, it's your decision to take it and use it."
Get Boston.com's browser alerts:
Enable breaking news notifications straight to your internet browser.