Local
Federal funds are helping the MBTA cover losses due to the pandemic in the short term. After that is the problem.
"These slides are some challenging numbers."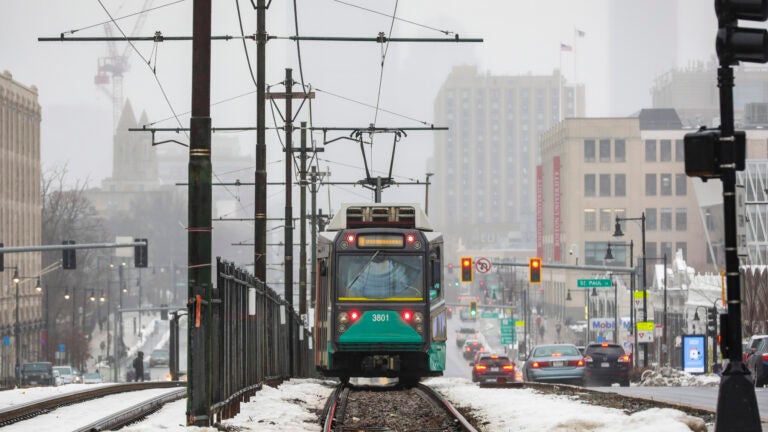 Transit advocates have demanded answers from the MBTA for why it is "holding back" most of the hundreds of millions of dollars the agency has received in federal COVID-19 relief funds, rather than using the money to immediately restore pandemic-induced service cuts.
On Monday, the MBTA delivered one such answer — in the form of its long-term budget outlook.
Even with a third round of relief expected from the COVID-19 relief bill currently moving through Congress, MBTA officials say they face a growing, multi-million-dollar budget gap in 2023 and beyond, due to forecasts showing a slow recovery in ridership.
According to five-year projections presented Monday, federal funds from the two major COVID-19 relief bills last year have helped the MBTA cover the unprecedented loss in fare revenue, which crashed from nearly $700 million during the 2019 fiscal year to what the agency projects to be less than $200 million in the 2021 fiscal year (which runs through this June), effectively wiping out nearly a quarter of the agency's overall revenue.
MBTA officials have also, controversially, saved money from the second relief package to put toward the 2022 fiscal year, along with other ongoing cost-saving measures and budget reallocations. Depending on ridership, the MBTA is even projecting a budget surplus of between $73 million and $287 million in 2022.
"We're OK for 2022," Mary Ann O'Hara, the MBTA's chief financial officer, told reporters Monday morning.
The trouble begins when those one-time funds run out.
Under the most optimistic scenario, MBTA fare revenue will climb back 89 percent of its 2019 levels by 2026, still resulting in operating deficits totaling over $1 billion. Under its more cautious forecast, fare revenue would still be down by roughly a third in 2026 and the four-year budget deficit would be close to $1.8 billion.
The projections don't include the MBTA's allotment from the $30 billion in national transit relief included in congressional Democrats' $1.9 trillion COVID-19 relief bill. MBTA officials maintained that they won't know their specific allotment until a few weeks after the bill is passed and the formulas are worked out (the agency received $825 million from the $22 billion for transit agencies in the CARES Act last spring and just over $300 million from the $14 billion pot available in December's relief bill).
"It might solve [fiscal year 2023]," Joe Aiello, the chair of the T's Fiscal Management and Control Board, said during a meeting Monday, adding that it wouldn't likely be enough to address deficits in the years after that.
Poftak said that the likelihood of another big chunk of federal money at least gives officials additional time to plan.
"But obviously these slides are some challenging numbers," Poftak said.
The forecasts Monday come before the MBTA's second round of planned cuts — impacting bus and subway service, following commuter rail and ferry cuts in January — take effect this coming Sunday. The coming cuts include 20 percent frequency reductions on three of the four subway lines, as well as the suspension or consolidation of upwards of 15 bus routes.
T officials have said that the unpopular cuts are intended to save money while ridership remains low, and say they'll restore service as riders return.
For the first time, the projections presented Monday put a number on the expected savings from those cuts: $21 million during the several months of the 2021 fiscal year that they're in effect.
Poftak, who joined the MBTA in 2015 as it was reckoning with years of mismanagement and operating deficits, noted Monday that the agency is "no stranger to budget challenges." Officials were subsequently able to find $1 billion in savings between 2015 and 2020.
"We gotta do that all over again," Aiello said.
The challenges created by the pandemic's widespread disruption to work and travel is hardly unique to the MBTA, and officials noted Monday that their service cuts aren't as "aggressive" as cost-cutting measures being implemented in other cities. Transit agencies in New York and Washington, D.C., have been looking at service cuts of up to 50 percent.
"This is an industrywide transit challenge that we're all facing due to the disruption of the pandemic and the uncertainty ahead," acting Massachusetts Transportation Secretary Jamey Tesler said Monday.
Still, officials have faced criticism about plans to go forward with most cuts while saving recent federal relief funds, amid concerns that diminished service could further hamper the recovery in ridership, in addition to cutting off some residents from jobs and other needs.
"The point of stimulus is to put it to work now," Jarred Johnson, the executive director of Transit Matters, recently told Boston.com. "Furloughing employees, stranding workers, depressing transit demand, and banking money are not the goals of a stimulus package."
In a statement Monday afternoon, the transit advocacy coalition Public Transit Public Good also called on the MBTA to reverse course on the service cuts, citing the additional round of relief money. While officials at the MBTA declined to speculate, Public Transit Public Good said the bill could provide another $800 million to the MBTA.
"We call on the MBTA to use this new infusion of aid to build back service as quickly as possible, and ensure affordable and equitable service for the region," said Mike Vartebedian, a co-chair of the coalition. "The essential workers and transit-dependent riders who have been deeply impacted by this pandemic are depending on the swift restoration of service."
However, Poftak suggested that the long-term challenges illustrated by the five-year projections released Monday should end those argument.
"I'm hopeful that this somewhat puts to rest the notion that, because the T has received money from the federal government, we therefore should be trying to maximize the level of service in the short term," he said. "I think it clearly pushes us in the direction of how do we best steward our resources so that we can fund the appropriate level of operations for both the immediate and the long term of the T."
Aiello also suggested that the agency should reconsider its plans to reduce wait times on the Red and Orange lines with the arrival of new trains, given the projected slow recovery in ridership.
"That was based on where we were hitting in 2017, 2018, 2019 — a robust economy, continued growing," he said. "Do we need to be running a three-minute headway in [fiscal year 2025], as we've always talked about, or do we ratchet it back?"
FMCB board member Chrystal Kornegay pushed her colleagues Monday to explore revenue-raising measures, not just ways to cut costs, though she acknowledged options for doing so from within the agency were limited.
"When you're thinking about a structural deficit, you gotta think about expenses and revenue," Kornegay said.
The effects of the pandemic also resurfaced a debate over the degree to which fares should be a central part of the MBTA's revenue strategy. Some local advocates and elected officials have called for eliminating fares — at least on the MBTA bus system — as some smaller U.S. cities and many places in Europe have already done. The approach, which would involve a significant shift to different revenue streams, envisions mass transit more like a public good, as opposed to a business with "customers," as MBTA officials often call riders.
Poftak signaled concerns about that approach Monday, calling fares an "integral part of our revenue stream."
"I would be very cautious about any discussion that would jeopardize that," he said.
Get Boston.com's browser alerts:
Enable breaking news notifications straight to your internet browser.