Local
Boston no longer has the country's worst traffic congestion — thanks to the pandemic
The region still ranked fourth worst in the country, according to an annual INRIX report.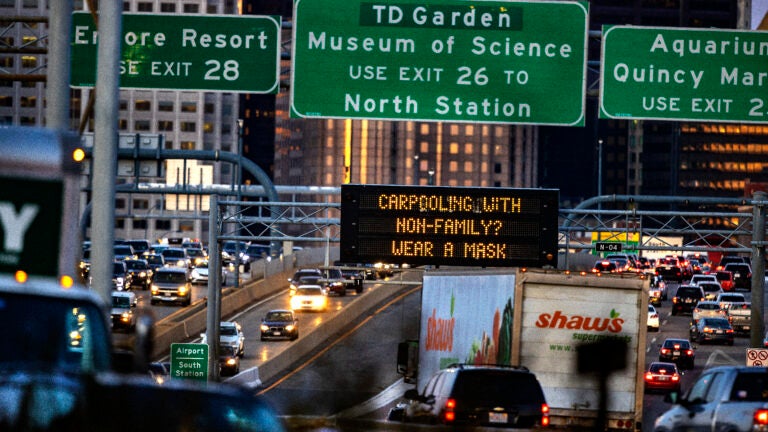 Boston no longer has the country's worst traffic congestion, according to the analytics company INRIX.
All it took was a global pandemic.
As vehicle traffic plunged across the world in the midst of the COVID-19 pandemic, Boston saw one of the more dramatic drops in congestion of any city in the United States, according to the 2020 edition of INRIX's annual scorecard released Tuesday.
The Boston metro area still had the fourth-worst traffic in the nation in 2020. But after two straight years with the ignominious distinction as the country's most congested city, Boston drivers spent 68 percent fewer hours in traffic in 2020, dropping the city behind New York City, Philadelphia, and Chicago in the rankings.
Compared to 2019, when congestion cost the average Boston driver $2,205 worth of time sitting in traffic, the cost of the area's congestion last year was $711 per driver, a savings of $1,517, according to INRIX. The national average was a savings of $980 per driver.
Over the course of the year, the overall number of vehicle miles traveled in the Boston area was down 26 percent.
For drivers who have often been able to breeze through the Tip O'Neill Tunnel during the past 11 months without the usual, all-consuming bumper-to-bumper gridlock, those statistics may not be much of a surprise.
However, the rate at which traffic disappeared — and has slowly recovered — has been particularly notable in Boston, according to Bob Pishue, the author of the INRIX report. Some smaller cities actually saw an overall increase in traffic congestion, while major cities with dense urban cores saw the most drastic drops, with many downtown office employees working from home for most of the year.
"Less commuting downtown means fewer people on the same road network going in the same direction," Pishue told Boston.com in an interview.
With traffic in the area at a "tipping point" before the pandemic, trips to downtown Boston dropped by 87 percent in April compared to February 2020. And they remained down 60 percent in September. After a slight decline in December, downtown trips this past February were still at just 44 percent — less than half — of their levels the previous year.
Detroit was the only city with a larger initial drop in downtown trips than Boston in April, and only a handful of major metro areas — Detroit, Portland (Oregon), San Francisco, Washington, D.C. — have seen traffic remain relatively lower as of this past February. Others, such as Miami and Tampa, have seen downtown trips recover to more than 80 percent of their pre-pandemic levels.
Pishue says its hard to unwind all the individual factors at play  — from varying COVID-19 restrictions to local industries to school reopening policies to public transit ridership to normal seasonal changes in traffic levels. However, he suggested that Boston's density and the lack of outside trips into downtown were the primary drivers. While downtown trips were still down 56 percent last month, overall regional trips were only down by roughly a third.
Despite the devastating human and economic toll of the pandemic, Pishue says its impact on traffic had some important silver linings (in addition to the transportation-driver decrease in greenhouse gas emissions).
"Traffic congestion often imposes disproportionate costs on those who can least afford it – people with the least flexible schedules, entry-level employees, students and low-income families," he wrote in the report. "Yet travel time improvements during the COVID-19 pandemic allowed essential workers, local delivery fleets and services, and long-haul freight to largely travel unimpeded by recurring traffic congestion."
Pishue expects that traffic into downtown will continue to lag behind the rebound in suburban and rural trips, and that the return to normal will largely depend on vaccination rates, workplace policies, and the viability of restaurant and entertainment venues.
While some cities like Dallas and Houston saw traffic rebound more quickly before leveling off last year, Pishue also noted that there's been a more slow but steady trend in the dense urban cities like New York or Boston.
"Even though these larger cities felt the impact more, they've been on a much more gradual return," he said.
Get Boston.com's browser alerts:
Enable breaking news notifications straight to your internet browser.