Local News
GoFundMe launched to support Trader Joe's employee who was reportedly fired after selling alcohol to underage person
"Let's return the favor and help repair something awful that happened to a special person during this awful year."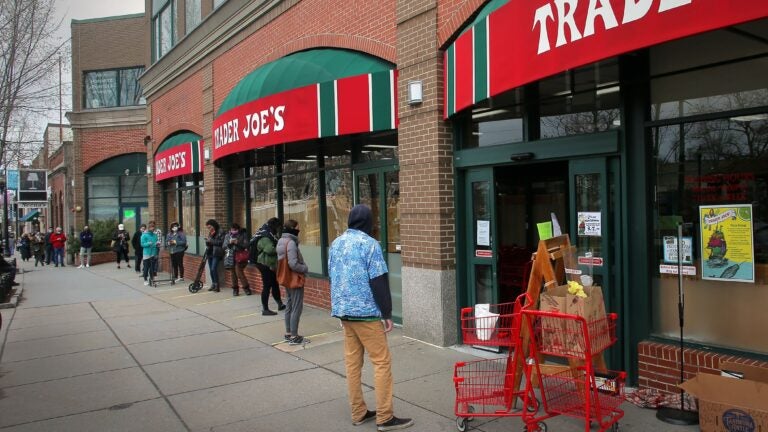 In a "lapse in judgement," longtime Trader Joe's employee Gloria Cocuzzo — a 77-year-old who has become a fixture at the Coolidge Corner store over the years — reportedly sold a six pack of beer to a family member who was a few months shy of their 21st birthday. After what was described as "a harrowing call to the manager's office" and waiting three sleepless nights for a decision, the store fired her. 
Yet those who shop at the location have found comfort in Cocuzzo's presence there and banded together to support her, donating over $21,980 to an online fundraiser in less than two days since it launched. 
"Most everyone who has frequented the Trader Joe's in Coolidge Corner has had their day brightened by an incandescent and loving connection with Gloria," organizer Deanna Miller said in the GoFundMe's description. "She fussed over our children as they grew while always paying us that uplifting compliment that makes one's day. Gloria has put us first. She worked straight through the pandemic not taking a single day of vacation at tremendous risk to herself so that we could feed our families and she could earn a salary, allowing her to simply live paycheck to paycheck."
Cocuzzo had worked at the store for 16 years. 
"Last month as her daughter drove her to get her vaccination shots, even as she was healing from a broken rib she only wanted to get back to her cash register," Miller explained. "And that's where the worst day of her life happened."
According to the fundraiser, Cocuzzo said the incident left her feeling "sick," like she was "about to shatter," and that she would do anything to relive the moment so she could correct her mistake. 
A spokesperson for Trader Joe's declined to comment on the matter directly. Saying, "at this time we don't have anything to add to the story."
 With no income, health insurance, or chance for appeal, Cocuzzo has said she's feeling "utterly devastated." 
"Let's return that beautiful beaming smile and the joy her oversized flowers and shiny clunky jewelry always gave us," Miller said. "Let's return the favor and help repair something awful that happened to a special person during this awful year."
The fundraiser called on community members to remind Cocuzzo of how much she's loved and supported as she grapples with what to do next. 
Donations have since poured in, and many local shoppers have left comments on the page detailing their favorite memories with the cashier: 
"I only recently moved to the Brookline community and meeting Gloria was one of my first interactions here," Hannah Elzer said. "She made me feel so welcome and safe right away. Shame on TJs for not allowing an exemplary and loyal employee the opportunity to remedy a mistake. Especially given the circumstances the world is in." 
Maile Kloczkowski said Cocuzzo's "warm motherly energy and the genuine love" she gave to everyone is a gift people will always cherish.
"You made each of us feel special and we walked out of that store in a better mood because of you. You made all our children feel so loved," Kloczkowski noted. "You were a mother to us all and a grandmother to all our children."
Many echoed the sentiment and wondered whether there might be another way for Cocuzzo to be held accountable while still being allowed to keep working.
Sophie Talwar said she understood the decision, but added how the cashier had always been very friendly and eager to help. 
"Though I can't blame TJ's for what they had to do, I am glad someone started this Gofundme," she wrote. "One regrettable action does not define someone and should not seal one's fate. We all have made decisions that we later on regretted." 
Another person explained how Cocuzzo was what drew their family to the store. 
"Gloria's brightest loving light has made each visit to the Brookline Trader Joe's a special event. Our family 'grew up' with Gloria's sweet and generous attention during our many store visits," Louise Koopman wrote after donating. "Gloria was the reason we would even go spend our money there!!" 
Others touched on just how important Cocuzzo has become to so many people. 
"When my daughter was a brand new baby, Trader Joe's was the first outing we went on together. Gloria gave her a bouquet of flowers," Augusta Meill said. "When she was a toddler, she admired Gloria's fabulous style. When she was 5 or 6, Gloria let her help run the cash register. Gloria is part of our family's memories and her energy and generous spirit make our community better." 
Miller said Cocuzzo doesn't have a computer or WiFi at her home, but while trying to file for unemployment and Medicare at her daughter's house on Tuesday, she discovered the GoFundMe page. 
And the notes people have left behind, Miller added, helped her find some hope again.  
"She was sobbing and inconsolable," Miller said. "She wants everyone to know that 'while this hasn't sunk in yet, I am floating, knowing that people REALLY CARE.'"