Local
Tufts has promised $25M to become an anti-racist university. Here's what that means.
"We wanted to have those very deep campus-wide conversations on this urgently."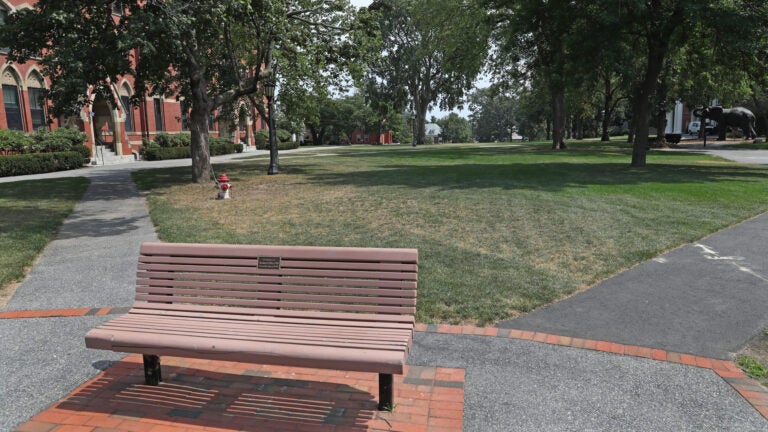 Tufts is taking steps to become an anti-racist institution, and is pledging $25 million, or more, over five years to help achieve that goal.
But what does becoming a truly anti-racist university mean?
For Tufts, that has relied on considering five areas: campus safety and policing, public art, an institutional audit and targeted action, compositional diversity, and equity and inclusion.
Over a seven-month span, Tufts examined each of the five areas with the help of students, faculty, and staff and came up with final reports on each. Collectively, there are over 180 recommendations, according to a letter to the community from university President Tony Monaco.
In an interview with Boston.com, Monaco noted that early on in his time at Tufts, he chaired a diversity council that worked on compositional diversity.
"I think one of the biggest things that we heard, and it was happening across the country, was systemic racism," Monaco said. "The things that are not so obvious but that block people of color from getting into colleges, advancing, and being successful, and feeling really part of the institution from the day they enter the campuses. So we wanted to have those very deep campus-wide conversations on this urgently. We heard from faculty and staff and departments that they wanted it done."
Tufts celebrated Juneteenth last year, and the community began considering how structural racism affects its Black students, faculty, and staff. Then they began to dig down last summer, Monaco said.
On public art, Monaco said it's an issue of representation. For policing and campus safety, it was concern over experiences with officers — and training.
"Those were very focused, and we've made a lot of recommendations that will improve those areas," he said.
On compositional diversity and equity inclusion, Monaco said these areas are "pretty standard when you do this type of work."
But the institutional audit was new, he said. It explored policy and procedures, the real business behind being a university. The work included combing through every department, and divisions of faculty and staff, and ensuring that policies and their language don't have "racism embedded in them."
"As you can imagine, even when we started this work, people said we want action, we don't want just a series of recommendations, we want actionable items, we want to see change, and we want it now, not five years from now," Monaco said. "And so I think what we tried to do in this work is be action-oriented, and when we discovered things that were either inequitable, unjust, or badly worded, we changed them immediately."
Then there's the financial commitment that Monaco says goes beyond the promise of financial aid and "educational programming" for everyone at Tufts.
"In addition, we're really going to be focusing on recruitment and pipeline programs for Black and brown faculty and students in many of our disciplines, particularly the STEM areas where we do not have many Black and brown professors," he said. "So these are things we can invest in."
The way the university plans to check in with its community and make sure the initiatives are working is through special advisory groups to Monaco's senior team, he said, as well as conversations with alumni. Then there's community surveys.
"At the end of the day, we really not only have to have the compositional numbers of faculty, staff, and students, but also the surveys on how those people feel during their time at Tufts," Monaco said. "Do they feel empowered as students to get the full access to all the opportunities? Do they feel as faculty that they're well supported and are making progress in their career goals? And do staff feel this is the place they see themselves progressing, developing, and being successful?"
When it came down to doing this work, Monaco said members of the Tufts community felt that they could accomplish it after tackling the difficulties posed by the pandemic and keeping the university open.
"They brought people together within a really record amount of time [and] did this work over the fall and the winter break to get it ready to launch now," he said. "We're very proud of the work the community did, but I think part of it was feeling stronger as a community because of how we faced the pandemic, and saying this challenge, this societal challenge of racism, is something we could make a significant impact on."
Get Boston.com's browser alerts:
Enable breaking news notifications straight to your internet browser.