Local
Rachael Rollins supports a new trial for Sean Ellis in order to drop his remaining charges. Here's what that means.
"It is what justice requires."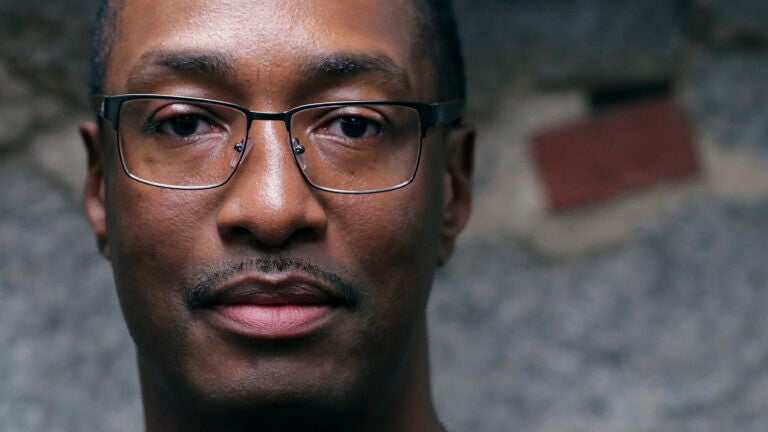 Suffolk County District Attorney Rachael Rollins on Wednesday stated her support of a motion for a new trial for Sean Ellis on a firearm conviction — a move that would open the door for potentially dismissing the last remaining charges against him.
In her assent filing in Suffolk Superior Court, Rollins wrote that if the motion is granted, her office will file a nolle prosequi to drop the last charges stemming from a 1993 Boston police detective murder case, which she said is "tainted and infected by significant and egregious police corruption and prosecutorial misconduct."
"The aforementioned corruption of (the Boston Police Department), coupled with the unconstitutional withholding of evidence by this Office and our overall failure of inquiry, are disgraceful chapters in our history," Rollins wrote. "This level of misconduct and indifference by the prosecution team (both BPD and the Suffolk County District Attorney's Office) cannot be condoned, ignored, or tolerated. We must learn from our mistakes."
A Dorchester native, Ellis was convicted in 1995 when he was 21 years old for the murder of Boston Police Det. John Mulligan, who was killed while working a private security detail outside a Roslindale Walgreens two years earlier.
Ellis, who maintained his innocence, was jailed for 22 years as corruption carried out by three police detectives — and allegedly Mulligan himself — who investigated the case eventually came to light.
In 2015, a court ruling reversed Ellis' first-degree murder and armed robbery convictions and he was released.
Three years later, acting District Attorney John Pappas, Rollins' predecessor, dropped those two charges, citing that the passage of time and the unearthed corruption compromised prosecutors' ability to convict Ellis a second time, despite their continued belief Ellis was guilty.
The details of the case and Ellis' quest to clear his name formed the basis of, "Trial 4," a Netflix documentary series released last year.
What Rachael Rollins wrote
Still outstanding against Ellis is a gun conviction for possessing Mulligan's service weapons.
Last year, Ellis' defense attorneys filed a motion for a new trial in hopes of overturning the conviction.
In her filing, Rollins wrote: "Corruption at the root tainted every branch of the investigation into Detective Mulligan's murder, including the gun possession charges."
While there is evidence to "potentially support a firearm conviction," prosecutors share the understanding of the Supreme Judicial Court that a jury, had it known of the corruption at the time of Ellis' initial trial, would have likely had less confidence in the integrity of the investigation, including the reliability of evidence presented at trial, Rollins wrote.
"The Commonwealth must always balance 'the necessity for preserving society's interest in the administration of justice against the rights of the Defendant. See Commonwealth v. Cronk (1985)," Rollins wrote. "Here, both require the same result."
Rollins also acknowledged the trauma experienced by Mulligan's family.
"They are unintended victims of police corruption and prosecutorial misconduct," she wrote. "The longstanding lesson left by this case is when corruption casts a shadow over an entire investigation and convictions are unjustly obtained, the devastating effects are felt by everyone," she wrote.
According to Rollins, prosecutors believe each of Ellis' convictions has been "irreversibly compromised."
"Accordingly, the Commonwealth asks this Court to grant a new trial so that it may file a nolle prosequi for the Defendant's remaining convictions," she continued. "It is what justice requires."
How Sean Ellis and his attorney responded
Rosemary Scapicchio, Ellis' attorney, applauded Rollins' decision to support the motion for a new trial during a virtual press conference Wednesday afternoon.
The filing is the first time the commonwealth has acknowledged that corruption existed within Ellis' case and that it held sway over his life for more than two decades, she said.
"Rachel Rollins has taken the brave position of understanding and acknowledging the corruption and acknowledging the effect it had on Sean's trial and his right to a fair trial," Scapicchio said. "And in doing so, she's acknowledged that there was a problem and that it needs to be fixed. And this is what reform looks like. This is what a progressive DA looks like."
Ellis said he was "very, very emotional, very thankful" for the decision, but lamented the fact his father did not live to see the day.
"It's truly a bittersweet thing," Ellis said.
His father passed away while Ellis was incarcerated. Ellis was not able to attend his funeral, he said.
"I finally get some kind of closure for my dad because now I can go forward in my life without having any sort of criminal conviction on my record for anything that I didn't do," he said.
What happens next
Whether Ellis is granted a new trial is up to Suffolk Court Judge Robert Ullman to decide.
Scapicchio anticipates Ullman will schedule a status conference to determine how to move forward or request more information. As she noted, Rollins' assent filed Wednesday is only the first step towards having the charges dropped.
Should that ultimately happen, Ellis would then be free to sue the city for wrongful conviction, which Scapicchio said she believes he will and he should.
"We need to hold the police department responsible for what happened here, financially, because Sean lost the opportunity to live his life for 22 years. He was locked in a cage for 22 years," she said. "And now, although he's working hard and he's got a full-time job, you know, he's one step up from an entry-level position and he's in his 40s…
Scapicchio highlighted that a former detective interviewed in "Trial 4" still asserted that the investigation surrounding the Ellis case was proper and fair. Police have also never acknowledged any wrongdoing, she said.
"I think it's imperative that we stand up and say no, this isn't going to happen to another Black and brown kid in Boston," she added.
Read DA Rachael Rollins' full assent filing:
Get Boston.com's browser alerts:
Enable breaking news notifications straight to your internet browser.