Local
Should the city remove snow from sidewalks, just like it does for Boston's streets?
"The sidewalks can become impassable for our people who rely on them to get around."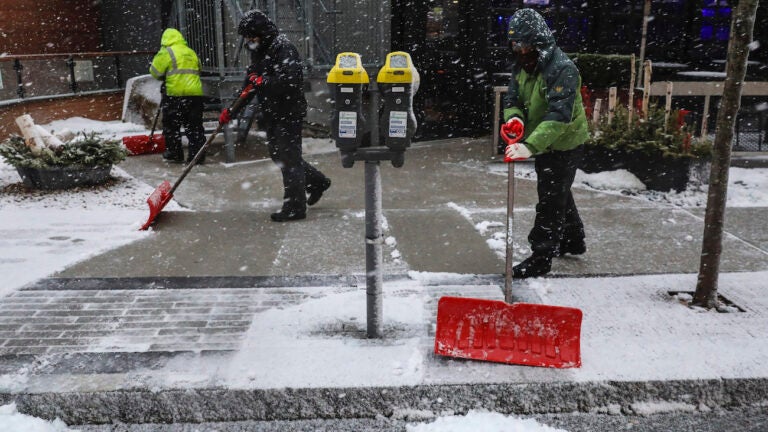 After almost any snowfall, traversing Boston's sidewalks often requires following a meandering trail of cement — a patchwork of plowing — if they're even plowed at all.
Meanwhile, impeccably plowed streets are usually just a hop over a snow bank away.
That stark contrast prompted discussion Tuesday among city councilors, who are considering the divides between the public attention pedestrian and vehicular traffic receive in post-storm dig-outs.
Spearheaded by Councilor Kenzie Bok, officials are considering what it would take for the city to plow out sidewalks, crosswalks, and other pedestrian right-of-ways the same way it does for its streets following a snow storm.
Should Boston be plowing the city sidewalks? Scroll down to take our survey.
Bok, who represents Mission Hill, Fenway, Back Bay, Beacon Hill, and the West End, said the discussion is in response to constituent input she received following a December storm that dumped 13 inches of snow on Boston.
For many who need scooters and wheelchairs to get around, and for residents without cars, the aftermath of a storm can pose significant challenges.
"The sidewalks can become impassable for our people who rely on them to get around, and I had a number of constituents who felt like they were effectively housebound until the snow melted away," Bok told councilors Tuesday. "And so this hearing order really came out of an interest in thinking about how we could be a bit more systematic about prioritizing those pedestrian needs to get around the city to do critical things — access groceries, visit family, go to the store — and really thinking about how our systems could be improved on that front."
Cities such as Rochester and Syracuse, New York have rolled out programs in recent years that have city workers or contracted employees shovel and clear walkways and sidewalks, Bok said.
Brendan Kearney, deputy director of WalkBoston, an advocacy organization aimed at making walking easier and safer in Massachusetts, told officials Cambridge has taken up efforts, as have Newton and Framingham to varying degrees.
"There are definitely examples here in Massachusetts as well," Kearney said.
According to Chris Osgood, the city's chief of the streets, transportation, and sanitation, city code currently mandates that sidewalks be shoveled by the adjacent property owner.
The walkways must be clear within three hours after snowfall or three hours after dawn if snowfall stops overnight, and owners must shovel out a 42-inch clear pathway for pedestrians — all requirements the city makes clear to residents in a mailer sent to every household in the city each winter and through other messaging, Osgood said.
Residential property owners who fail to shovel nearby sidewalks face a $50 fine if they own a building with fewer than 16 units and a $100 fine for a building with more than 16 units, Osgood said. Commercial property owners are fined $200. Fines do not increase for repeat offenses.
City workers clear sidewalks on bridges and adjacent to public works yards, Superintendent of Streets Michael Brohel told councilors.
Responding to a question from Bok, Brohel said the city owns about three to four pieces of lightweight sidewalk clearing equipment.
"A lot of it's shovel," he said of the work carried about by contracted crews.
Snow plows shovel out 850 miles of roads in Boston following a storm, chiefly for public safety vehicles to be able to keep running, even when snow is falling at a clip of two inches an hour, Brohel said.
The city also has 1,400 miles of sidewalks and 24,000 pedestrian ramps.
"That's a lot of work," Brohel said.
He told councilors a city-run program to clear sidewalks would require a good amount of thought and ideas, "never mind resources." (The city's snow removal budget this fiscal year is $21 million, according to Osgood.)
Keeping the roadways clear for emergency personnel is the top priority, he said.
"It would be a tough thought to expend energy off of that priority," he said.
Corey Driscoll Dunham, chief operating officer for the city of Syracuse, told Boston councilors her city receives an average of 124 inches of snow annually.
Officials there launched a pilot program to shovel select sidewalks along about 20.1 miles of city streets in the 2018 to 2019 winter, according to Dunham. The initiative grew to walkways along 38 miles of streets the following year, translating to about 76 miles of sidewalks.
The program, with a budget of $250,000, was suspended this winter amid the financial impact of COVID-19, she said.
Syracuse hired a contractor to complete the work, and Syracuse University also chipped in by taking on sidewalks close to its campus, according to Dunham.
The program focuses on clearing sidewalks along streets where it is the most dangerous for pedestrians to enter the roadway, she said.
Syracuse officials intend to bring back the initiative and hope to establish funding through charging property owners a "sidewalk maintenance fee" so the program can expand, prioritizing thoroughfares pedestrians use most, Dunham said. The fee would also cover sidewalk repairs under a separate initiative.
"There's certainly some debate among us whether or not it makes sense to have a goal of clearing … all sidewalks, and whether or not that's really a suitable return on investment," Dunham said. "But that's kind of a debate that we continue to have."
Representatives from WalkBoston and the LiveableStreets Alliance — which advocates for safe streets — advised Boston councilors to consider areas to prioritize snow clearing based on community input, and to include sidewalk plowing and direction on where to leave snow piles as part of its snow plow contracts, among other recommendations.
"I'm just super impressed by what Syracuse is doing," Kearney said. "That is a great, great model for Boston."
Councilors plan to continue considering the matter in a committee working session.
Should Boston be plowing the city sidewalks? Take our survey:
Get Boston.com's browser alerts:
Enable breaking news notifications straight to your internet browser.