Local News
What Marty Walsh said in his farewell as mayor
"Being elected mayor of Boston was a dream for me."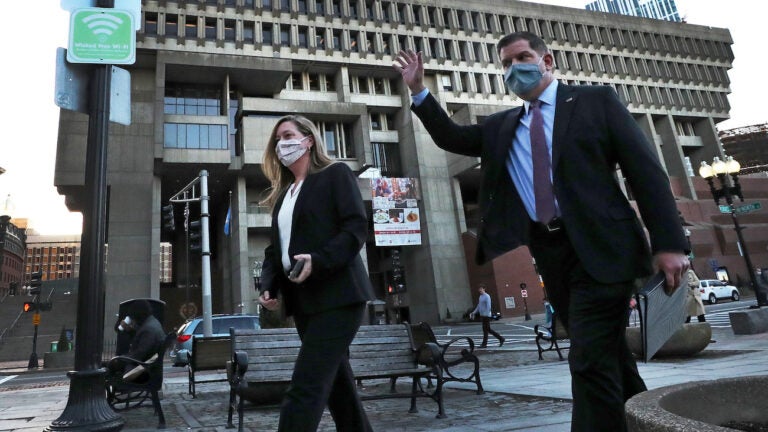 As Marty Walsh readied Monday night to leave Boston and soon walk the White House halls as labor secretary, he spoke of the house on Taft Street where he grew up.
His mother, Mary, still lives there, in the home she bought with Walsh's father, John, — two Irish immigrants who made new lives for themselves in the United States.
"I grew up here," Walsh told a reporter, who asked what about leaving his hometown most gives him that lump in his throat. " … I think about the neighborhoods I grew up in and lived in. I think about the people I represent. I think about all the kids and the families I've seen. I think about all the people that we've tried to make an impact on."
At times emotional, passionate, nostalgic, and grateful, Walsh offered his farewell to the only city he's called home, shortly before resigning as mayor — the office the 53-year-old former union leader and state representative was first elected to in 2013.
"Being elected mayor of Boston was a dream for me," he said. "Quite honestly, being elected state representative was a dream."
Here are some of Walsh's other reflections as he looked back on his time in office:
On city workers and the work they do
"I want to thank each and every city employee," Walsh said, taking a long pause. "I love all of you. You do amazing work. We might not always hear about the work you do, but I certainly know the work you do every single day, keeping our city great."
Walsh reflected on how city officials "threw themselves into this work around the clock, seven days a week" over the course of the COVID-19 pandemic. He touched on efforts that he said provided over 2,300 formerly homeless individuals with places to live, that rose the Boston Public Schools graduation rate to its highest in 2020, and that created what is believed to be the first municipal Office of Recovery Services in the country.
"As I told the team this morning, the journey doesn't stop. The work of the city keeps going," Walsh said. "Tomorrow morning, when there'll be a new mayor and city hall, the work needs to continue to move forward. The work will continue to be hard. But I'm confident that our public servants, our business community, and our residents will continue to rise up to the occasion."
On his supporters and advocates
Walsh said on Monday night he had never been more grateful for the people of Boston.
"I just want to take one moment while I have the cameras to thank every single person that ever held a sign for me, made a phone call for me, put a bumper sticker on their car for me, that fought for me, that advocated for me. I want to thank all of you," Walsh said. "I want to thank every single person that might have criticized me or gave me their opinion, or might have told me I was doing something wrong, because that might have been criticism you were giving me but what it was for me is we have to do better."
On his accomplishments and failures
Asked about his accomplishments and failures in office, Walsh pointed to the city's inroads on providing homes to the homeless.
"When we had to shut down Long Island Bridge, in some ways, that was a blessing as I've said later — that we created a different system of delivering services to people," Walsh said. "We created the Office of Recovery Services."
Failures?
"I'll leave that for other people to criticize," he said.
On his mother's pride
"I still think my mother thinks the biggest news I ever told her was when I was running for mayor," Walsh said with a laugh, in response to a question from a reporter about the news of becoming secretary of labor. "She's excited. She was excited about it."
A month ago, his mother received a call from a man living in Minnesota — the person who drove her to the airport when she was 17 years old and leaving Ireland, Walsh said. His mother was unaware he was still alive.
"He called my mother to tell her that … 'I never expected the day I dropped you off at Shannon Airport that someday your son would be the secretary of labor,'" Walsh recalled. "'This is pretty incredible.'"
On his emotional goodbye
After the Senate confirmation vote Monday, Walsh couldn't help but draw comparisons to how he felt after being elected mayor.
"Everyone around me was singing, crying, and hugging and jumping up and down," he recalled of that night over seven years ago. "I just kind of sat there like, 'Oh my God. What did I get myself into?'"
The weeks since President Joe Biden announced in January that Walsh was his pick for labor secretary have been "very, very bittersweet," he said.
"I have been very emotional in my office because I love the people I work with. They're amazing," Walsh said. "I love being mayor of the city I grew up in."
Get Boston.com's browser alerts:
Enable breaking news notifications straight to your internet browser.