Local
Boston is offering free MBTA passes to workers in these five neighborhoods
"This transit pilot and other new approaches will play a key role in Boston's recovery, reopening, and renewal."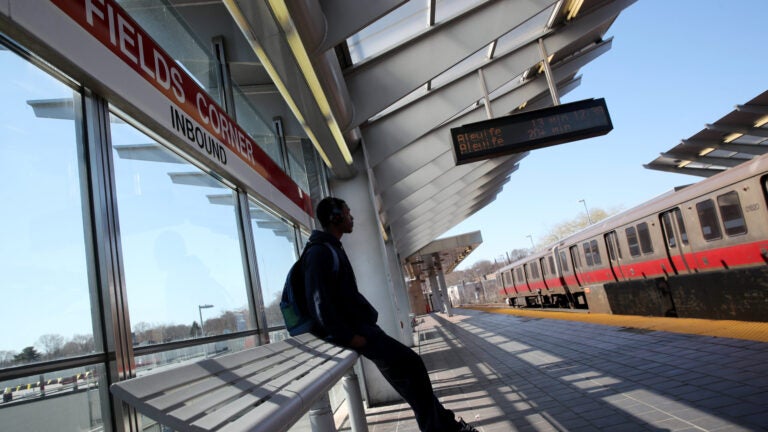 As part of an experiment to see how financial incentives impact commuting behavior amid the recovery from the COVID-19 pandemic, the city of Boston is offering free MBTA and Bluebikes passes to 1,000 workers in five of the city's main streets districts.
During a press conference Monday morning, Acting Mayor Kim Janey announced that workers in Nubian Square, Three Squares (Jackson, Hyde, and Canary) in Jamaica Plain, Mission Hill, East Boston, and Fields Corner are immediately eligible to sign up for the program, which offers a free CharlieCard preloaded with $60, a two-month Bluebikes pass, or both.
Eligible residents can sign up through the city's website or by texting "free ride" to 866-396-0122. The program is currently only open to workers whose employers are located in the any of the five targeted neighborhoods, though the city's website says officials are working to expanding the pilot to other Main Street districts as well. Passes will be provided on a first come, first served basis.
"This transit pilot and other new approaches will play a key role in Boston's recovery, reopening, and renewal," Janey said.
According to the city's website, the program will be phased in over the next two months and participants will be randomly selected to receive different starting values on their CharlieCards. Some will get a card with the full $60 preloaded right away, while others will first get a CharlieCard with just $5 on it, followed by a second card a few weeks later with the remaining $55.
"This will help us determine how impactful financial incentives are on commuting behavior," the city's website says.
Those who opt for the free two-month Bluebikes pass will be able to take unlimited trips of less than 45 minutes (any rides that go longer than that time will be subjected to usage fees of $2 per additional 30 minutes).
MBTA and Bluebikes passes are already available to certain low-income riders. However, the new program comes as some elected officials and transit advocates (and Boston mayoral candidates) call for making certain public transportation completely free, as vehicle traffic rebounds and the MBTA grapples with diminished fare revenue in the wake of the pandemic.
Janey, who says she'll announce whether she plans to run for a full term as mayor in the coming weeks, joined fellow city councilor and mayoral candidate Michelle Wu last summer to call for eliminating fares on certain bus lines. Andrea Campbell, another city councilor and mayoral candidate, has also called for eliminating MBTA bus fares.
Former mayor Marty Walsh had expressed concerns about the costs of eliminating fares on the MBTA, though supporters argue the lost revenue would be "a relatively small share" of the agency's $2 billion operating budget.
Janey announced the new pilot at a press conference Monday, with transit advocates calling on the MBTA to restore its recent pandemic-induced service cuts — particularly after the agency received more than $1 billion in federal funds from the last two COVID-19 relief packages. Following criticism from the Massachusetts congressional delegation, MBTA leaders said last week that they would accelerate their plans to restore service, though the exact timeline remains unclear. The agency's governing board is slated to meet Monday afternoon.
"Cuts to transit service only deepen the inequities of our public transit system," Janey said Monday, referring to research showing that Black bus riders in Boston spend 64 more hours commuting a year compared to their white counterparts.
"These kinds of disparities have persisted for too long," Janey said. "We all benefit when transit is fair and accessible to everyone, from reduced traffic and cleaner air. Boston deserves better."
Get Boston.com's browser alerts:
Enable breaking news notifications straight to your internet browser.