Local
MBTA officials are moving to restore pandemic-induced service cuts. But no one knows how long it will take.
"Funding is not the constraint right now."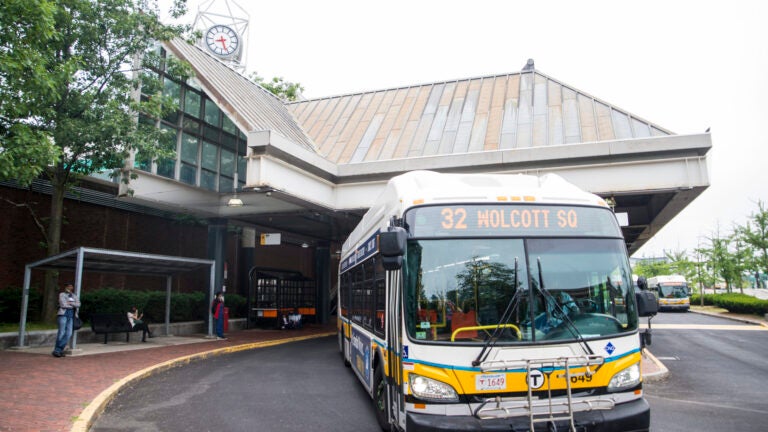 Infused with at least $845 million from this month's federal COVID-19 relief bill, the MBTA is reversing course on its recent cuts and looking to restore bus and subway service "as fast as we possibly can," according to Steve Poftak, the agency's general manager.
Exactly how fast that is remains unclear.
Following recent pressure from the Massachusetts congressional delegation, the agency's Fiscal Management and Control Board voted Monday afternoon to bring back weekend service on all commuter rail lines, resume direct ferry service to Charlestown and Hingham, and fully undo recent cuts to the system's bus and subway lines.
That restoration of service now faces an indeterminate wait, as MBTA officials say they don't actually have the people necessary to drive the additional busses and trains, and they don't know how long it will take to hire and train new workers.
"Funding is not the constraint right now," Poftak said during a Fiscal Management and Control Board meeting Monday afternoon.
The MBTA hasn't fired or furloughed any employees as part of its cost-saving measures — which included cuts to bus, subway, commuter rail, and ferry service that were phased in this winter — to partially offset lost fare revenue due to the dramatic, pandemic-induced drop in ridership.
However, the agency also hasn't been hiring to make up for the workers it loses through natural attrition. And officials say future attrition and absenteeism due to the pandemic means the MBTA will have to hire more operators — and do it faster than usual — to get back to what will feel like pre-pandemic frequencies on the bus and subway.
"We need to play catch up in that regard," Poftak said.
For example, the agency expects to lose nine to 12 bus operators a month, according to MBTA Deputy Manager Jeff Gonneville. While they currently have about 1,660 of their 1,672 pre-pandemic bus operators, Gonneville says new hiring needs to outpace projected attrition going forward. He also suggested that, due to capacity limits to promote social distancing, the agency would have to hire more bus operators than they had before the pandemic to provide the same frequency of service.
Another challenge is the pandemic's toll on the MBTA's workforce. At one point this winter, the agency had more than 100 employees who were out sick with COVID-19, as well as many others who had to take leave to quarantine after begin exposed to the virus. Before the bus service cuts last month, Poftak said the T had seen an increase in dropped trips due to the absence of employees.
Poftak also said the pandemic had slowed the MBTA's hiring and recruiting processes, but that the agency plans to shift staff to support its first bus operator hiring class late next month.
"The MBTA hiring door is very much open," he said.
Public Transit Public Good, a coalition of MBTA workers and riders that has consistently protested the cuts, applauded the FMCB's vote, as well as the T's "aggressive hiring program," in a statement Monday afternoon. But the group also said the uncertainty over when the full service would be restored illustrated their opposition to cuts in the first place.
"The difficulties in restoring service underscore that the MBTA and the Baker/Polito administration should have never considered cutting service during the pandemic," the coalition said, adding that Massachusetts state legislators should raise taxes aimed at the wealthy to ensure the T doesn't face future cuts.
Some FMCB members were also frustrated by the lack of specificity about when bus service would be fully restored.
"It does seem that we are treating this as a second class service, because it does not appear to me that there's any sense of urgency on this," FMCB Vice Chair Monica Tibbits-Nutt said during the meeting Monday, noting that ridership has remained much higher on MBTA buses than on ferry or commuter rail during the pandemic.
Poftak reiterated that the agency was committed to getting back to 100 percent of service, but said he likely wouldn't have a "solid" answer on how long it will take until late April. In the meantime, Poftak said the T will use overtime and "run as directed" buses to supplement service on certain lines.
Gonneville noted officials are stuck in a short-term "gray area" as they scramble to staff up.
"Internally, we are we are struggling with this just as much as I think people are externally," he said.
Get Boston.com's browser alerts:
Enable breaking news notifications straight to your internet browser.