Local
Wedge the Suez cargo ship wherever you want with viral app made by Boston Public Library curator
You want me to park WHAT in Harvard Yard?!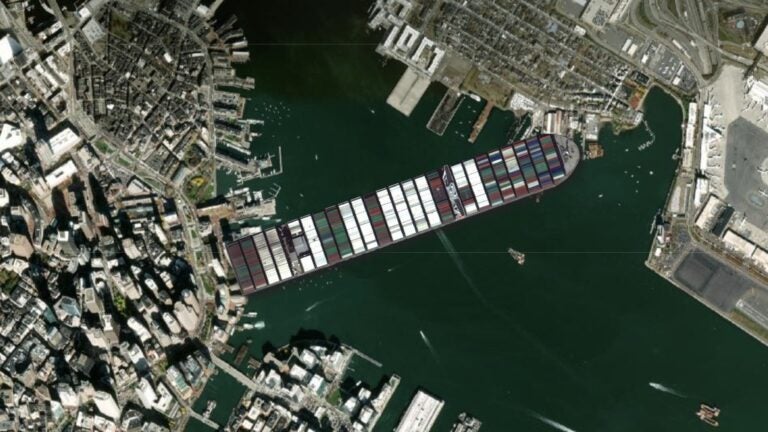 The enormous cargo ship plugging up the Suez Canal was set free after nearly a week Monday, but now you can customize your own catastrophic global blockage of world trade thanks to a web app made by a staffer at the Boston Public Library.
If that floats your boat.
Garrett Dash Nelson, a curator at the library's Leventhal Map & Education Center, whipped up the applet Sunday morning between cups of coffee. It lets you place an aerial image of the Ever Given over satellite imagery anywhere.
"There was a writing project that I'm procrastinating on," Nelson joked.
The site, dubbed Ever Given Ever Ywhere, quickly caught the attention of thousands on Twitter, scrambling to wedge the vessel in rivers, streets, and swimming pools around the world. No surprise: The Big Stuck Ship has resonated with social media users since it blocked up the Suez last Wednesday.
"It gives a kind of comic reality to this abstract thing, which is world trade and globalization," Nelson said. "We all know that we live in a globalized economy pulled by these really incredible forces that stretch across geography. It can be hard to fully grasp, but then a big old piece of metal gets wedged in a canal. It's a striking reminder that frictionless global geography is still built on real material circumstances."
People using the app seem to first focus on plopping the boat in locations close to them. It's an instinct familiar to anyone who has opened Google Earth — with the whole world at one's fingertips, the initial stop for many is their own backyard.
"People love to localize a national story, something that's become totally familiar," Nelson said. "They love to see it in their own world."
The app is great to make topical memes, but it also functions as a helpful geographic tool thanks to a button that snaps the Ever Given to scale on the map. Make the ship stretch across the entire Mediterranean sea if you like, but you can also see what it would actually look like in your neighborhood. (For the record, the image of Boston Harbor at the top of this article shows the Ever Given much larger than actual size.)
"To make sense of world events, we oftentimes bring things closer to home," Nelson said. "For a person to conceptualize what different scales mean, we need a frame of reference. Bringing this giant boat onto your street or into your park gives you a much more practical understanding of [scale]."
In case you want more local Ever Given gags beyond the inevitable "Storrowing" joke, here's what the cargo ship looks like (to scale) by various Massachusetts landmarks in Boston and beyond:
The Levanthal Map & Education Center has not yet reopened, but it's still hosting virtual events and digital exhibitions. The center's latest online show, "Bending Lines," examines how maps and data inherently skew truth and reality.
Get Boston.com's browser alerts:
Enable breaking news notifications straight to your internet browser.