Local News
The state's Ethics Commission has dismissed the 'road rage' allegations against Rachael Rollins
"The District Attorney is not surprised by these outcomes, and sincerely hopes we can all return to the far more pressing matters facing the commonwealth."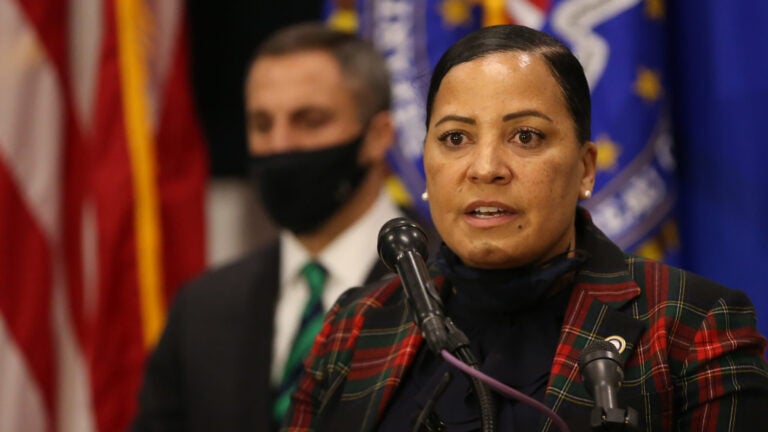 Suffolk County District Attorney Rachael Rollins was cleared of allegations of misconduct stemming from an alleged road rage incident in December by the state Ethics Commission, which recently dropped its investigation into the matter.
According to The Boston Globe, special investigator Paul Murray wrote to the woman who filed the complaint against Rollins, Katie Lawson, of Dorchester, and told her the office had determined "the matter doesn't warrant further action."
"Please be assured that we take all matters presented to us seriously," Murray wrote. "We appreciate your concern and we thank you for bringing this matter to our attention."
The determination follows a probe by state Attorney General Maura Healey's office that concluded last month no civil rights or criminal law violations were committed during Rollins's interaction with Lawson on Dec. 24 in the South Bay Shopping Center parking lot.
In her initial complaint filed with Boston police, Lawson alleged Rollins threatened to give her a ticket and activated the blue lights and siren equipped in her vehicle as she attempted to merge into a lanes Rollins was occupying in the lot.
Rollins has consistently denied she behaved improperly.
"Everyone is scared of her," Lawson told the Globe after learning of the Ethics Commission's dismissal. "I told (the investigator), 'You're supposed to work for the public. You should be disgusted. You let her get away with it. You should be embarrassed.'"
Here's what to know:
What Rollins said about the  finding
In a statement to the Globe, Ronald Sullivan, Rollins's private attorney, said the outcomes of both the Ethics Commission and attorney general's office reviews make clear Rollins committed no wrongdoing.
"This few-second traffic encounter has been thoroughly reviewed and not a single criminal, civil rights, or ethical violation occurred," Sullivan said. "The District Attorney is not surprised by these outcomes, and sincerely hopes we can all return to the far more pressing matters facing the commonwealth."
What was said to investigators
Last month, First Assistant Attorney General Mary Strother wrote to the Ethics Commission outlining the findings of their review, highlighting that the facts of what happened were "undisputed with a few key exceptions."
According to Strother, Lawson admitted Rollins had the right of way in the parking lot but she still attempted to merge lanes. Lawson told officials that Rollins used her SUV to block Lawson's vehicle, threatened to issue her a ticket, and used her emergency lights and siren.
Rollins denied to prosecutors that she made any remarks about a ticket but acknowledged she briefly used her "emergency alerts to try to avoid a collision," Strother wrote.
Lawson also said Rollins left the parking lot onto Massachusetts Avenue and "drove straight through a red light in a right turn only lane," Strother wrote.
Officials reviewed security footage from within and around the shopping plaza and found some video that captured the interaction between the two parties, but not the exact moment when their two vehicles converged, according to Strother.
The video also does not show whether Rollins activated lights on her vehicle and does not conclusively show whether the traffic light was red when a vehicle that appeared to be similar to Rollins's SUV drove through it, according to Strother.
Following the attorney general's office's probe, Lawson wrote to the Ethics Commission a list outlining how she thinks Rollins violated conflict of interest laws, pointing to the alleged threats and use of lights in her taxpayer-funded vehicle, the Globe reports.
"I am willing to take a lie detector test," she said.
Murray told Lawson he could not share details of the investigation, according to the newspaper.
"Due to confidentiality restrictions under the conflict of interest law, we are unable to advise you on any actions we have taken regarding the concerns you presented," Murray wrote. "Your complaint will remain on file at this office."
Rollins, first elected to serve as district attorney in 2018, is reportedly on the short list of candidates for the U.S. attorney post in Massachusetts, previously held by Andrew Lelling.
Get Boston.com's browser alerts:
Enable breaking news notifications straight to your internet browser.