Local
'True game changer': A vocal state senator's take on Amtrak's eyed expansion in Western Mass. — and what needs to happen next
"The stars do seem to be aligning. But that also means that the stakes are high for missteps."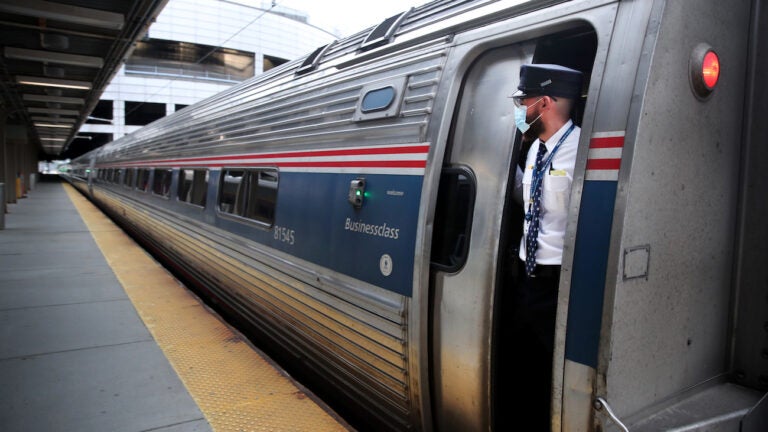 For Eric Lesser, it's time to get all aboard.
The Longmeadow state senator's excitement was apparent earlier this week when Amtrak unveiled proposed plans to expand service to possibly millions of new customers across the country by 2035.
The proposal could be a reality with $80 billion in funding geared for railroads under President Joe Biden's $2 trillion infrastructure plan, also released this week.
I spy ALBANY-PITTSFIELD-SPRINGFIELD-WORCESTER-BOSTON https://t.co/4NsaFc7QJd

— Eric Lesser (@EricLesser) March 31, 2021
Lesser, a Democrat, has been a vocal proponent of more frequent rail service between Western Massachusetts and Boston since he was first elected in 2014. As the Biden administration signals a willingness to support an expansion of intercity rail, state lawmakers have their own work to do to see it through, Lesser says.
"I think this is lining up to be a once-in-a-generation moment, and the stars do seem to be aligning," he told Boston.com on Friday. "But that also means that the stakes are high for missteps."
The "east-west" rail link long desired in the region has, as Lesser and other project supporters say, strong potential to spread the economic development greater Boston has enjoyed in recent decades to other areas of the commonwealth that were left out of such growth.
Frequent rail service between Pittsfield, Springfield, Worcester, and Boston, they say, can also help cool the housing crisis that has enveloped eastern Massachusetts. It could, perhaps, convince Boston-area workers that a commute from farther outside the city is possible on mass transit.
Could Amtrak be thinking along those lines?
While the plan touts numerous new services throughout New England and more details are still to be released, a map included in the proposal more specifically indicates Amtrak is seeking "enhanced services" between New York City and Springfield via Hartford, Connecticut, and continuing north on the "Vermonter" line to Burlington, Vermont with a proposed direct connection to Montreal from St. Albans.
Additionally, Amtrak is eyeing service additions between Boston and Albany by way of Springfield.
Currently, the rail line between Boston and Springfield is served twice a day by Amtrak's "Lake Shore Limited" service, which continues on as far west as Chicago.
The service would, in practice, provide an alternative route between Boston and New York City.
"That's the true game changer," Lesser said.
The existing northeast corridor, connecting Boston to Washington D.C., is Amtrak's busiest line — and is in need of some $38 billion in repairs and upgrades. Lesser noted the line, which runs along the Connecticut coast, frequently faces weather and climate change-related issues.
New services would "dramatically" create more capacity for Boston to New York trips, while also giving Worcester direct access to New York City, Lesser said.
"This is the game changer that we've talked about," Lesser said.
A state study released in January found that, depending on the speed and frequency of the trains, a rail link between Boston, Worcester, Springfield, and Pittsfield could serve between 922 and 1,554 passengers every weekday.
The study, however, left open the question of what transit agency would govern such a service, according to Lesser. And should Biden's infrastructure plan pass Congress, it's not necessarily a definite Amtrak would be able to see out its full plans for Massachusetts.
Lesser said state officials, particularly Gov. Charlie Baker and the Massachusetts Department of Transportation, need to illustrate to their federal colleagues they are willing partners and ready to see through the projects with state support.
"If anything, this enhances and magnifies the need to a state focus and a state plan .. .because there's lots of other states and other regions all over the the country also competing for this money," Lesser said.
The biggest challenge to getting the line operational remains obtaining resources and expertise, Lesser said. And some state lawmakers have already set out to work towards that.
In February, Lesser filed a bill that would mandate MassDOT to operate passenger service between Pittsfield and Boston at least five times a day.
Officials have also secured a $50 million bond authorization for prep work on the line. On Wednesday, the Western Massachusetts delegation of state legislators wrote to Baker and acting MassDOT Secretary Jamey Tesler to request that investment be included in the department's capital investment plan for fiscal years 2022 through 2026.
According to Lesser, if officials do the legwork now, that could help sweeten the pot for investment from the federal government.
He recalled his time spent working on the White House Council of Economic Advisors during the Obama administration, which was active in rolling out the American Recovery and Reinvestment Act in 2009: "One of the lessons from that was that the states that were the most aggressive and were the most prepared and had the most coordinated strategy tended to be the ones that were at the front of the line for help."
So far, Massachusetts leadership has sent "mixed signals" on intercity rail, according to Lesser. Baker first vetoed an east-west rail feasibility study in 2016, before reversing course in 2018.
With that study in hand and a signaled interest from Amtrak, Lesser said lawmakers are now in "a very high stakes period."
"We need to see momentum and energy on the part of MassDOT and the governor's team to to make sure that … we're first in line when the federal bill is passed," he said.
Get Boston.com's browser alerts:
Enable breaking news notifications straight to your internet browser.