Local
These 'road rage' TikToks by a Peabody man echo all your Massachusetts driving woes
"CAN YOU PICK A LANE?!"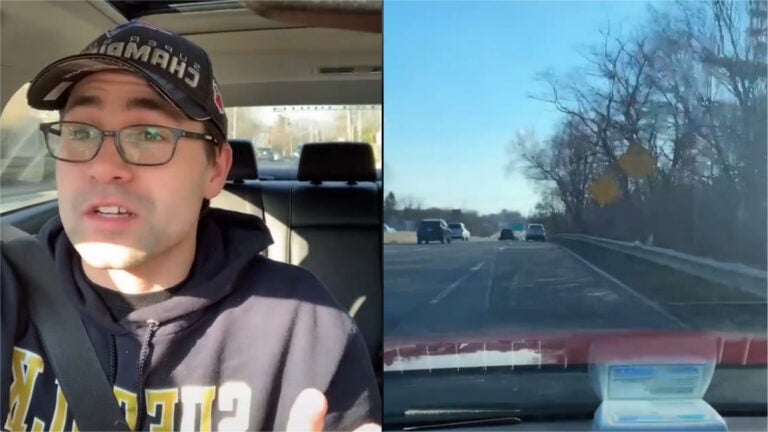 Dalton DeLima is a North Shore kid, born and raised, and he hates that you're in the wrong lane.
"The Proper Masshole," as DeLima describes himself online, is a TikTok user specializing in hyperlocal content on his account @dalton_daltoff — think skits about Boston, reviews of Massachusetts towns, and spooky retellings of New England mysteries.
But some of his most popular videos reflect the foremost frustrations of everyone who has had to commute into or around Boston: The roads and the drivers on them.
"When you hear about Massachusetts from out of state, you hear that all the traffic's horrible, driving's horrible, people beeping and honking at you, they're impatient," DeLima said in an interview. "It's kind of that stereotype from Massachusetts."
In a recent video, he rails against drivers who stop at the end of the on-ramp from Lowell Street in Peabody to Route 128 South.
"People STOP and LOOK to see if there's oncoming traffic," he shouts. "NO! You don't have to do that. You know WHY?! LOOK AT THIS LAAANE! You have 750 to 1,000 feet of OPEN lane to just MERGE onto the highway!"
(Note: These videos have explicit language, and frankly, they would be incomplete and inaccurate without it.)
"Wow..The one place in Massachusetts that people actually yield! & of course it's when you don't need to," a user commented on the video.
"I just move [sic] to MA from NY and people here will really go 100 mph down the highway but won't break 5 mph on the on ramp," wrote another.
In another popular video from February, DeLima drives past a Dunkin' and maneuvers around the Squire Road rotary in Revere, seamlessly oscillating between furious hostility and total tranquility.
"CAN YOU PICK A LANE?!" he shouts, before calmly pointing out the second Dunkin' on the other side of the rotary.
DeLima confirmed that he doesn't actually scream so aggressively on the road — he just exaggerates for comedic effect.
"But it is annoying, don't get me wrong," he said.
He started focusing on Massachusetts content after a video of him crossing the Zakim Bridge (complete with a Dropkick Murphys snippet, naturally) went particularly viral in August. It's paid off: His account has 64 thousand followers, and he recently hit a million likes over all his videos. Offline, the Peabody native is an EMT in the North Shore and a student at Suffolk University studying film and media.
DeLima has plenty more videos on the state's troublesome roads — there's a tongue-in-cheek "beginner's" guide to driving in Massachusetts and a long series on the state's most infamous intersections (the Drum Hill rotary in Chelmsford, Wellington Square in Medford, Kelly Square in Worcester, the notorious East Longmeadow rotary…)
But his pick for the no. 1 worst offender in the state: The Bell Circle rotary in Revere.
"As someone who has worked on the ambulance in that town, I can tell you that there are many accidents there," he said.
DeLima offered some advice to new drivers in Massachusetts — lessons that might also prove useful in everyday life, on and off the road.
"Just pay attention, use your blinkers, and always expect the unexpected," he said. "You never know what someone else is going to do."
Get Boston.com's browser alerts:
Enable breaking news notifications straight to your internet browser.