Local
Boston Public Library plans to permanently eliminate late fines
The move first requires approval from the library's Board of Trustees.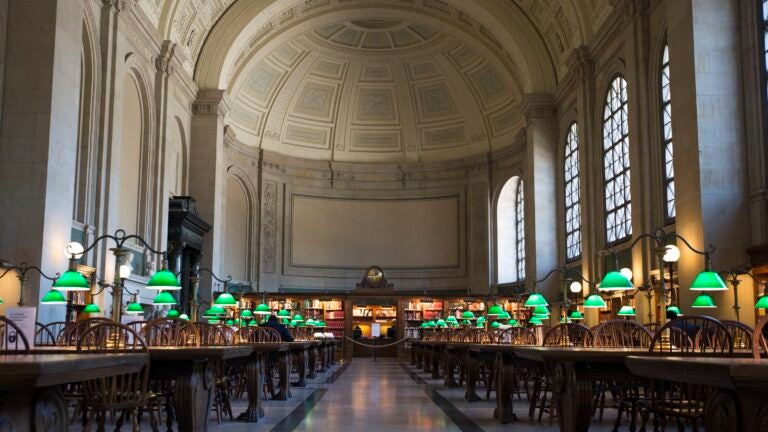 Acting Mayor Kim Janey announced Wednesday that the Boston Public Library will permanently eliminate late fines for patrons of all ages, pending approval from the institution's Board of Trustees. 
City officials said the hope is that dropping fines will remove a financial barrier and increase access to the library for people across Boston. The move is supported by the 2021 budget Janey presented Wednesday and will go into effect July 1. 
"We look forward to eliminating library late fines and the equity imbalance they can create," Janey said in a statement. "The Boston Public Library provides important resources, programs, and services to our communities. By removing this barrier to access, we are ensuring that these resources are actually accessible to everyone." 
The library previously eliminated fines for patrons under the age of 18, and in response to the COVID-19 pandemic last year, the library instituted a moratorium on late fines. That moratorium is being extended until the permanent elimination of fines goes effect July 1.
The new policy on late fees also removes all pending overdue fines from library patrons' accounts. The library collected about $176,512 in overdue fines during the 2019 fiscal year, a number that represented only a fraction of the total fines on record, according to the Boston Public Library. 
As of Wednesday, about 42,000 library patrons were facing fines, with a large portion of those Boston residents living in "economically challenged" parts of the city, according to the department. 
"The BPL is proud to join the growing number of public libraries who are abolishing late fines and ensuring maximum accessibility, especially at this time of greatest need among those who rely on our resources most," David Leonard, president of the BPL, said in a statement. "With this announcement, patrons can continue to access our collections, as well as our physical and digital resources, without the financial barrier of late fines.
"We have always believed that as a public library, our services should be 'Free to All,' and as the current global health crisis continues and we move into recovery, policy changes such as this are more important than ever," he said.
While individuals will not face monetary penalties for the late return of library books, they will still be required to return any overdue items in order to check out more materials. Library patrons will also still be responsible for the cost of replacing any items that are lost or not returned.
Get Boston.com's browser alerts:
Enable breaking news notifications straight to your internet browser.