Local
In a changing Boston, a new mayor challenges the police
Janey, one of six candidates running for election in November, was faced with a choice: Should she keep the internal police records private, as Walsh, her predecessor in City Hall, had, citing the accusers' desire for privacy?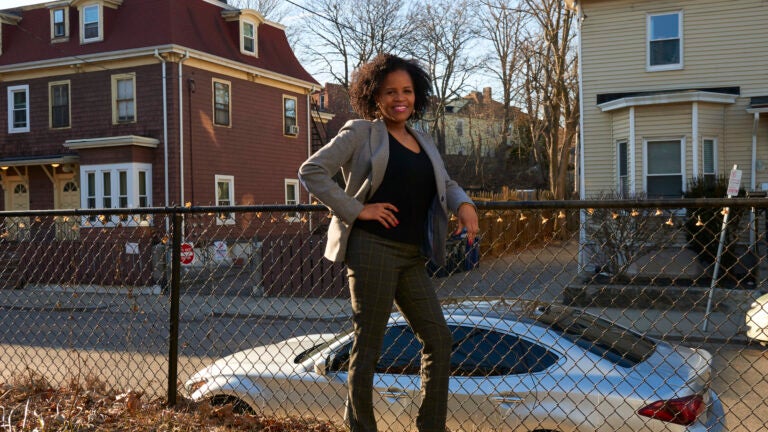 BOSTON — Three weeks after her swearing-in as acting mayor of Boston, Kim Janey was enjoying a sort of honeymoon, enacting feel-good policies like forgiving library fines and basking in the spotlight that came with her status as the city's first Black and first female mayor.
Although she had landed the position in part by happenstance — she was City Council president when her predecessor, Martin Walsh, was tapped to be secretary of labor — Janey has moved slowly and deliberately to build her political profile, taking her place beside the growing list of Black women running major U.S. cities.
That cautious approach ended last Saturday when Janey found herself responding to a police scandal.
A report in The Boston Globe reviewed the handling of sex abuse allegations involving Patrick Rose, 66, the former president of the Boston Police Patrolmen's Association, the largest and most muscular of the city's three major police unions.
The police, The Globe reported, had allowed Rose to serve for more than two decades after a 12-year-old accused him of sexual assault. Although the child ultimately recanted and the criminal case was closed, an internal affairs investigation by the police subsequently found he had most likely broken the law.
Those allegations resurfaced last year when another child came forward, alleging abuse between the ages of 7 and 12, followed by four more accusers. Rose was ultimately charged with more than 30 counts of sexual abuse of children.
Rose maintains his innocence, both in the 1995 charges and in the more recent ones, said his lawyer, William Keefe.
Janey, one of six candidates running for election in November, was faced with a choice: Should she keep the internal police records private, as Walsh, her predecessor in City Hall, had, citing the accusers' desire for privacy?
Or should she take the path urged by fellow progressives in the City Council, demanding that the police release the records to the public — and risk unsettling the accusers and poisoning her relationship with the powerful police union? This week, Janey's choice became clear.
"As a mother and as a grandmother I was heartbroken and angry to learn nothing was done to keep Mr. Rose away from children, or to terminate him, for that matter," she said. "Transparency cannot wait any longer."
Her decision points to a larger political calculus, said Daniel Medwed, a law professor at Northeastern University.
"She has probably made the calculation that she is better off without the police, which is amazing," he said. "Because the support of the police is, to some extent, code for the support of white voters in Boston."
This election will provide a snapshot of a city undergoing rapid change, as professionals move into neighborhoods once dominated by middle-income Irish American and Italian American families.
Although Boston's white population had dipped to 44% by 2017, white voters historically turn out in far greater numbers in city elections, and police union endorsements, telegraphed early in the race, were signals to them.
This year, however, "none of the top-tier candidates are shopping for police support," said Erin O'Brien, a professor at University of Massachusetts Boston.
A poll released Wednesday by WBUR and MassINC, a polling group, found that 46% of voters were still undecided. But it identified two front-runners — City Councilor Michelle Wu, with 19% support, and Janey, with 18% — who are both outspoken proponents of policing reform.
Describing the way politicians viewed the police in the past, O'Brien said, "It's like the boogeyman, in some ways — 'don't cross the police, don't cross the police' — well, no one's done it, they're afraid of them."
But recent elections suggest the clout of the police is waning, she said, pointing to the 2018 upset win of Rachael Rollins, a progressive, as district attorney in Boston, over a longtime prosecutor with police backing. O'Brien compared the union's political clout to the Wizard of Oz, who appears formidable but only from a distance.
"They have a lot of power until the curtain gets pulled," she said. "The question is whether the curtain has already been pulled."
The internal affairs file on Rose, which will be made public early next week, should shed light on the decision to return him to street duty after a 12-year-old came forward with an allegation of sexual abuse.
Although the complaint was dropped, ending the first criminal prosecution, a subsequent internal affairs investigation by the police, which uses the lower legal standard of preponderance of the evidence, found he had broken the law, according to The Globe.
The findings should have been forwarded to the department's legal adviser and the police commissioner at the time, Paul Evans, who would determine a punishment, said Daniel Linskey, a former superintendent in chief of the Boston Police, who is now a managing director at Kroll, a security consultancy firm.
Linskey said he supported Janey's decision to make the files public, which he said could help "restore trust and integrity in the system."
He added that, as far as he knows, police officers are not rallying to Rose's defense.
"I don't think the police union is going to die on the hill for this one," he said. "There is no rallying cry behind Pat on this because the information to date seems to indicate that there is some substance to the charges."
Keefe, Rose's lawyer, said his client did not pressure any witness to withdraw the charges.
"He denies anyone was pressured to do anything," he said.
A police spokesperson referred The New York Times to the mayor's statement. An official at the Boston Police Patrolmen's Association did not respond to requests for comment.
The Rose case is only one of the thorny police matters that Janey inherited, including the fact that the department has no permanent commissioner. Although Walsh appointed one, a veteran officer named Dennis White, he was placed on paid leave after The Globe reported that he had threatened to shoot his wife, also a Boston police officer, and was later ordered to stay away from his family.
Many of the legal structures governing Boston's police, like overtime rules and disciplinary practices, are outside the direct authority of the mayor, determined in collective bargaining between the city and the unions.
Still, Walsh, before leaving office, had embarked on new steps to increase oversight of police, including creating a new Office of Police Accountability, which includes a civilian review board.
Thomas Nolan, who served as a Boston police officer for 27 years and is now an associate professor at Emmanuel College, said Boston could follow the lead of cities like Oakland, California, or Chicago, which have increased civilian control over policing.
"It may come to a point where we scratch our head and say, 'Do you know there was a time when they let the police investigate themselves for wrongdoing?'" he said. "The accountability will come when they can't basically absolve their own people of wrongdoing."
Get Boston.com's browser alerts:
Enable breaking news notifications straight to your internet browser.