Local News
Nearly everyone in the Boston mayor's race wants to eliminate some MBTA fares. The question is for whom.
"We want to demonstrate that this is transformational."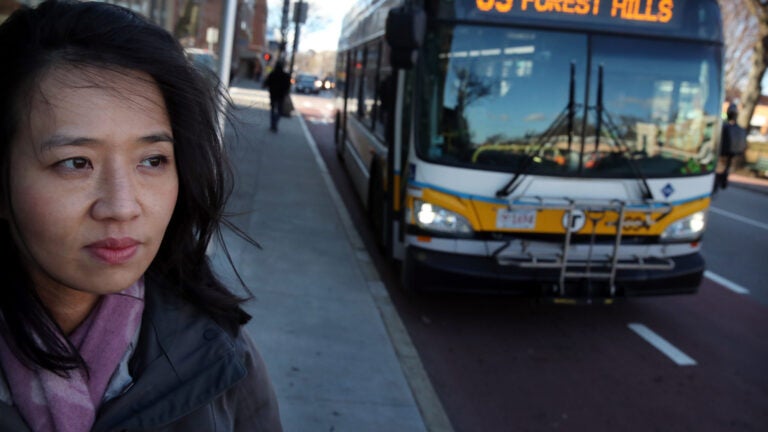 More than two years ago, Michelle Wu came forward with a bold idea:
At a time of fare increases, it was a singular pitch from the Boston city councilor, a seemingly radical idea, to provide financial relief to low-income riders, encourage more climate-friendly transportation, and maybe even improve service.
"We should be aiming for our entire system to reflect that public transportation is a public good," Wu said in a recent interview.
But now, in the race to be Boston's next mayor, she's hardly alone.
Nearly every candidate in the six-person field has expressed support for making some form of fare elimination on the MBTA a reality. However, they differ on the scope, and the degree to which fare-free transit is the best allocation of resources.
"Public transit is a public good," says fellow city councilor and mayoral candidate Annissa Essaibi George. "But it's only a public good when it's good."
Where the candidates stand
Last month, acting Mayor Kim Janey announced a pilot program to provide 1,000 free CharlieCards loaded with $60 to workers in five business districts that had been hard hit by the COVID-19 pandemic. In a subsequent appearance on GBH's "Boston Public Radio," Janey, who has echoed Wu's calls for fare-free public transit, said it "would be great" to eliminate fares across the system and said she was looking to make certain buses free, such as the 28 route, which runs along Blue Hill Avenue from Mattapan to Roxbury.
"I think it is important that we at least pilot that, and I am looking at ways of doing just that," said Janey, who is running for a full term as mayor.
Proponents largely agree that eliminating fares on buses would be the most cost-effective and equitable starting point. Wu says that Boston should "start by piloting fare-free access to certain bus routes," due to the amount of time lost on buses collecting fares, the small fraction of overall MBTA funding that comes from bus funding, and the disproportionate number of low-income riders.
"We want to demonstrate that this is transformational," Wu said.
Cities like Lawrence and Worcester have already experimented with the policy. And in fact, for four months during the beginning of the pandemic last year, the MBTA's rear-door boarding policy effectively allowed free rides on all buses, the Mattapan trolley, and for the Green Line at street-level stops.
Andrea Campbell, a fellow mayoral candidate and city councilor, is also calling for sweeping fare elimination on local MBTA buses as part of her transportation plan. In an interview, Campbell said she was "really confident" that, as mayor, she would make all buses that "operate in the city of Boston fare free" through partnerships with the MBTA.
"I see it as low hanging fruit," Campbell said. "More than a third of all MBTA ridership is bus commuters, and nearly half of those riders are people of color and 41 percent are low income, which is higher than subway ridership."
Campbell stressed that she thinks eliminating fares for MBTA buses in Boston would be a "practical" and "doable" plan, if elected.
"I don't want to make commitments that I can't keep," she said "There are many residents in the city of Boston who distrust government because of that."
Essaibi George says the calls for fare-free transit have started a "productive conversation," but she doesn't see systemwide fare elimination as a "realistic solution." Still, while she thinks increased investments should be focused on improving and expanding MBTA service at a time of derailments and cuts, Essaibi George did say she wants to explore fare elimination for buses that serve Boston's underserved communities, such as the 28 route.
"It doesn't intersect with other hubs of transportation, and those are the lines that we should be looking at first and foremost," Essaibi George said. "We need to create more opportunities for our residents to ride the T."
Mayoral hopeful state Rep. Jon Santiago also said he would focus on expanding and improving public transit through "a more comprehensive, equitable, and sustainable transportation policy," which he says would begin with lowering, if not eliminating, fares on select bus routes.
"I am committed to working with federal and state partners to do just that and move in the direction of a more accessible MBTA," Santiago said in a statement. "Identifying ways to lower bus fares, particularly on major thoroughfares in underserved communities, will be my first step."
John Barros, a mayoral candidate and Boston's former economic development chief, argues that the better approach would be eliminating fares for certain riders, rather than on certain services.
"We should look at creating a fare program that would allow for free access to the MBTA for low-income families," Barros said in an interview. "It doesn't make sense to make the MBTA free for everyone."
Barros also suggested expanding the MBTA's youth pass program — which currently offers reduced fares to low-income individuals under the age of 25 — to provide fare-free access to all young people, due to child poverty and youth unemployment rates.
"We've got to stop looking at the MBTA as if it's a for-profit business," he said. "The MBTA should not be run as if the fares alone will pay for all of the costs. We have to continue to invest in the MBTA. I just don't believe we can take away all the fares and do that."
Easier said than done?
Even before the COVID-19 pandemic undercut the MBTA's fare revenue stream, fare-free transit had its skeptics among the top ranks at the state agency and Boston City Hall. Former mayor Marty Walsh, who now serves as President Joe Biden's labor secretary, said he liked the idea in theory but expressed major hesitancy about implementation and cost.
"That's an expense that the T today can't afford," Walsh said in early 2020.
Within two months, the dramatic drop in ridership due to the COVID-19 pandemic sent MBTA fare revenue — which normally accounts for roughly $700 million of the agency's $2.1 billion operating budget — into a crater from which it still hasn't recovered (and may not for several years). And while federal COVID-19 relief funds have helped the T cover short-term losses, official have expressed concern about potential long-term structural impacts.
MBTA General Manager Steve Poftak told reporters last month he would be "would be very cautious about any discussion that would jeopardize" the agency's fare revenue.
However, transit advocates note that 90 percent of the MBTA's fare revenue comes from subway and commuter rail riders, making fare-free buses a relatively cheap reform. A study last year by the group Livable Streets said that local MBTA bus fares add up to less than $34 million, roughly 5 percent of all T fare revenue (the total does not include Silver Line and express bus service, which combined to generate $28 million).
Additionally, making all local buses at regional transit agencies across Massachusetts free would be around $60 million, Liveable Streets said, though the study did not account for the potential cost of additional buses to accommodate increased ridership incentivized by the elimination of fares.
Poftak says free MBTA buses alone could cost up to $100 million a year, adding it could have "unintended consequences." There is some debate over the impact on the T's RIDE and whether the Americans with Disability Act would require the door-to-door paratransit service to also eliminate fares, which could induce increased use.
He also noted that only 20 percent of the MBTA's bus and subway riders are "bus only," meaning that those who ride the bus to connect to the subway would not see the benefits.
"It may not have the desired effect that some of the advocates believe it will," Poftak said. "So again, there's an active discussion here, but fare revenue is an integral part of the MBTA's revenue. It is not something that the MBTA can do without."
Of course, the mayoral candidates don't believe the agency should be forced to cover the costs of fare-free pilots itself, especially at the expense of other investments to improve the system.
"We need to expand the T," Essaibi George said. "We need to continue to invest in the T. It's already a loss leader when it comes to services provided by the state, and it is a true public service, but it's $600 million in debt, and we need increased funding."
Janey, Wu, Campbell, Essaibi George, and Barros all say that their proposed pilots would be done in partnership between the City of Boston and the MBTA, even as the agency invests nearly $1 billion to update its fare collection system. As an example, Lawrence tapped into budget reserves to pay for its pilot.
They also point to additional streams of funding from the state and federal level. State Sen. Joe Boncore, a Winthrop Democrat who co-chairs the Legislature's Transportation Committee, recently proposed a bill to make all public buses in the state fare-free, paid for through a 12 percent increase in the gas tax and fees on ride-hailing companies and parking space sales or leases.
President Joe Biden also recently proposed a $2 trillion infrastructure bill that includes $85 million for local public transit. The day before Biden's plan was unveiled, Sen. Ed Markey and Rep. Ayanna Pressley reintroduced their proposal to create a $5 billion federal grant program to offset fare revenues for transit agencies that implement fare-free transit.
"It's obviously going to cost money," Janey said on GBH, adding that she hopes federal infrastructure money will be available to pilot fare-free buses and measure the impacts on ridership and bus speeds.
"I am looking at that federal money, and I hope our state partners are as well," Janey said.
Wu noted that Boston has a rich history of firsts when it comes to investing in residents' "shared prosperity," from public education to public parks to public libraries.
"We need to recognize that everyone benefits when we remove barriers to access," she said.
Get Boston.com's browser alerts:
Enable breaking news notifications straight to your internet browser.