Local
'When you pray, move your feet': Acting mayor Kim Janey reacts to Derek Chauvin verdict
Chauvin was found guilty on Tuesday for the killing of George Floyd last May.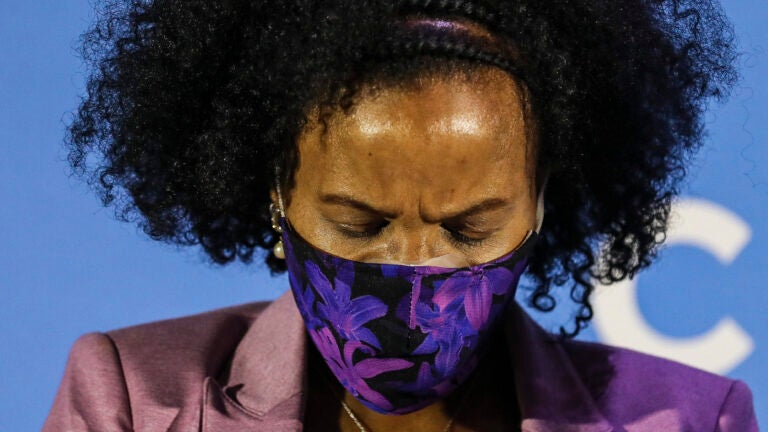 Acting Boston mayor Kim Janey commended Tuesday's verdict that found fired Minneapolis police officer Derek Chauvin guilty of murder in the killing of George Floyd last May, when he pinned the Black man's neck to the ground with his knee for over nine minutes.
Janey, Boston's first Black mayor, emphasized at a press conference that the fight for racial justice in Boston and beyond is far from over.
"I know the importance of the African proverb, 'When you pray, move your feet,'" she said. "And our work here in the city of Boston must continue."
Chauvin was charged with second-degree unintentional murder, third-degree murder, and second-degree manslaughter. He was convicted by a jury on all charges.
Read Janey's full statement below:
"As a grandmother of teenage boys, as a Black woman who has felt the need to tread lightly in a world that criminalized my Blackness, as a community organizer who has dedicated my career to racial justice, as the first Black mayor and the first woman mayor of the city of Boston, I continue to pray for the family of George Floyd.

And I know the importance of the African proverb, 'When you pray, move your feet.' And our work here in the city of Boston must continue.

I commend the jury and the prosecutors in this case. George Floyd's name now represents the urgency of racial reckoning and police reform across our country. While many of us breathe a sigh of relief, George Floyd and countless others are still dead, and the conditions that led to so many senseless killings still exist.

While I am truly grateful for a guilty verdict, I know that our work in our city and in every other city across America to advance racial justice continues. I encourage the residents of Boston to engage in this work with us. Doing the work to dismantle structural racism will take all of us.

I invite us to all come together to not only reimagine our criminal justice system and how we police. I encourage you to engage with us in city contracting, and housing, and education, and so many issues that need our attention. As mayor, I promise the city of Boston bold and courageous leadership.

Tonight, I stand with you, and together we will support the people of our city with meaningful dialogue, productive engagement, and collective action to advance equity and racial justice in Boston."