Local News
Under new collection system, the MBTA says fare evasion could increase 'dramatically.' Here's how they're planning to stop it.
"We know that when people see other individuals being inspected — and when they are inspected themselves periodically on the system — that it increases their willingness to voluntarily pay their fare."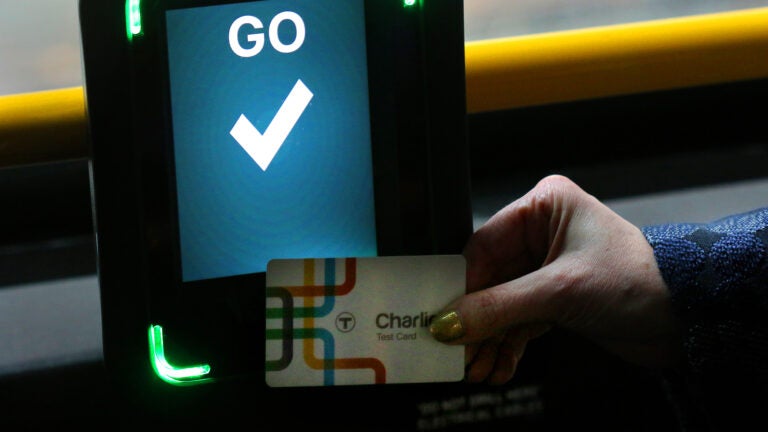 Aimed to make trips faster, the MBTA's nearly $1 billion project to modernize its fare collection system will eventually allow riders to board buses and trolleys at any door, pay fares across the system by simply tapping fare readers with a credit card or smartphone, and create a mobile CharlieCard app.
One problem: Officials say it could also allow fare evasion to surge.
Currently, the MBTA estimates fare evasion rates of 1 percent on buses and subways — with the exception of surface Green Line trolley stops, where it is believed to be between 5 percent and 10 percent. All in all, officials say it adds up to between $5 million to $6 million in lost revenue on those modes. Additionally, they're losing $10 million to $20 million on the commuter rail due to fare evasion.
It's already a "big problem," Lynsey Heffernan, the T's acting assistant general manager for policy, said during a hearing last week.
Under the new system, Heffernan said fare evasion could potentially increase "quite dramatically." If nothing else was done, it could reach 13 percent system wide, she said, costing the MBTA an additional $25 million to $30 million.
To address the concerns, the MBTA is planning to ramp up fare enforcement. However, unlike other cities, the agency is looking to do so through less punitive measures.
Massachusetts passed legislation to decriminalize fare evasion this past January, meaning that individuals can't be arrested — only fined — for not paying for their ride. And while MBTA Transit Police are currently the only employees who could issue fines, the T is planning to hire a civilian "fare verification" team to inspect whether riders have paid — and issue non-criminal citations to those who haven't.
MBTA General Manager Steve Poftak told CommonWealth Magazine this week that the agency is looking to hire somewhere between 80 to 120 inspectors. They'll be primarily focused on surface Green Line stops and the bus system, since fare gates will continue to effectively serve as a verification measure for the subway.
With the increased checks, the MBTA is proposing to decrease fine levels to $50 for first, second, and third offenses and to $100 for fourth and subsequent offenses (currently, the fines are $100 for first offense, $200 for a second offense, and $600 for any third or subsequent offenses). The agency is planning to hold the first of two scheduled virtual public meetings on the changes Tuesday night.
Heffernan says the point of the approach isn't to offset the losses from fare evasion with fine revenue; rather, it's a "deterrence" model that incentivizes riders to pay their fares in the first place.
"We know that when people see other individuals being inspected — and when they are inspected themselves periodically on the system — that it increases their willingness to voluntarily pay their fare," she said during the hearing.
"The potential to be checked is enough to incentivize you to tap," Poftak told CommonWealth, noting that many European transit systems are based on the model.
"I lived overseas a couple times, and it was almost universal compliance," he said. "Very few people rode without validating their ticket, even though I think in my travels I might have gotten checked a handful of times. There was a culture of compliance."
In addition to fining people who employees witness evading fare payment, the inspectors will perform random spot checks using handheld validators to see if riders' CharlieCards or CharlieTickets have been tapped. Officials say the two-person teams will board trains or trolleys during stops and approach every rider on the vehicle (or, at least, everyone possible) to see if they paid.
"We want to make sure it is done fairly," Poftak said.
The new legislation also allows riders to appeal their fine within 30 days. Riders who refuse to pay a fine will receive a warning from the MBTA that their driver's license may not be renewed. For any riders who have multiple unpaid fines, the MBTA will notify the Registry of Motor Vehicles to put a hold on the person's license, meaning that they won't be able to renew their license until they pay the fines or receive a waiver for financial hardship.
MBTA officials will also be required to publish an annual report with data on the fare evasion warnings and citations as part of the agency's efforts to ensure that enforcement is unbiased. According to MBTA data, 45 percent of citations in 2019 were issued to white riders, 34 percent were issued to Black riders, and 19 percent were issued to Hispanic riders; 88 percent of all fines were issued to men. Stacey Rubin, a senior attorney at the Conservation Law Foundation, noted that past MBTA data had shown the majority of citations were issued at Andrew, Downtown Crossing, Copley and Park Street stations.
Officials originally planned to have the new fare collection system implemented this year, but the full rollout of the project has been delayed until 2024, with improvements to be phased in over the coming years.
As The Boston Globe reported this weekend, that delay has resulted in some complications for the MBTA when it comes to fare collection on the Green Line Extension, which is scheduled to begin service later this year with gate-less stations and all-door boarding — making it prone to the type of increased fare evasion that officials have warned about.
The timing of the GLX was originally set to coincide with the completion of the systemwide fare transformation project. However, under the new schedule, Heffernan said Thursday that the MBTA doesn't expect to have its fare verification team in place until 2023.
"The transit police will still be our predominant enforcement mechanism" until then, Heffernan said.
MBTA spokesman Joe Pesturo said in an email the GLX stations will still have equipment where customers will be expected to "tap" their fare cards before boarding, adding that the agency expects to announce more details in the coming months. In the short term, MBTA officials are discussing other fare enforcement approaches for GLX stations, including inspection blitzes by T employees and Transit Police, which the agency has done at other surface Green Line stops in the past.
"GLX customers, like all T riders, will be subject to fare inspection," Pesaturo said.
There are other issues that remain to be worked out as well. Some advocates are pushing the T to go further and reduce fines to as low as $10 for initial offense, citing equity concerns. Other riders expressed concerns about the safety of the civilian fare inspectors tasked with approaching and issuing fines to riders. Some also questioned how the system would work for riders who do not have driver's licenses — or who simply refuse to provide their name for fines.
MBTA officials say that the team will continue to work in coordination with Transit Police and that the inspectors will be trained in deescalation tactics.
"We are not trying to criminalize the unwillingness to get a ticket," Heffernan said, stressing the focus on deterring fare evasion in the first place.
"The long and the short of it is, if you tell me a different name or you refuse to give me a name, we are still going to try to do our best to issue that citation to you," Heffernan said. "Could you crumple it up and throw it on the floor and never do anything with it? Of course. There are people who never pay their tickets. But … we actually think that that deterrence factor outweighs the fact that you may never pay your ticket. And the next time all of those [other] riders get on the bus, they know, 'Oh they are serious, this is important, and they're going to issue the ticket.'"
Get Boston.com's browser alerts:
Enable breaking news notifications straight to your internet browser.