Local
Somerville and Jamaica Plain are aiming to hold in-person PorchFests later this year
After the outdoor community music festivals were cancelled last year due to the pandemic, organizers are working to plan postponed, in-person events in 2021.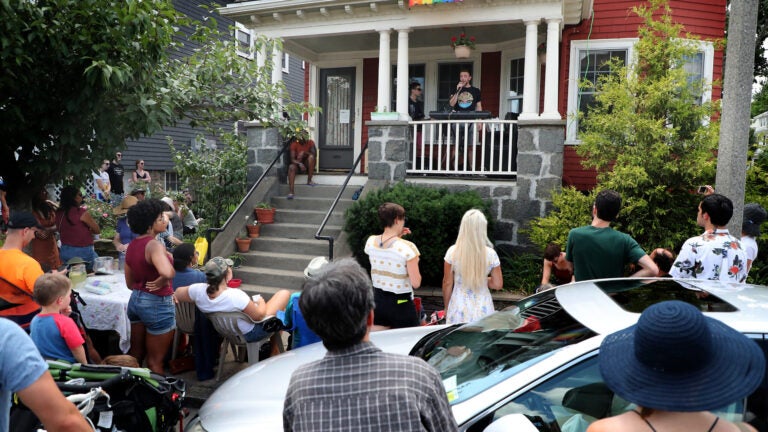 While the COVID-19 pandemic forced the cancellation of local Porchfests last year, organizers in Somerville and Jamaica Plain are still aiming to have in-person editions of their popular, open music festivals this year.
Just not on their traditional dates.
Heather Balchunas, the office manager and arts coordinator for the Somerville Arts Council, said Wednesday that the city is tentatively planning to hold PorchFest sometime this fall, when officials expect more residents to be fully vaccinated against COVID-19 and for large, in-person gatherings to be safer. The longest-running Porchfest in Massachusetts, this year would mark Somerville's tenth in-person festival, which is typically held in May.
According to Balchunas, the Somerville Arts Council will announce finalized plans when they have a clearer outlook. The event — which amounts to a large three-phase block party featuring live performances by local musicians and bands from porches and other spaces — was relegated to a virtual "Couchfest" last year due to COVID-19.
Organizers of the state's second-oldest Porchfest, in Boston's Jamaica Plain neighborhood, are hoping to safely hold an in-person event in August, after last year's event — usually held in July — was canceled.
Under the updated reopening timeline announced Tuesday by Gov. Charlie Baker, street festivals will be allowed to resume in most parts of the state on May 29, initially at 50 percent of their previous capacities. Baker's administration is aiming to lift all COVID-19 business restrictions and gathering limits by August 1, if not earlier, depending on vaccination and infection rates.
In both Somerville and Jamaica Plain, Porchfests have drawn as many as 10,000 people out into the cities' streets and sidewalks in the past.
Balchunas noted that Somerville, one of the densest cities in New England, has taken a notably more cautious approach to reopening throughout the pandemic. The city just announced Tuesday that it will move to the first step of Phase 4 on May 7, a month and a half after most of the rest of the state made the same move. Somerville also will allow movie theaters to reopen for the first time on May 7, just over 10 months after they were allowed to reopen elsewhere in Massachusetts.
Boston is also planning to delay most of the statewide reopening plans by three weeks.
Given the unpredictability of the pandemic, Cottle said they don't expect to hold a "fully realized" version of Jamaica Plain's Porchfest, but hope to still capture its "feel" to a smaller degree.
"All the logistics around this, it's stuff we're still figuring out," he said.
Get Boston.com's browser alerts:
Enable breaking news notifications straight to your internet browser.