Local
Community meeting will discuss late night noise, dirt bike and ATV driving in Franklin Park
The perennial presence of dirt bikers and ATVs in Franklin Park may reemerge as a political flashpoint in the city.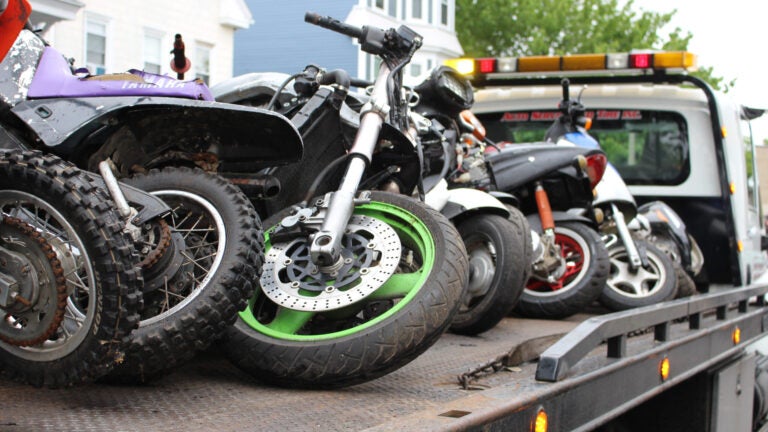 A city councilor and the Franklin Park Coalition will host a virtual community meeting Tuesday night to discuss inappropriate use of dirt bikes and ATVs in the large Boston park.
Councilor Matt O'Malley, who will attend the meeting with other elected officials, told The Boston Herald that loud late-night partying and driving are a "quality of life issue and an obvious public safety issue." He said that noise complaints ebb and flow but that problems with dirt bikers and ATVs have been "particularly bad lately."
"We need to make sure we're striking the right balance where we make sure people can enjoy the park and enjoy it well while recognizing that people live very close by," O'Malley told the Herald.
At least a dozen complaints have been filed through the city's online 311 portal about noisy dirt bikes in the park in recent years.
Zoo New England president John Linehan said "we too experience struggles from the unsafe use of dirt bikes and loud music into the early morning hours [by Franklin Park Zoo]," according to an email thread obtained by the Herald.
Franklin Park will soon see a $28 million upgrade which will include new gates that would limit vehicle access to the park, O'Malley told the Herald.
Zoom in Tuesday, May 4th 5-7pm to join @MattOMalley, FPC, and Boston Parks Dept to discuss management issues in the park this spring. Late night noise, motorbikes, and off-leash dogs are all on the agenda. Add your concerns! https://t.co/OsYMwxzilO pic.twitter.com/cK63WjzEZ7

— Franklin Park Boston (@FranklinParkBos) May 1, 2021
The issue may reemerge as a political flashpoint between disparate communities in Boston. On Monday, Dorothy Fennell of Jamaica Plain — who was also the resident quoted in the front page Herald article describing the situation as "out of control" — called into WBUR's Radio Boston to ask acting mayor Kim Janey about crowds of dirt bikers at Franklin Park.
"We do have a no chase, no pursuit policy as it relates to police officers going after folks on their dirt bikes, because it poses more of a risk and more of a danger," Janey said. "Not only to the person on the dirt bike [and] to the police officers, but to civilians.
"Police do have a strategy… to get these bikes off the roads. If you know of anyone that has them, oftentimes they are not legally registered and therefore we're able to get them off the road," she said. "If you do see them, please continue to report them… that is the best way we can cut this down."
"I understand completely that this is a nuisance to our residents, particularly late at night," she said.
In response to the Herald article, city councilor and mayoral candidate Annissa Essaibi George said dirt bikes and ATVs are a "quality of life issue" that "need to be addressed" on Twitter Monday evening.
The post received swift pushback from some locals on Twitter, who describe the pointed focus on dirt bikes and ATVs as a dogwhistle against Black youth. Franklin Park, Boston's largest, serves as a primary greenspace for Roxbury, Dorchester, Mattapan, Roslindale, and Jamaica Plain, neighborhoods with large minority populations.
"I'm excited for us to come up with solutions that don't further isolate and criminalize young people," wrote city council candidate Kendra Hicks in a rebuttal.
Dirt bikes and ATVs are a quality of life issue and genuine public safety concern that need to be addressed, especially as the weather gets warmer and more residents head outside.

Looking forward to hearing from the community tomorrow night and coming up with solutions. https://t.co/62xi65H0eb

— Annissa Essaibi George (@AnnissaForBos) May 3, 2021
I'm excited for us to come up with solutions that don't further isolate and criminalize young people.

— Kendra Hicks (@hicks4district6) May 4, 2021
Get Boston.com's browser alerts:
Enable breaking news notifications straight to your internet browser.