Local
No simple solution to dirt bikes, ATVs in Franklin Park, community meeting suggests
The presence of loud motorized vehicles in Boston's largest park has emerged as a contentious issue in recent days.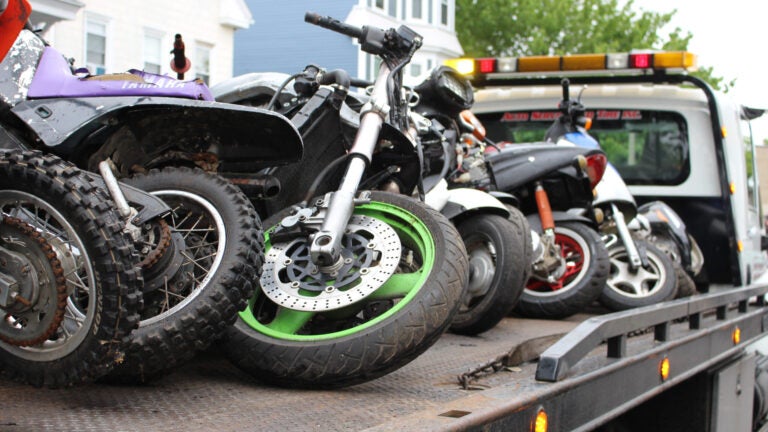 What to do about dirt bikers and ATV riders zooming around the streets and parks of Boston? There's not really a simple solution, officials suggested at a public meeting.
The perennial presence of motorized vehicles in Franklin Park and the streets of Boston has become a hot button issue in recent days after a front-page story in the Boston Herald described it as "out of control."
City councilor Matt O'Malley hosted the virtual meeting on Franklin Park Wednesday, which was livestreamed on city councilor Julia Mejia's Facebook page. (The planned Tuesday meeting was derailed after it was "Zoom bombed" with pornographic images, forcing the meeting to be delayed. The passcode for the Tuesday meeting was publicly shared online.)
A staffer from O'Malley's office shared three solutions proposed by community members in a survey: Install speed bumps in the park, increase enforcement in the area, or build a dedicated space for dirt bikes and ATVs. The last proposal "really jumped out to a lot of folks," the staffer said.
However, none of those solutions are so straightforward, officials at the meeting suggested.
Ryan Woods, the commissioner for the city's parks and recreation department, said that installing speed bumps could have the opposite effect, as it could encourage dirt bikers to treat the bumps as part of an ad hoc course. It could also steer them away from paved roads and onto the park's grass, tearing up the turf.
He also mentioned that ADA requirements mandate gaps in speed bumps on pedestrian paths so wheelchairs and strollers can pass through. Those gaps would be plenty wide enough for a dirt bike to pass between. Regardless, installing speed bumps in the first place isn't simple, he said: Franklin Park is designated as a landmark, and permanent installation requires a vote by the Boston Landmarks Commission.
Woods said he was open to installing more gates at the park to restrict entry, but he noted that a dirt biker died last fall when he crashed into a gate without seeing it.
Then there's the question of law enforcement: After all, riding motorized vehicles on public roads or in parks is illegal, and many riders are unregistered and unlicensed.
But though it's against the law, driving unregistered dirt bikes doesn't amount to more than a misdemeanor or a vehicle infraction.
"I just think it's very important… [to understand] that the last time I was in Dorchester, it was for a double homicide in domestic violence," District Attorney Rachael Rollins said at the meeting. "I want to make sure we are appropriately thinking about these traffic violations."
Patricia DaRosa, an officer with the Boston Police Department, explained why the BPD has a "no-chase" policy with dirt bikes on the street, reiterating acting mayor Kim Janey's comments on WBUR Monday.
"It's dangerous and would hurt people, and it would most likely result in a crash," she said. "It's not worth someone's life to ticket."
Sergeant Detective Dan Humphreys said that when bikes and ATVs are seized, it's usually when they're stationary or being transported in a larger vehicle. DaRosa said they are often confiscated at gas stations.
"It's safer for the public and the violator," he said.
Humphreys advocated for environmental changes over active patrol, such as blocking roads with gates and bollards.
"We have had ebbs and flows [with environmental measures] where we've had success and then it blooms a little bit, but some of the strategies we have used have worked in the parks, and I'm confident working together we can make a difference here," he said.
There's also the question of who enforces the law in Franklin Park, which is served by many separate agencies, including two BPD districts, state police, and city park rangers. Officials including Rollins and O'Malley said they would work on identifying an ombudsman to codify policy across the park.
Finally, there's the loose proposal to build a designated track for dirt bike and ATV riders. The idea follows the same logic as building urban skateboard parks: Instead of criminalizing the activity, build a safe and legal place for people to ride, and more will choose to get off the streets and ride in their designated area. (There's that old mantra that a city without a skatepark is a skatepark.)
And right now, there just isn't any local infrastructure to support riding. The closest area to ride dirt bikes is all the way out in Foxborough, a Mejia staffer pointed out.
But building a dirt bike park in the city is far from a simple task, least of all because Franklin Park is a designated landmark. Boston is a small, dense city, and the prospect of sanctioning noisy bike riding would inevitably grate on some neighbors.
Still, it's not an unprecedented pitch. Facing similar issues, officials in cities like Cleveland, Philadelphia, and Baltimore have explored building urban dirt bike parks in recent years, though none have come to fruition yet.
Across the country, dirt bike and ATV aficionados, who are mostly Black teens and young men, portray their riding as a robust subculture, saying that it saves lives by keeping at-risk youth out of trouble.
And as the swirling online discourse on dirt bikes in the city reveals, many opponents of the crackdown perceive the sudden focus on motorized vehicles, an expected presence on the streets as the weather warms up, as histrionic hand-wringing.
Concurring with viewer comments criticizing the focus on criminal consequences over community solutions, Mejia said at the meeting that there needed to be more young people and actual riders at the table.
"We don't want to criminalize young people, even though we know there needs to be some level of accountability," the councilor said. "Recreational spaces are very limited across the city, and we have to think about how we can be more creative for young people… to have outlets."
Get Boston.com's browser alerts:
Enable breaking news notifications straight to your internet browser.