Animals
'These are poisons': Animal rights groups push for rodenticide regulations after bald eagle death
The eagle was found acting strangely in March, and died soon afterward, officials said.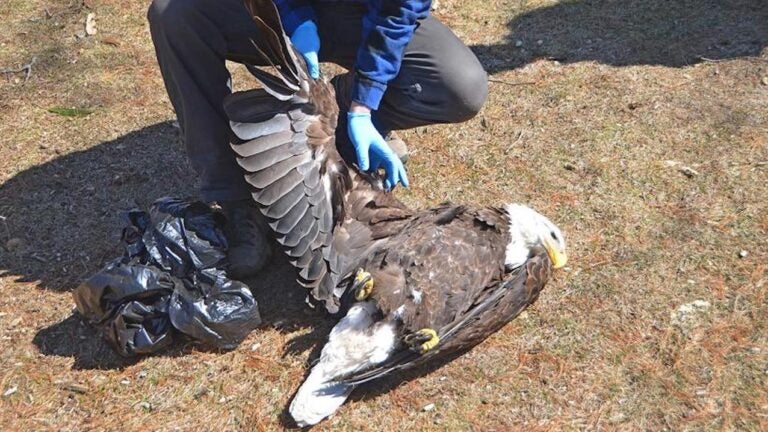 Animal rights activists are pushing for regulations on rodenticides following the death of a bald eagle this spring.
"These are poisons and they should be regulated better," Kara Holmquist, MSPCA-Angell's director of advocacy, told The Salem News. She also mentioned the harm done to animals that the poison wasn't meant for.
A proposed law would make it so public colleges and schools would have to come up with a plan to manage pests, and would have to disclose if they use rodenticide, according to the newspaper.
In March, an eagle reportedly was acting strangely while in a nest along the Charles River in Middlesex County. About a day later, the bird was found dead there. A necropsy and toxicology test on the eagle found that it had deadly amounts of anticoagulant rodenticides in its system, according to MassWildlife in a press release.
While bald eagles have died from rat poison in other states, it's the first case in Massachusetts, the department said.
"The struggle to control mice and rats is usually viewed in terms of humans vs. rodents, but wildlife such as birds of prey are often not recognized as players in this battle," Dr. Maureen Murray, director of Tufts Wildlife Clinic, said in the release. "Many people are surprised to learn that the mouse poison they use in their basement can also kill the great horned owl hooting in the neighborhood."
While the eagle didn't ingest the poison directly, it would have been poisoned by eating an animal that was poisoned. Though bald eagles eat mostly fish, MassWildlife called them "opportunistic foragers" – they will eat small mammals. Other birds of prey like owls and hawks, in addition to coyotes, bobcats, and foxes, have also been poisoned by rodenticide.
The poison works by making it so that an animal's blood doesn't clot properly, and the animal hemorrhages. At the time of its death, the eagle had three different rodenticides in its system. It isn't possible to know where the eagle ate the chemical.
However, not everyone wants to see rodenticides go away entirely, according to the News.
"If you ban or over-regulate it, how are you going to control the rats? Trapping is just not practical," Peter Wonson, who owns General Environmental Services in Malden, told the newspaper.
Like many other cities and urban centers, rats have long been a problem in Boston. A mild winter from 2019-2020, plus the pandemic, was thought to have spurred rat activity, officials said last fall.
Get Boston.com's browser alerts:
Enable breaking news notifications straight to your internet browser.