Local
A rally and vigil for Mikayla Miller is scheduled in Hopkinton Thursday. Here's what to know.
Crowds will gather in memory of the 16-year-old and in a push for answers about her death.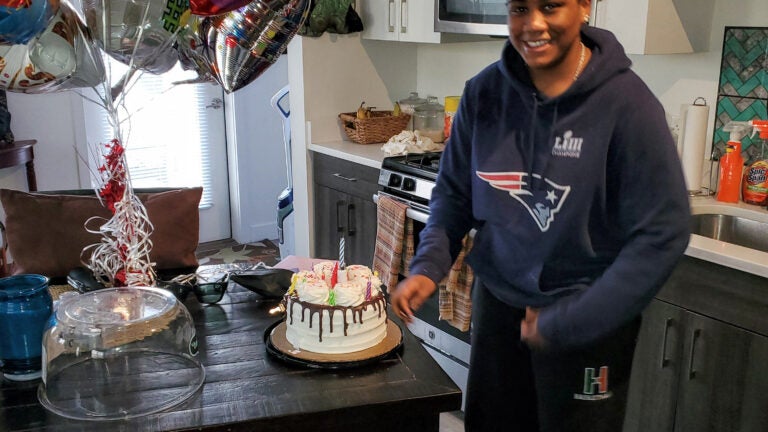 Crowds are expected to gather in the heart of Hopkinton Thursday afternoon in memory of 16-year-old Mikayla Miller.
The local teen was found dead on the morning of April 18 in the woods off a walking path near 34 West Main St.
But while Thursday's gathering, organized by Violence In Boston, seeks to honor Mikayla's life, attendees will also be pushing for more information from authorities about Mikayla's final moments and what led to her death.
What Mikayla's mother, authorities, and activists say
Calvina Strothers, Mikayla's mother, told The Boston Globe authorities initially informed her that her daughter's death was a suicide. She also has alleged Hopkinton police have been hostile toward her and have withheld information from her.
"My concern is did they really thoroughly look at the crime scene?" Strothers said. "Or did they just dismiss it because she's a Black girl on a tree in Hopkinton?"
Middlesex County District Attorney Marian Ryan, on Tuesday, pushed back on allegations the case was somehow "neglected" or that authorities have been "engaged in some sort of cover-up" because Mikayla was Black or because she was a member of the LGBTQIA community.
Mikayla's death has also been referred to as a "murder" and "lynching" on social media; however, Ryan has stressed that authorities are still waiting on her manner and cause of death from the medical examiner's office.
The district attorney also said Tuesday there is no evidence — "positive or negative" — to support an allegation that race played a role in an altercation involving Mikayla the evening before her body was found.
On Thursday, Strothers launched a GoFundMe fundraiser for funeral expenses and detailed her experiences with Hopkinton police.
"I called the police to report this attack on my daughter," Strother wrote about the altercation the evening of April 17. "I filed a police report with the Hopkinton Police Department and provided all the information asked of us by the police at that time. We assumed, falsely, that the Hopkinton Police would do their job and file this report, follow up and work for justice."
In a statement Wednesday, Monica Cannon-Grant, of Violence In Boston, and Tito Jackson, an activist and former Boston city councilor, called for an independent investigation into Mikayla's death.
"Every single day since her family lost 16-year-old Mikayla Miller two weeks ago, a beautiful and passionate Black girl with dreams of attending an HBCU, her grieving loved ones have asked for what any of us would demand if she was our own: honesty, transparency, accountability and answers from authorities," the statement says. "But instead of answers, the response from the Middlesex District Attorney's Office, State Police and the Hopkinton Police has been the exact opposite: disrespect, slammed doors, misdirection, glaring inconsistencies, extreme confusion, and ultimately, silence. The only thing these authorities have proved since April 17th is that they are completely incapable of properly investigating this case. Mikayla and her family deserve so much better."
Ryan said Tuesday her office has been in "almost daily" contact with a family representative about the case.
The Hopkinton Select Board, in a statement Tuesday, called for a "peaceful and respectful" event Thursday.
"We understand the importance of community dialogue on this matter and the collective expression of grief and concern that the vigil and demonstration communicates," Board Chair Brendan Tedstone said, reading the statement aloud at a meeting. "Both at the vigil and demonstration or otherwise, we encourage everybody to show their support for Mikayla's family. We ask only that everybody is careful to choose their words and actions at the vigil and demonstration and elsewhere, that are peaceful and respectful."
What to know about the vigil and rally
Where and when
According to organizers, the event will begin at 4:30 p.m. on East Main Street in Hopkinton at the Boston Marathon starting line.
Who will be there 
Both Jackson and Cannon-Grant will be leading the vigil, which is expected to attract a large crowd, according to WBZ.
Several local elected officials have indicated they will also be there, including state Senate President Karen Spilka and state Rep. Carolyn Dykema, who both represent Hopkinton in the state Legislature.
Hopkinton Superintendent of Schools Carol Cavanaugh informed families Wednesday the school district will have an early dismissal for students Thursday, with all schools empty by midday, The MetroWest Daily News reports.
Cavanaugh said the district has "been in touch with the Hopkinton Police Department to help us understand the projected magnitude of the event."
"At this time, we have concerns about volume: There will be great numbers of attendees and exceedingly heavy traffic in the downtown area, perhaps making the area significantly restricted to the flow of traffic, including our buses," said Cavanaugh, adding there would be an increased police presence in schools Thursday.
What will be said
In a flyer, Violence In Boston said attendees will join together for a candle light vigil and a "rally to demand answers from District Attorney Marian Ryan."
"On April 17th, 2021 the life of 16 year old Mikayla Miller was tragically taken from us," the flyer reads. "The circumstances around her death and disappearance still remain a mystery."
On Monday — ahead of Ryan's remarks on the case the following day — WBZ reported that Mikayla's mother and aunt declined interview requests from the news station but said more information will be released at Thursday's vigil.
🚨 New Media Contact🚨 pic.twitter.com/zUwJGPJqu5

— Violence In Boston Inc. (@ViolenceNBoston) May 3, 2021
Get Boston.com's browser alerts:
Enable breaking news notifications straight to your internet browser.