Local
'A bond that was indescribable': During vigil that drew hundreds, Mikayla Miller's mother describes life with her daughter
"She promised me that when I get old, I could live in her pool house."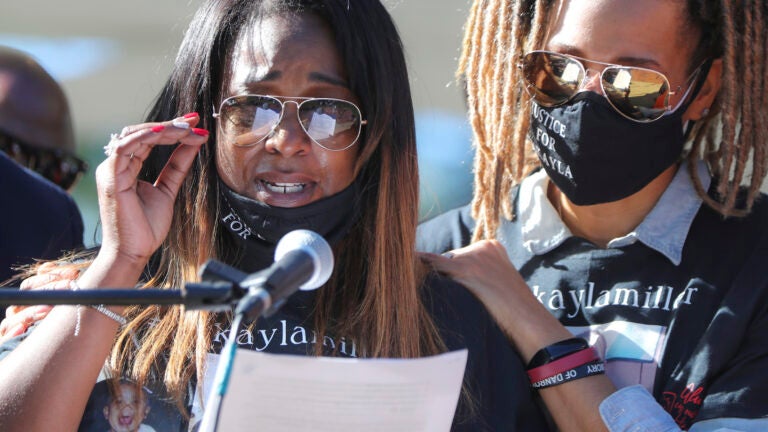 In a vigil to honor her daughter's short life, Mikayla Miller's mother told the many gathered in Hopkinton Thursday night about her daughter's love of making tea, and how Mikayla had promised that someday, she would let her mom live in her pool house.
Through tears, Calvina Strothers described how her daughter was "funny, loving, caring, and loved me to death."
Miller, 16, was found dead in a wooded area near the apartment complex where she lived on the morning of April 18. The cause and many of the circumstances surrounding her death have not been released. Hours earlier, Miller had been in a physical altercation with a group of teenagers. Authorities say the teenagers involved in the altercation did not go to the area where Miller's body was found.
Authorities are waiting on a cause and manner of death from the medical examiner, Middlesex District Attorney Marian Ryan said in a press conference on Tuesday. Strothers told The Boston Globe that authorities initially told the family Mikayla's death was a suicide. At the time, Ryan's office publicly stated her death was not considered suspicious. Ryan has also denied that the case has been "neglected" due to Mikayla being Black and a member of the LGBTQIA community.
Strothers, meanwhile, has voiced concern over the handling of the investigation and said police have been hostile towards her.
During the vigil, Strothers said she wanted to help those in attendance to better get to know her daughter and their life together.
"You know the old saying, 'Two peas in a pod.' That was us," she said. "We had a bond that was indescribable."
Every night, Strothers said Miller would make her tea.
"No one made chamomile tea for me like Mikayla," she said.
The two also loved to travel, from short trips to Maine and New Hampshire, to visiting Trinidad, where Miller's father was from. Miller loved being by the ocean and camping, her mom said.
Miller dreamed of attending an HBCU, and wanted to pursue journalism, according to Strothers. 
"She promised me that when I get old, I could live in her pool house," her mother said. 
Strothers described all the life milestones she'll now not be able to celebrate with her daughter.
"As a mom nothing would have brought me more joy than to watch my daughter graduate from high school," she said. "I'm never going to see her get her license and drive the new car that is still sitting in my driveway, graduate from college, fall in and out of love, get married, [and] have kids."
She called on authorities for a "full investigation."
"Given everything that has transpired over the last few weeks, I want to make sure that I am clear about my goals in all of this: It is to have full transparency and to get justice for my daughter Mikayla," Strothers said.
Watch Strothers's full remarks:
https://www.youtube.com/watch?v=MlAMUHZdzCM