Local
Chelsea launched a guaranteed income experiment to give money directly to residents. Here's how they spent it.
Nearly a third of all spending occurred at one chain: Market Basket.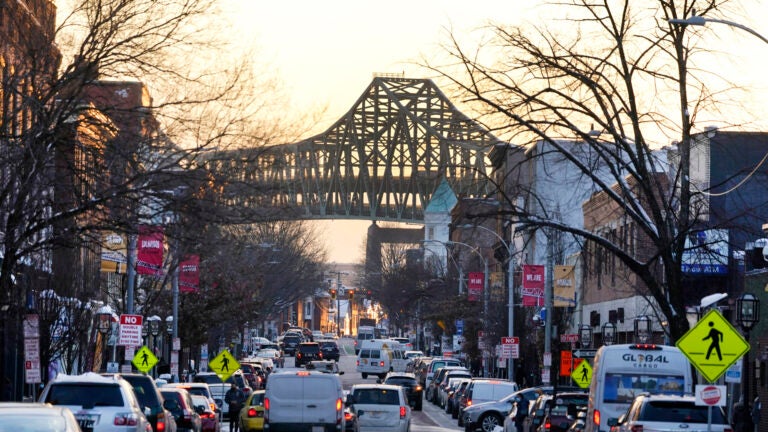 Last fall, in the midst of the second COVID-19 surge, the City of Chelsea launched the nation's largest guaranteed income project, shifting its relief efforts from municipal-run food distribution sites to simply sending money to thousands of residents in the hard-hit community — no strings attached.
With help from local nonprofits, the program — dubbed Chelsea Eats — gave nearly one in every eight households in Chelsea a debit card with between $200 and $400 dollars, depending on the size of the household, fully replenished on a monthly basis for six months. The cards could be used wherever Visa is accepted; residents were free to spend the money almost anywhere.
However, a new study suggests the program worked how proponents intended.
A report released Monday by the Harvard Kennedy School's Rappaport Institute for Greater Boston found that roughly $1.5 million — or 73.3 percent — of the $2.1 million distributed through the Chelsea Eats program was spent at grocery stores, markets, restaurants, and other places where food is the primary product. Supporters say the results add to emerging research from similar guaranteed income experiments that recipients use the money for basic necessities like food.
"Government programs are most effective when they give people the tools and agency to make the best decisions for themselves and their families," said Jill Shah, the president of the Shah Family Foundation, which helped fund and manage the Chelsea Eats program.
The initiative — which was funded primarily by the City of Chelsea using federal COVID-19 relief funds, along with smaller contributions from the Shah Family Foundation, Massachusetts General Hospital Center for Community Health Improvement, and the United Way of Massachusetts Bay and Merrimack Valley — funded debit cards to 2,074 economically vulnerable households from mid November through April. Most recipients reported losing a job or facing financial hardship due to the pandemic.
While the new report Monday doesn't show exactly what recipients bought, researchers were able to generally categorize spending using vendor data from the cards — with food retailers as the clear leader. Researchers said the results were unsurprising, since "applicants were recruited largely from food pantry users."
"While it is likely that most of these purchases are food, it is, of course, possible to buy many other things at these locations, such as cleaning supplies," they wrote in the report.
Almost exactly 50 percent of the spending was done at grocery chains. In fact, 32 percent of all spending was done at Market Basket, "overwhelmingly at the Chelsea location," the report says.
Another 11.6 percent was spent at wholesale chains like BJ's and Costco, and just over 5 percent of the spending was at local food markets and convenience stores. Nearly 7 percent of the money was used at local restaurants, with Dunkin' and McDonalds leading the way above all others.
Researchers noted that they're working to survey recipients in greater detail to assess "the extent to which the program leads to greater food adequacy and reductions in food insecurity."
Retail accounted for nearly 21 percent of spending, with big names like Walmart, Target, Burlington Stores, Amazon, Family Dollar, CVS, and TJ Maxx accounting for more than half of the spending in the category.
Just over 4 percent of spending occurred at vendors categorized "utilities and professional services," mostly utilities like Comcast, Eversource, and National Grid, or at wireless providers such as T-Mobile, MetroPCS, and AT&T, the report said, adding that " a significant minority" in their survey previously reported being behind on bills or having their phone disconnected because of overdue payments.
Transportation costs, such as gas, MBTA fares, and ride-sharing services, accounted for 1.3 percent of spending. And just 0.4 percent came at liquor stores and smoke shops, though the authors conceded that alcohol and cigarettes can be bought at grocery and convenience stores, so the amount spent on those products could be "somewhat larger."
They also noted that just $1,947 was spend on rent — despite the pandemic's added pressure on the city's housing market — presumably because few landlords accept Visa.
Harvard professor Jeffrey Liebman, the director of the Rappaport Institute, called the program an overall success in "helping Chelsea families purchase groceries and other essentials." He also noted that the size of the program — which was significantly bigger than the well-known, 125-recipient guaranteed income project in Stockton, California — "demonstrates that direct payments can be delivered at scale."
Chelsea City Manger Tom Ambrosino told Boston.com in an email Monday that the city is hoping to find a way to extend the six-month program — or some form of it. However, financing remains a challenge.
"We simply need more money," Ambrosino said. "I am working with Shah Foundation and Council currently to try to figure that out."
The program is currently funded through the beginning of summer. According to the Shah Foundation, they anticipate additional news on that front in the coming weeks.
Get Boston.com's browser alerts:
Enable breaking news notifications straight to your internet browser.