Local News
Boston to NYC high-speed rail? One project seeks to link the two cities via a 200 mile-per-hour train
"We've got to start thinking differently. And that's what we're trying to do."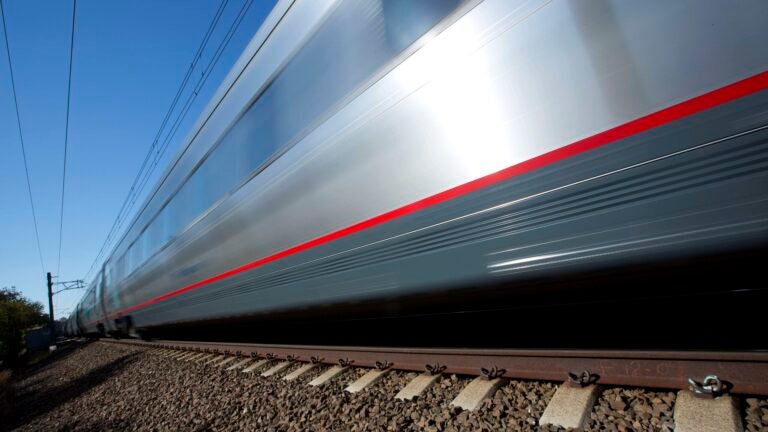 Boston to Manhattan by train in 100 minutes?
It's possible, so say the organizers of the North Atlantic Rail Initiative, who are now seeking to drum up support from the Biden Administration, as it works to sell its $2 trillion infrastructure package to the country.
The $105 billion high-speed rail project would take about 20 years to complete, but, when finished, would link Boston, Providence, Hartford, and New Haven to Penn Station, via a tunnel under the Long Island Sound, Newsday reports. Other stops would include stations in Connecticut, on Long Island, and in Queens, New York.
At a speed that would reach up to 200 miles per hour, the trip between NYC and Boston would be as quick as 1 hour and 40 minutes — roughly 33 percent faster than Amtrak's Acela trains that travel the system's Northeast corridor.
Additionally, the initiative seeks to create regional rail service throughout New England, including an east-west link between Boston and Springfield, that would continue on to Hartford; improved commuter service between Concord, New Hampshire, and Boston; frequent high-speed rail between Kingston, Rhode Island and Providence and Boston; and connections to Pittsfield from Connecticut, among other upgrades.
Proponents of the project told Newsday the benefits of the high-speed line between Manhattan and Boston would be multi-faceted.
The rail line could help spur economic development in the region — construction would create "tens of thousands of jobs" alone, organizers say — while also taking cars off the roads, thereby cutting carbon emissions. The project would also give transportation options to underserved communities and could help provide more affordable housing, as people would be able to live farther from where they work.
As the newspaper noted, that trend already began during the COVID-19 pandemic, as more workers have considered fewer days in the office but commuting greater distances when they need to work in-person.
"We don't have a transportation system that can do that. We have a transportation system designed to get people into the city in the morning and out in the afternoon and at slow speeds, and without the reliability and the frequency … that's going to be needed," said Robert Yaro, a member of the project's steering committee and the former president of the Regional Plan Association in New York. "All of this suggests that we've got to start thinking differently. And that's what we're trying to do. And we're trying to bring people along to that line of thinking."
Project leaders were slated to discuss their vision with the Biden Administration this week, including Deputy Transportation Secretary Polly Trottenberg, according to Newsday.
The administration has signaled an appetite for revamping the nation's railroads. Proposed plans announced last month outlined improvements and new services to Amtrak that could be completed by 2035 with the proper funding from lawmakers. Notably, high-speed rail the likes of the North Atlantic Rail Initiative was not on that list.
Several officials in New York and Connecticut have however already hopped on board for the rail initiative, including Hartford Mayor Luke Bronin, who is also co-chair of the initiative.
"This probably should have been done decades ago,"  Bronin told WBZ in February. "But we now have a president that has made rail infrastructure a centerpiece of his campaign. We hope that Congress will rise to the moment and embrace the kind of initiative that America has done in the past and needs to do again."
For Connecticut, sitting btw New York & Boston but held back by decaying infrastructure, this kind of rail network is a game changer that expands housing opportunities & job opportunities — and of course represents huge step forward for climate action. 4/

— Luke Bronin (@MayorBronin) April 30, 2021
In New York, Democratic U.S. Rep. Thomas Suozzi and Suffolk County Executive Steve Bellone have also praised the plan.
"I've always been forward-leaning, but I've never been engaged in things that I don't think have a chance of success," Bellone said. "And this is the most transformative project that I've ever seen that I think is doable, as well."
Still, the project faces sizable hurdles and fierce competition for a slice of the $80 billion President Joe Biden has earmarked for rail upgrades in his infrastructure proposal.
With limited funding, Mitchell Moss, director of the Rudin Center for Transportation Policy and Management at New York University, told Newsday the priority should be "things that we need, not things that are fantasies."
Moss said officials should focus on expanding broadband to connect people across distances.
"This is a solution in search of a problem. We have a perfectly good aviation system for long-distance travel," Moss said. "Our need is for people commuting to work."
In February, U.S. Sen. Richard Blumenthal, a Connecticut Democrat, said officials should be focusing on rebuilding New York's Hudson Tunnel and the tracks between NYC and New Haven, not the tunnel under the sound.
"A massive tunnel could disrupt and destroy precious wildlife and habitat," Blumenthal said, according to WBZ. "I have strong concerns about a tunnel. And I think the costs have been lowballed by this estimate, not to mention the logistical difficulties."
That piece of the project is also likely to face pushback from residents who live where it would begin in Port Jefferson, New York.
Locals have rejected similar proposals in the past, according to Sal Pitti, president of the Port Jefferson/Terryville Civic Association.
"If they're talking about digging up the ground underneath Port Jefferson to get to Connecticut, I guarantee you it's going to meet the same kind of resistance," Pitti told Newsday.
Still, Yaro told the newspaper he faced similar skepticism and criticism during his time as president of the Regional Plan Association, which helped see through several multi-billion dollar transportation projects in New York.
"With all these things, everyone said, 'It'll never happen. It's impossible. You've got to be kidding me. It costs too much. It's too difficult. It'll take too long.' And we built them," Yaro said. "It just takes the attitude of, 'OK, we're going to do this thing.'"
Should the project not receive funding under Biden's infrastructure plan, Bellone expressed similar optimism for still getting the initiative on track.
"I'm a huge Yankees fan and we've all made a pledge that we're going to take this high-speed rail up to Fenway Park and see the Yankees beat the Red Sox at Fenway in quicker time than it would take us to get to Yankee Stadium if we were driving," he said.
Get Boston.com's browser alerts:
Enable breaking news notifications straight to your internet browser.