Local
Following increased scrutiny, Kim Janey says Boston will drop legal defense of allegedly discriminatory police test
"I have directed our legal team to resolve this matter."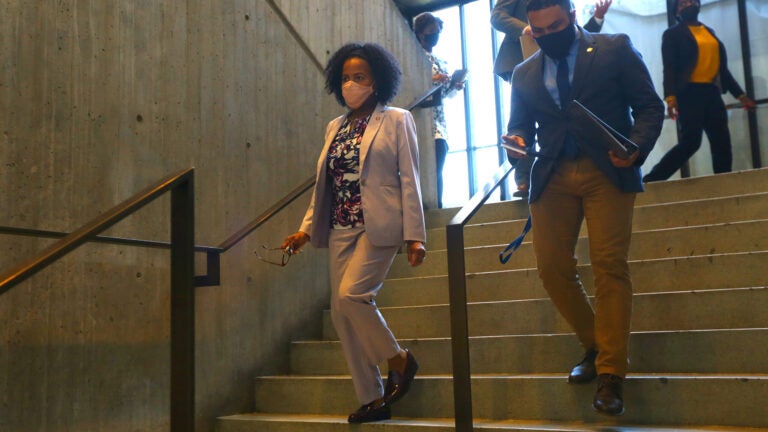 In a sudden course reversal, the City of Boston is dropping its defense of a Boston Police Department promotional exam criticized as racially discriminatory, bringing an end to a years-long legal fight.
Following a Boston Globe report Thursday morning on the ongoing court case and criticism from several 2021 mayoral candidates, Acting Mayor Kim Janey's office said Thursday afternoon that they will seek to settle the lawsuit brought by a group of Black sergeants, who said a previous version of the multiple-choice exam unfairly blocked them from promotions to lieutenant.
"Black officers in the Boston Police Department deserve a fair shot at promotions," Janey said in a statement.
"My administration will not waste tax dollars defending past department practices that created barriers to opportunity for people of color," she continued. "I have directed our legal team to resolve this matter, as we move forward with a new vision for public safety in our city."
The city's legal fight dates back to 2012, when a group of Black sergeants sued after failing to advance to the rank of lieutenant, alleging that the multiple-choice exam was racially biased. And in 2015, a federal judge agreed, ruling that the test incidentally disadvantaged officers of color. However, the city of Boston has since been appealing the decision.
Last month, the U.S. Department of Justice filed a brief arguing that Boston should drop its appeal and pay the nearly $500,000 awarded to the officers who filed the suit. But as the Globe reported Thursday, the city had continued to fight on in preparation for oral arguments scheduled for June 8.
That prompted criticism from several mayoral candidates in the race for a full term this fall, particularly given Janey's calls for racial equity and police reform. Last spring, as City Council president, she had sent a letter to former mayor Marty Walsh calling on his administration to, among other things, "eliminate discriminatory practices in hiring and promotion in law enforcement" such as promotional exams, "and commit to stop appealing decisions."
In a statement earlier Thursday afternoon, City Councilor Andrea Campbell, who led a rally against the exam last June, said it was "shocking" and "shameful" that Janey, who is also running for a full term, was now defending the exam as acting mayor.
After the city subsequently changed its position, Campbell knocked Janey for not having acted sooner.
"I don't need external pressure to hold our departments accountable or to implement the necessary policing reforms to ensure our department is diverse, transparent, and accountable," the mayoral hopeful said.
City Councilor Michelle Wu and John Barros, the city's former economic development chief — both candidates for mayor as well — had also said earlier Thursday that the city should drop its appeal.
Shannon Liss-Riordan, the attorney representing the officers who sued, said Thursday that they were "pleased to have heard the City's new position on this long-running case," but declined further comment until it is made official and filed with the court.
Newsletter Signup
Stay up to date on all the latest news from Boston.com