Local
Acting Mayor Kim Janey wants to fire suspended Boston Police Commissioner Dennis White, following report on domestic violence allegations during the 1990s
"This cloud cannot continue."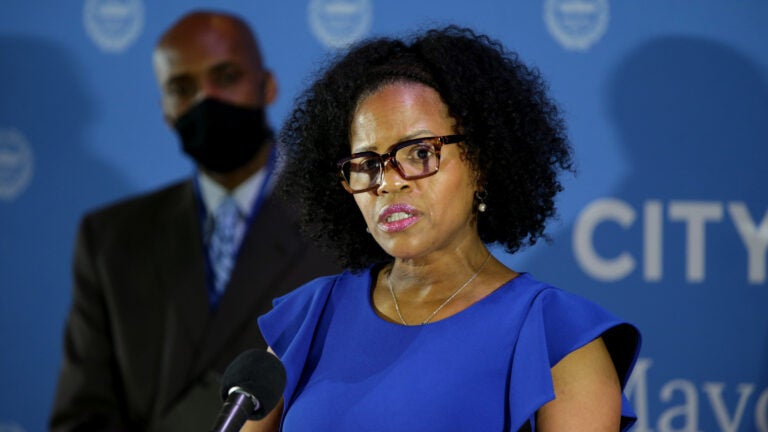 Following new revelations from an independent report into decades-old domestic violence allegations against suspended Boston Police Commissioner Dennis White, Acting Mayor Kim Janey said Friday afternoon that she believes the city should install a new person to lead its police department.
"Dennis White's admitted behavior does not reflect our values," Janey said during a press conference at City Hall. "It is clear from the report that we have to move in a different direction."
White, 59, was placed on administrative leave in February just days after replacing retired Police Commissioner William Gross, after The Boston Globe raised questions about allegations in 1999 that the longtime officer pushed and threatened to shoot his then-wife. White, who was never charged with a crime, has denied the specific allegations, but his lawyer conceded in subsequent divorce filings that "there were incidents of fighting" between the couple that sometimes "escalated to some physical contact."
In the report released Friday, Tamsin Kaplan, the attorney hired by former Mayor Marty Walsh's administration to conduct the investigation, uncovered an additional assault allegation from 1993, in which a neighbor said they witnessed White slap his niece-in-law after she kicked him during an argument. White also admitted to slapping her, the report said, though the unidentified woman said it was a punch. Both filed assault charges against each other, which were later dismissed.
According to the report, an internal police investigation did not sustain the allegation against White on the basis that his open-handed slap was "a reflexive self-defense response."
Kaplan's report also shed additional light on abuse allegations around the time of the originally reported 1999 incident, which occurred during the combative end of White's 20-year marriage to a fellow Boston police officer when they were informally separated but still living together.
Four witnesses told Kaplan that White, who was much larger than his wife, subjected her to both mental and physical abuse, including "choking her, throwing a television at her, pushing her and stomping on her legs when she crawled under the bed, pushing her face onto the stove and trying to turn it on, and trying to physically throw her or pull her out of the house." Kaplan said she was also told White's wife had scars on her wrist and arms as a result.
White denied all those allegations to Kaplan, but said there was "physical abuse in the relationship," which he said was limited to pushing, initiated by both he and his wife.
Kaplan also noted that White initially repeatedly declined to directly answer when she asked if there had been any pushing between him and his current wife — but later said "no," after a break with his lawyer.
Janey said Friday that she had informed White that she would hold a hearing on his employment status, but his attorney filed papers in court to delay the process.
In a statement Friday afternoon, White's attorney, Nick Carter, said that "a hearing where the decision has already been made is no hearing" and contested that Janey, as acting mayor, "does not have the power to remove him."
Carter said that Janey had told White "that she intends to terminate him and promote Superintendent Nora Baston to Commissioner.
"Commissioner Dennis White doesn't oppose Nora Baston and applauds her success," Carter said. "In fact, he has been one of her main mentors and supporters and was instrumental in her promotion to Superintendent. However, the decision today is wrong. There is already a Boston Police Commissioner, Dennis White. Acting Mayor Janey does not have the power to remove him. Any removal would require a hearing and cause, and there is no cause to remove him."
Janey denied that she had named a successor during her press conference, but appeared to confirm her desire to fire White.
"I have made it clear in my conversation with him this morning that I think it is time to move the department forward," she said. "This cloud cannot continue, if we want to move the department forward so we need to move past it."
Janey noted that White told her that he disagreed with her decision.
"But I think the report speaks for itself," she said.
While the report did unearth new allegations, it was also hindered by a lack of cooperation from within the Boston Police Department, including officers who refused to speak to investigators, Janey noted Friday.
"What is often referred to as a blue wall of silence was confirmed by one retired officer who said he received five phone calls directing him not to cooperate with this investigation," she said. "Other officers were intimidated into silence, for fear of retaliation."
Kaplan said she was ultimately only able to speak to seven of the 21 witnesses she wanted to interview. Janey said the lack of cooperation "reveals a flawed process and a misguided department culture."
One of six candidates running for a full term as mayor, Janey also announced Friday that all future candidates for BPD leadership — whether internal or external — will be required to undergo vetting and background checks in the wake of White's rushed appointment. She also said the city will be updating the BPD's 15-year-old policy against domestic violence to include more protections for victims, particularly when it comes to sexual assault.
Janey also asked for "patience as we await a court's ruling" on Carter's court motion to block White's firing. However, several mayoral candidate criticized the lack of "clarity" around who would immediately lead the department. Superintendent-in-Chief Greg Long has also been serving as acting commissioner during White's suspension.
John Barros, the city's former economic development chief, called for the full release of White's internal affairs files and records, while City Councilor Andrea Campbell criticized Janey's "standoff" with the commissioner.
"The residents of Boston and Commissioner White deserve transparency and clear reasoning around the decision to terminate without a hearing," Barros said in a statement. "Trust is rooted in transparency. Any progress around police and public safety reform cannot begin without that foundation."
"The city needs leadership that brings clarity and stability to this situation, not chaos and confusion," Campbell said.
City Councilor Michelle Wu also knocked the ongoing dispute, reiterating her call for BPD reforms to start with the current police union negotiations.
"It's disappointing that Boston residents continue to have no clarity about who will steer the Police Department over the next six months as Interim Commissioner until the next administration," Wu said.
Newsletter Signup
Stay up to date on all the latest news from Boston.com