Local News
Black business leaders in Massachusetts envision a 'new normal.' It starts with a public bank.
"This is the time for out-of-the-box thinking."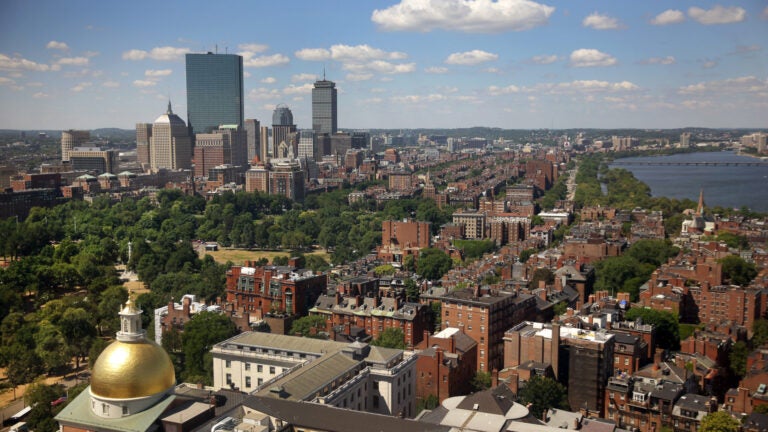 Massachusetts is less than a week away from lifting its remaining COVID-19 businesses restrictions. But even as companies emerge from more than a year of immense losses and pandemic-induced rules, leaders in the local Black business community aren't looking forward to a return to normal.
"Normal sucked; it wasn't good for us," says Samuel Gebru, the director of policy and public affairs for the Black Economic Council of Massachusetts.
That the Black community faced stunning economic disparities — in the Boston area and across the country — well before the pandemic due to historic discriminatory policies was no secret. But it holds ever more true for minority entrepreneurs; according to a report by The Boston Foundation last week, Black and Latino business owners were far less likely receive debt financing or access loans needed for their companies, in addition to being hardest hit by the pandemic.
So, the Black Economic Council of Massachusetts, or BECMA, unveiled a policy agenda last week for a post-pandemic "new normal" in the hopes of ensuring communities of color not only bounce back but also close those existing racial gaps. The group's focuses range from increased education funding to more diversity in public and private leadership.
At the top of the list, however, is a relatively novel idea informed from the far reaches of North Dakota: a state-run public bank.
"This is the time for out-of-the-box thinking," Gebru said in an interview.
BECMA is throwing its weight behind a bill to establish a state-owned bank in Massachusetts infused with a total of $200 million over the next four years. The bank, which Gebru says is one of the group's "core priorities" this legislative session, would provide low-interest financing for local cities and towns and small businesses with a focus on those who have been overlooked by the traditional commercial banking system.
Without having to maximize profits for shareholders, advocates say the government-run institution could help meet a currently unfulfilled need for capital estimated to be hundreds of millions of dollars in Massachusetts.
"The commonwealth really is leaving money on the table," said Christine Desan, a professor at Harvard Law School.
What would a Massachusetts public bank look like?
Currently, there's only one state-owned bank in the United States, the Bank of North Dakota, which advocates say is a testament to the model's effectiveness.
Established in 1919, the Bank of North Dakota was intended as solution to the small, agricultural state's struggles with out-of-state private banks that raised interest rates on farmers and unfavorable outside actors. But it has gone out to get into the business of home mortgages, economic development, student loans, and disaster recovery funding. It even offers basic checking and savings accounts. And in the early months of the pandemic, the bank garnered national attention after it helped North Dakota small businesses obtain Paycheck Protection Program funds quicker than any other state.
The type of bank BECMA is advocating for is similar but wouldn't offer direct financing or retail service. In other words, individuals wouldn't make deposits or get loans from it.
Rather, the legislation — sponsored by state Sen. Jamie Eldridge and state Reps. Mike Connolly and Nika Elugardo — would instruct the Massachusetts public bank to partner with local banks and credit unions to partially fund so-called "participation loans." Advocates say the model, which reduces the risk of exposure for the private banks, would help expand affordable lending.
"They don't displace the local banks." Nia Evans, the executive director of the nonprofit Boston Ujima Project, said. "They allow the local banks to do more."
In addition to small business that lack access to financing, proponents say the public bank would focus on providing affordable loans to help local municipalities recover from the pandemic — particularly Gateway Cities like Lawrence or New Bedford, which were among the most hard hit and have large minority populations.
"There isn't this mandate to maximize profit at the expense of everything else," Evans said. "They can think about lending credit more favorably and more generously."
According to Gebru, the public bank could be a powerful way of leveraging state revenue to support more community development, affordable housing, climate investments, and local agriculture. His group is also looking at whether federal funds could be used to "finance a one-time capitalization."
"If we use federal funds to match the bank, now we're talking about a $400 million capitalization as opposed to [$200 million]," he said.
Going forward, Desan says the bank could also help generate revenue in addition to the return on loan interest rates.
"What's fascinating about a public bank is, if you can actually spark and support economic development in a city, the returns are not just the returns on their own bit they're also returns — because the communities begin to prosper — of more tax revenue," she said.
If a public bank sounds so good, why doesn't the state already have one?
This is hardly the first time the idea has been raised.
Various forms of public banks were common in the United States during the 19th century, before the country shifted to private banks. And in 2011, following the financial crisis, Massachusetts legislators created a commission to study the feasibility of setting up a state-run bank to improve access to credit amidst the slow economic recovery.
However, the commission argued against the idea, following a 2011 report by the Federal Reserve Bank of Boston that said it would cost $3.6 billion for Massachusetts to create a public bank that was proportionate to the Bank of North Dakota.
"Capitalizing a new bank along the lines of the initial size of BND—but scaled up to reflect the current size of the Massachusetts economy—would require funds roughly equal to one-fifth of the state's general obligation debt," the report said, concluding that North Dakota's public bank has "relatively minor" economic impacts and that there were more cost-effective ways to stimulate economic activity.
A report by the Washington state treasurer's office in 2018 argued that a public bank would create "higher risk and lower return on investment compared to the current private banking system." Lobbying against the idea, the American Banking Association has argued such institutions would be "redundant" and "potentially dangerous." Even some liberal economists have their doubts.
"Some of its proponents really think this is the key to prosperity," Dean Baker, an economist for the Center for Economic and Policy research, told The New Republic in 2018. "And I just can't see that. I think it could bring fees down. I think, again, it could help to expose abuses in different areas because clearly the banks do a lot of gouging. I think that those are very, very good things. But I really can't see a story where a public bank qualitatively changes the state of the economy in a city or state that institutes it."
Still, advocates say it would have a transformative impact on expanding credit access to address persistent racial disparities that have only been exacerbated by the pandemic.
"We've seen these gaps in affordable financing — they've been there for decades — and COVID just makes them more clear," Desan said.
In the release for its recent report, The Boston Foundation said that COVID-19 had "made the unmet demand for capital, which was already estimated at $574 million or more annually in Massachusetts, even worse."
The report noted that Black-owned firms were almost twice as likely not to receive any debt financing than white-owned firms. Among entrepreneurs with with a high-risk credit profile, 72 percent of people of color received none of the debt financing they requested, compared to just 46 percent of white-owned firms. And at the national level, Black- and Latino-owned firms receive just 3 percent of venture capital investments.
In its report, The Boston Foundation endorsed the idea of establishing a state-run bank that would partner with other lenders to make credit more accessible, particularly for people of color. The nonprofit also noted that the 2010s debate around public banking in Massachusetts did not focus on the racial disparities at hand.
"I think the moment is right now, politically speaking," Gebru said.
Newsletter Signup
Stay up to date on all the latest news from Boston.com