Cycling
Boston-area voters want more room for outdoor dining and bikes — even if it means less for cars
"It's clear voters are looking for ways to put street spaces to a wider set of uses."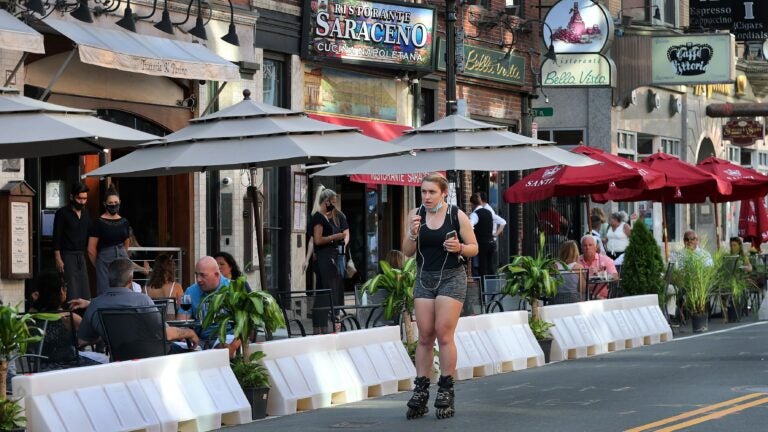 In the midst of the pandemic, Boston and surrounding communities claimed parking spots and vehicle lanes to devote space for things like walking, biking, and outdoor dining.
And it turns out, many local residents don't want that space to go away with COVID-19.
A poll released Thursday by The MassINC Polling Group shows that Boston-area voters overwhelmingly support the pandemic-era moves to use street space for things like outdoor dining and bikes, even when it comes at the expense of space for cars.
According to the poll, 83 percent of respondents said they supported changing streets in their communities to make more space for outdoor seating, 79 percent said they supported doing so for outdoor dining, 75 percent said they supported doing so to create separated bike lanes, and 71 percent said they supported expanding sidewalks.
Richard Parr, the research director for The MassINC Polling Group, said that the wide margins of support were particularly striking given that the language of the question made the tradeoff "quite explicit," noting that the changes might mean "less space for cars."
Around 70 percent of residents also said they would support devoting more space for bike parking or bicycle stations, while around two-thirds of respondents said they supported more bus-only lanes to speed up trips.
Even the change with the lowest support — closing certain streets to car traffic completely for pedestrians and cyclists to use — was backed by 59 percent of voters.
"We know street space is a premium in Greater Boston, and so we prefaced these questions by telling voters these changes would mean less space for cars," Parr said in a statement. "It's clear voters are looking for ways to put street spaces to a wider set of uses."
The poll surveyed 670 registered voters living in the Boston area — defined as communities within or bordering Route 128 – including 418 residents of Boston.
While Democrats were more likely to "strongly" support shifting the use of street space, the poll also found large majorities of Republican voters also favored devoting more room for public seating (73 percent), outdoor dining (69 percent), and separated bike lanes (56 percent). GOP voters also said they supported more bus-only lanes by a 49 percent to 36 percent margin, but were evenly split on the subject of closing off streets completely for pedestrian use.
Newsletter Signup
Stay up to date on all the latest news from Boston.com