Local
Dorchester Food Co-op closing in on grand opening about 10 years in the making
"It's definitely great to be at this stage where we're only about a year away from a grand opening."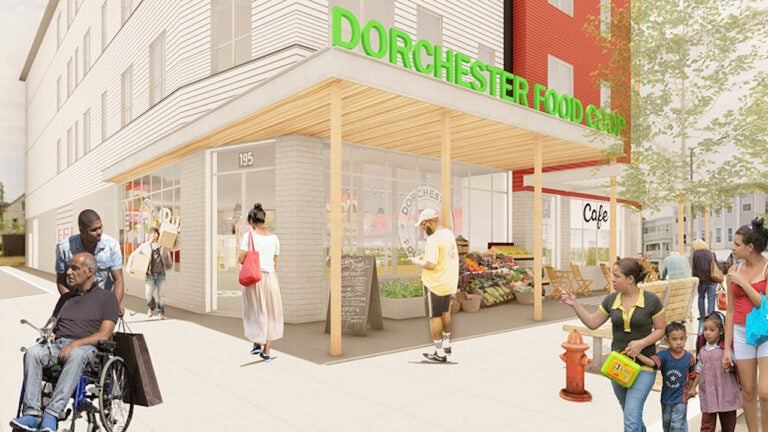 After roughly a decade of organizing, the Dorchester Food Co-op is closing in on its planned grand opening in 2022.
And with the co-op comes opportunities, according to Marcos Beleche, president of the organization's board of directors. These include access to nutritious food for residents in the area, as well as new job opportunities, plus the ability for members to help control what the new market will sell.
"It's definitely great to be at this stage where we're only about a year away from a grand opening," Beleche said in a recent interview with Boston.com.
The new market will sit at the corner of Bowdoin and Topliff streets on what was an empty plot at 195 Bowdoin St. Above the co-op there are plans for 41 affordable housing units, plus 46 parking spaces on the property.
Creating access
The co-op will be situated in a part of Dorchester that is home to many people of color, as well as people considered low income, according to Beleche.
Customers will be able to use Supplemental Nutrition Assistance Program, or SNAP, benefits there, he said, which will help "to overcome barriers to access." Any type of food benefit will be accepted.
The co-op also will provide an opportunity for residents to be able to buy nutritious food. Beleche said in the past an analysis showed that it "was so much easier" for people to buy junk food in the area, noting that the closest grocery store was a mile or more away.
A past analysis by the Massachusetts Public Health Association shows that part of Dorchester is considered to be both low income and with low access to groceries.
"I think certainly the pandemic has shown just the level of food insecurity that exists in our communities," Beleche said.
The Dorchester co-op isn't alone in its endeavor to provide access in communities where people of color live, he said. Throughout the country, there's been an uptick in the emergence of co-ops in communities of color where there's a lack of opportunity to buy healthy food.
A community space
Creating the co-op is also about creating a community space. Within the market, a cafe is planned, according to Beleche, noting that "people have made that very clear" that it's something they really want.
The cafe space may be rented out to food entrepreneurs, who would manage that space, he said.
The organization also engaged with the community through a design series last fall. A table was set up and people were invited to contribute their ideas, according to Beleche.
Part of being in the community is also selling food and products made locally, he said.
"I think having those local ties matters to people," Beleche said. "It's something that many, many people are interested in."
Newsletter Signup
Stay up to date on all the latest news from Boston.com