Local
Why 50,000 Beatles 'butcher' LP covers could be buried in Needham
"Destruction was accomplished by having a hole dug by a clam shovel in a swampy part of the Needham Town Dump."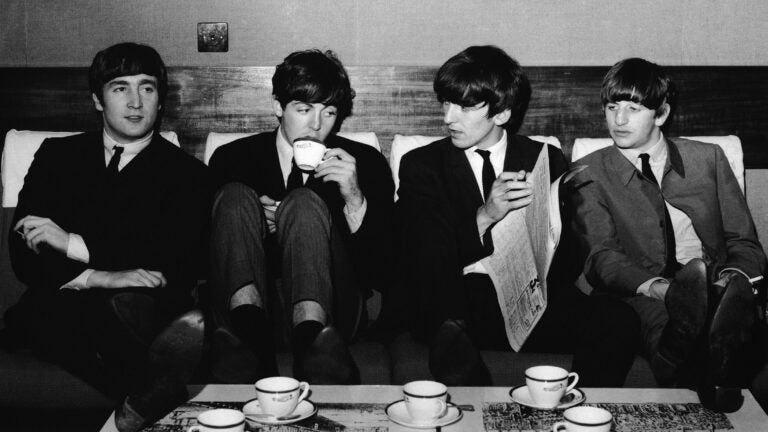 Boston Beatles fans may want to break out their shovels: could 50,000 rare Beatles "butcher" covers really be buried in a Needham landfill?
On June 27, 1966, historical archives show Boston's Capitol Records team finished burying thousands of the now-collectible "Yesterday and Today" record covers in the Needham town dump.
Ryan Walsh, a local author, indie musician, and musical historian of sorts, shared his discovery on Twitter on June 25. He posted photos of a June 28, 1966 memo describing the records's destruction, and a June 25, 1966 Boston Globe article on why the covers were destroyed.
There were 750,000 copies of the original "butcher" LP cover in the hands of distributors all over the country when Capitol Records made the call to change the cover, according to the 1966 Globe article. The company had sent out some advance copies to DJs and reviewers, many of whom called and "protested vehemently" about the cover.
The controversial photo on the jacket, taken by Robert Whitaker, depicts the Beatles "surrounded by decapitated naked baby dolls and raw loins of beef." The new cover shows the Beatles standing around a stage trunk.
In 1966 the Globe reported this as a "$250,000 goof," which today would equal a little over $2 million, accounting for inflation.
According to the memo, 50,700 records were shipped to Capitol Records's Needham distribution center. When company executives made the call to change the cover, local distribution manager Joe Sobeck had to come up with a solution to get rid of the old covers in a secret, secure fashion.
"Destruction was accomplished by having a hole dug by a clam shovel in a swampy part of the Needham Town Dump," Sobeck wrote to National Distribution Manager R. L. Howe. "By the time the hole was ready for us it had filled with water. The jackets were dumped on the ground as close as possible to the hole and then a bulldozer pushed the jackets into the hole. The hole was then covered with about one to two feet of dirt and will subsequently be covered with garbage which will be well compacted as time goes by."
Walsh posted another document which described the incident in detail, but noted that it's unclear who authored it.
After Capitol Records recalled the original "butcher" record, the cover became a collector's item for rock fans. In April 2013, an original cover sold for $11,632 and in May 2019, John Lennon's own copy sold for $250,000. There is also a Facebook page dedicated to discussing, buying, and selling the Beatles "butcher" LP cover, called "The Beatles Butcher Cover Owners Exchange."
According to WCVB, the covers lie somewhere under what is now Claxton Field, right across from Needham's Recycling and Transfer Station.
Newsletter Signup
Stay up to date on all the latest news from Boston.com