Local
'We will no longer be treated like we're invisible'
Here's what the newly formed Boston Black Men's Committee will focus on.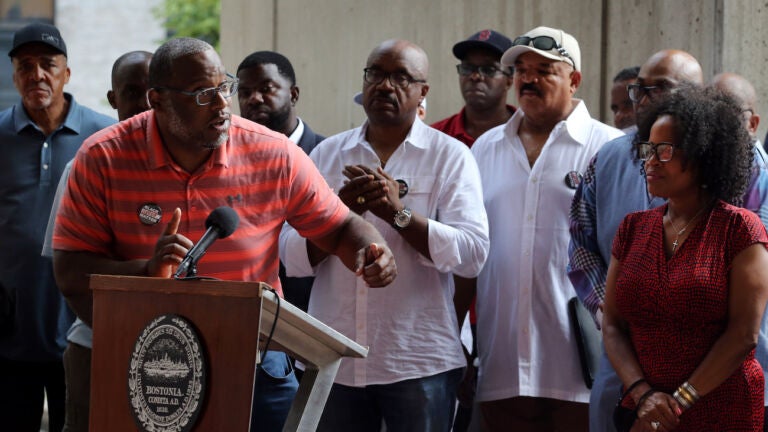 At a Tuesday press conference outside Boston City Hall, civic and political leaders gathered for the announcement of a newly formed cohort, the Boston Black Men's Committee, to take on a variety of issues, from economic inequality to voter engagement, ahead of this fall's municipal elections.
Notably, members of the committee are pushing for the revival of a city commission to study issues facing the city's Black boys and men, which dissolved under former mayor Marty Walsh's administration in 2014, The Boston Globe reports.
Walsh, at the time, vetoed the proposal by then-city councilor Tito Jackson, writing that the creation of the group violated the city charter and, if created, it would "duplicate and complicate efforts that [Walsh's] administration is already engaged in."
"We are here to be heard, our votes are here to be felt, and our impact is also here to be felt," Jackson, one of the conference's co-organizers, said Tuesday.
Earlier this month, City Councilor Julia Mejia filed an ordinance to re-launch the committee, along with another committee that would work to address issues facing Latino men, according to the newspaper.
"The work and the issues [that Black and Latino men and boys face] are not the same," Mejia told the Globe. "My hope is that . . . all of the issues impacting these men will bubble up to the top."
City Councilor Ricardo Arroyo is co-sponsoring the measure and said he hopes both commissions also review topics that are not usually considered issues facing men of color, including gender and LGBTQ issues.
"I want to make sure we create sort of a safe space that they would want to utilize to this effect and . . . in such a way where it actually creates the result that we're seeking," Arroyo said.
According to GBH, the Boston Black Men's Committee plans to advocate for more educational opportunities and civic engagement, as well as additional assistance for formerly incarcerated people and attention for mental health concerns.
Voting rights activist Ron Bell, a member of the committee, said the group will seek to register and educate 20,000 Black voters ahead of the city elections later this year, the news radio station reports.
"Part of that effort will be provided by voter-education materials, with information related to election candidates, government departments and how they function, ballots and mail-in options, available resources for citizens and procedures for contacting local officials," Bell said.
Acting Mayor Kim Janey also attended the press conference, where she detailed how her administration is working to build wealth in the city's Black community, such as through home ownership initiatives, the Globe reports.
"We could talk all day about the stats, but it's more important that we do the work," Janey said.
Tuesday's event was initially listed on the city's website, but the city ultimately did not use a online livestream that was created to broadcast the event.
A spokesperson for Janey directed questions ahead of the press conference to Jackson, who was described as the coordinator, according to GBH.
Bell said both the murder of George Floyd by Minneapolis police officer Derek Chauvin and the COVID-19 pandemic that has disproportionately impacted people of color last year have highlighted the trauma Black men and boys have long had to live with, the Globe reports.
"We will no longer be treated like we're invisible. That's the whole goal," said Bell. "We want people to know that we're here, we're not going anywhere."
Newsletter Signup
Stay up to date on all the latest news from Boston.com