Local
3 pipeline protesters arrested after large sit-in at energy giant's Waltham offices
The arrests come after dozens of activists staged an occupation of the offices of the company behind the Weymouth compressor station and other pipelines.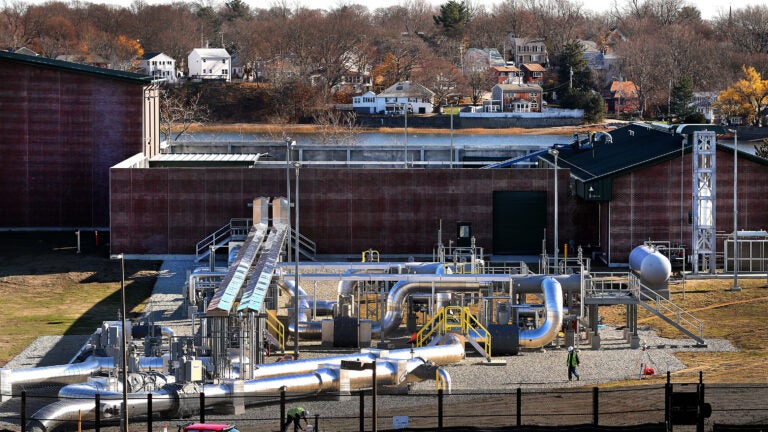 Three activists who refused to leave the Waltham offices of the pipeline company Enbridge were arrested by police Wednesday afternoon, ending a more than 27-hour occupation in protest of the multi-national energy giant behind the controversial Weymouth compressor station and other fossil fuel projects around the country.
Waltham police say they arrested Nathan Phillips, a 54-year-old Auburndale resident; Alexander Chambers, a 22-year-old Boylston resident; and Samantha Hayward, a 22-year-old Castleton, Vermont, resident. Each was charged with one count of trespassing.
"This group held space throughout the night and into the afternoon today," organizers of the protest wrote Wednesday on Facebook.
"We will keep fighting," they added.
The arrests came after roughly 70 peaceful protesters marched up to Enbridge's third-floor offices at the Reservoir Woods office park in Waltham and began chanting and playing music. They also blocked one of the entrances to Enbridge's offices inside the commercial building, demanding to speak to one of the company's leaders and vowing not to leave until five demands were met.
At one point during the demonstration, one of the protesters — identified by WBUR as Wen Stephenson — read off their list of demands.
Stephenson called on Enbridge to stop its construction to replace the Line 3 crude oil pipeline from Canada through Minnesota to Wisconsin and shut down the Weymouth compressor station, the West Roxbury Lateral Pipeline, and the Alton Gas project in Nova Scotia. They also called for a Minnesota sheriff to end a "dangerous" blockade of an anti-Line 3 protesters' encampment.
Demonstrators sought to directly confront Enbridge officials with those demands, according to videos posted online by Fore River Residents Against the Compressor Station (FRRACS), the group behind the sit in. However, the company had locked its doors and did not respond.
"Our first priority is the safety of all involved – our workers, law enforcement and the protestors themselves," Max Bergeron, a spokesman for Enbridge, told Boston.com in an email.
Bergeron said that the Canadian-based company recognizes "the rights of individuals and groups to express their views legally and peacefully," but added: "We don't tolerate illegal activities of any kind including trespassing or other mischief."
In response to the group's demands, Bergeron noted that Enbridge had held public meetings, engaged "regularly with our neighbors," and listened to comments from "diverse groups and individuals."
"Pipeline projects also go through extensive public permitting processes which provide additional opportunities for those interested to be heard," he said. "We are proud to serve our communities by responsibly delivering the energy we all rely on."
Enbridge has repeatedly said it is committed to providing safe and affordable energy. But four unexpected shutdowns of the Weymouth compressor station since it began service last year have only amplified local residents' concerns about safety, as well as the region's larger, continued reliance on fossil fuels. Sens. Elizabeth Warren and Ed Markey and Rep. Stephen Lynch have asked federal regulators to grant a rehearing request by FRRACS on the station's approval.
Waltham police say they were called to Enbridge's offices Tuesday in response to the sit-in. After discussions with the property management company, they decided to "allow the protesters to remain for a period of time," the department said in a press release.
According to police, about 20 protesters remained overnight. After repeated requests, most of the group left Wednesday, leaving just Phillips, Chambers, and Hayward sitting arm-in-arm outside Enbridge's glass doors.
A video taken by Phillips shows the group trying to negotiate with police, who warned they would be arrested, to get a response from Enbridge. After an officer repeatedly said that Enbridge had no plans to fulfill that request, the trio stayed put, and at roughly 2 p.m., police decided to arrest them for trespassing.
"If you guys don't want to go, we're gonna take you," one officer said.
Newsletter Signup
Stay up to date on all the latest news from Boston.com