Local
State police K-9 finds missing girl; another locates a suspect in a separate search
The K-9s assisted with separate searches in Millbury and Tewksbury.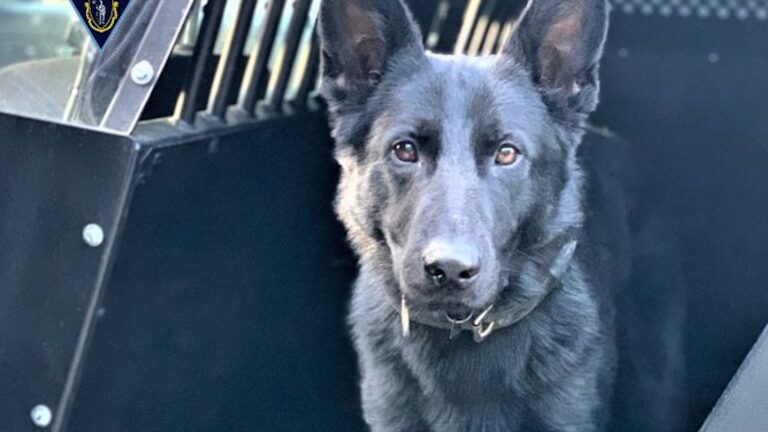 State police K-9s had a busy 24 hours this week in Massachusetts.
On Wednesday morning, Millbury police requested help from state police searching for a female juvenile. Trooper John Doherty and his K-9 partner Roxy responded to the home where the young woman was last seen, and Roxy was deployed on a track with the juvenile's scent, according to police. The four-legged officer led her partner down the street toward a wooded area and eventually to an overpass of the Mass. Pike.
"Roxy pulled to the left side of the road toward the fence line where she displayed a proximity alert and appeared to want to get through the fence down to the roadway below," police said. "Trooper Doherty and K-9 Roxy found a path around the end of the fence to below where she pulled under the overpass."
They located the missing girl, who was not injured, up an incline near the bridge deck. The girl was taken for evaluation by EMS.
The next morning, Trooper Dan Purtell and his K-9 partner Binks responded to help Tewksbury police after one of the town's K-9 officers conducted a traffic stop where the vehicle backed into the police cruiser and fled the scene.
The Tewksbury officer was not injured, and shortly after officers located the vehicle abandoned in the front yard of an Andover Street residence, according to police. Officers received a 911 call from residents of a nearby home reporting a man with a flashlight in their backyard.
Purtell and Binks arrived in the area a short time later and conducted a traffic stop of what Purtell observed to be a suspicious vehicle.
"The operator informed Trooper Purtell that he drives for a rideshare service and was heading to pick up a passenger at a nearby residence," police said. "The individual never arrived for the pickup at which point Trooper Purtell deployed K-9 Binks from the backyard of the intended pickup point."
Binks led officers through a field and in and out of backyards to the woods behind a nearby school. Troopers observed a man without a shirt walking near the school building, police said.
"The tracking team and Tewksbury Police, including their K-9, arrived shortly thereafter and was able to positively identify the suspect," police said. "He was placed under arrest and transported to Tewksbury Police for booking."
The name of the individual was not released by police.
Newsletter Signup
Stay up to date on all the latest news from Boston.com