Local
Firefighter bagpipe band members save float driver at Quincy Fourth of July parade
"We were lucky to be in the right place at the right time."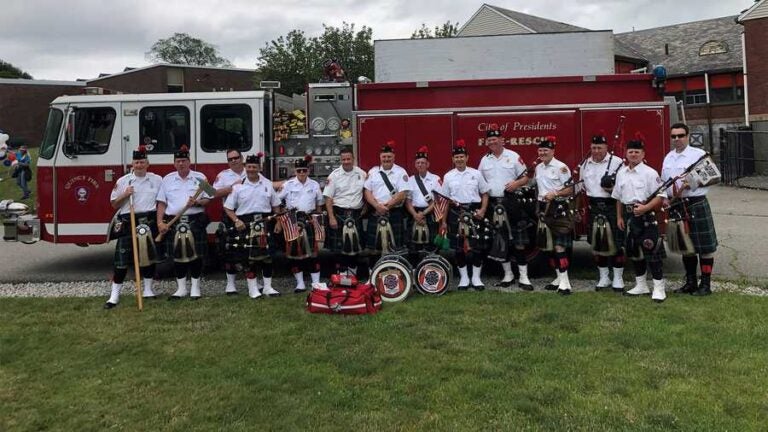 A man, and potentially many others, were saved during Quincy's Squantum Fourth of July Parade Sunday thanks to the quick work of off-duty firefighters in a bagpipe band.
"We were lucky to be in the right place at the right time," the Greater Boston Firefighters Pipes and Drums band posted on Facebook Monday. "Hoping the gentleman we pulled from the truck is doing well. We are so glad that all of the kids are safe."
According to a Facebook post by the Quincy firefighter's union on July 4, members of the band were behind the Squantum School when the parade was coming to a close and heard some commotion. They saw a man slumped over the steering wheel of a truck that was transporting a parade float, and was still moving slowly. The post noted that this was "most likely averting a disaster" as there was still a big crowd in the area.
The men jumped into action, the Friends of Quincy Firefighters IAFF Local 792 wrote, securing the truck's brakes and engine, and removing the man to begin performing CPR. An off-duty Quincy firefighter hopped in a nearby golf cart to retrieve a defibrillator from a Quincy fire engine stuck in traffic along the parade route.
According to the post, the off-duty firefighters administered two shocks to the victim, who was able to start talking and was transferred to an area hospital.
"Our thoughts and prayers are with the victim, who we all pray has a good outcome," the union wrote. "Awesome job by everyone involved this morning. Just another example of how we are always "on duty" in the fire service."
Quincy Police shared the post on Facebook, noting "great work by all involved."
Newsletter Signup
Stay up to date on all the latest news from Boston.com