Local News
How the Baker administration wants to use COVID-19 relief funds to close the racial homeownership gap
"It's almost reparations."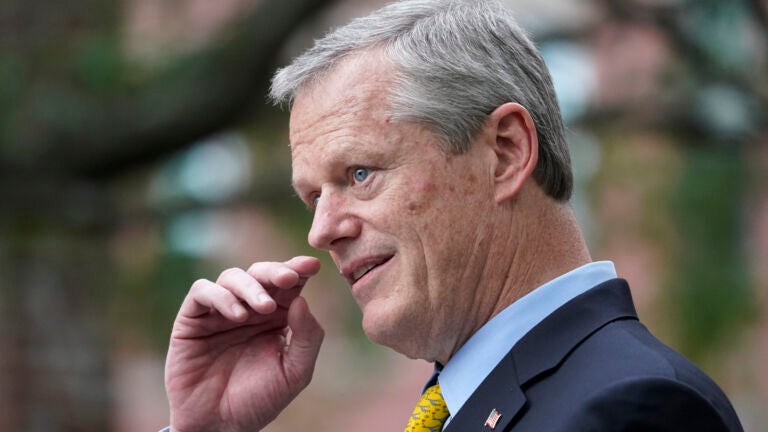 Massachusetts has one of the largest racial homeownership gaps in the country. And in the midst of the ongoing debate with State House leaders over who gets to spend roughly $5 billion in recent direct federal COVID-19 relief funds to the state, Gov. Charlie Baker is pushing to immediately use some of the money to address that gap in the hopes of closing one of the root causes of the racial wealth divide.
He even has some State House leaders on his side.
"This man has come up with a plan," state Rep. Bud Williams, a Springfield Democrat and co-chair of the Legislature's Joint Committee on Racial Equity, Civil Rights, and Inclusion, said during an event Wednesday in Springfield, touting Baker's proposal to invest $2.9 billion of the state's American Rescue Plan funds.
After the Republican governor and legislative leaders clashed over who would have control over spending the $5.3 billion, Baker — faced with a veto-proof Democratic majority in the State House — relented and signed a bill last month to effectively put the money into the Legislature's hands. However, he also followed up by filing legislation to immediately invest $2.9 billion to address urgent issues, while leaving the remaining $2 billion (several hundred million dollars have already been spent) to be allocated later on.
Under the governor's plan, housing would get over a third of the $2.9 billion.
Roughly $1 billion would go toward housing production and homeownership, including $300 million to support expanded homeownership opportunities, focused on first-time homebuyers in communities that were hardest hit by the pandemic.
"I am deeply concerned about what's happening to housing prices, everywhere in the commonwealth," Baker said Wednesday.
Baker added that one of the ways to give people — particularly those who were locked out of homeownership due to discriminatory government housing policies of the past — "some control over their own destiny is to make it possible for them to own the home."
Massachusetts currently offers down payment assistance loans of up to $15,000 to first-time homebuyers who earn up to 100 percent of their area's median income (AMI) — and up to $25,000 in assistance to those making up to 135 percent AMI in Boston and 26 other so-called Gateway Cities.
Williams said that Baker has proposed upping first-time homebuyer assistance to $50,000 to $60,000.
"It's a game changer," he said.
Neither the governor's office nor Williams's team had additional details about the proposal beyond the numbers broadly outlined last month.
Baker administration's began the push for their plan Tuesday, ahead of expected legislative hearings later this month, according to the State House News Service. Legislators have argued the funds should be appropriated though the public process with input from elected officials and advocacy groups.
"We can all agree a number of those are well conceived and worthy," state Rep. Dan Hunt, the chair of the House Committee on Federal Stimulus and Census Oversight, said of Baker's plan last month, according to the news service. "We don't deny that. We just think it's important all 160 members of this body and 40 in our sister body have a chance to have their voice heard."
House Speaker Ron Mariano and Senate President Karen Spilka told The Boston Globe that they expect the subject of housing to be among the priorities considered during the appropriations process.
According to Williams, the increased investment proposed by Baker could be instrumental in closing persistent racial wealth gaps, after federal housing laws excluded Black families from getting home-buying subsidies in the suburbs during the mid-20th century, perpetuating a massive national racial wealth gap.
"The federal government redlined this country, and those lines still exist," Williams said.
According to the Baker administration, Massachusetts has the sixth-largest racial homeownership gap in the United States; while 46 percent of households of color nationally own their own home, that rate is just 34 percent in the Bay State.
Officials say the gap has driven "significant disparities in household wealth." Infamously, a 2015 report found that the median net worth of Black households in the Greater Boston region was $8, compared to $247,500 for white households. Housing disparities also have downstream effects on things like education inequality, experts say.
"We claim to be a progressive commonwealth, and I believe on a lot of issues we are," Baker said Wednesday.
"But we have a great opportunity here, and we should not blow it on this one," he added. "We should put a ton of money into homeownership and into affordable housing."
His legislation also proposes to invest $200 million in the state's recently launched CommonWealth Builder Program to support increased housing production in Boston and the 26 Gateway Cities as part of the efforts to address the racial homeownership gap.
"It's going to take money to repair this," Williams said. "It's almost reparations … So let's get behind this man. Homeownership, we got to create wealth. If we create wealth, we can solve some of our own problems with the money to repair our communities."
Newsletter Signup
Stay up to date on all the latest news from Boston.com