Local
Police ID suspect in Middleborough incident involving gunfire
No injuries have been reported.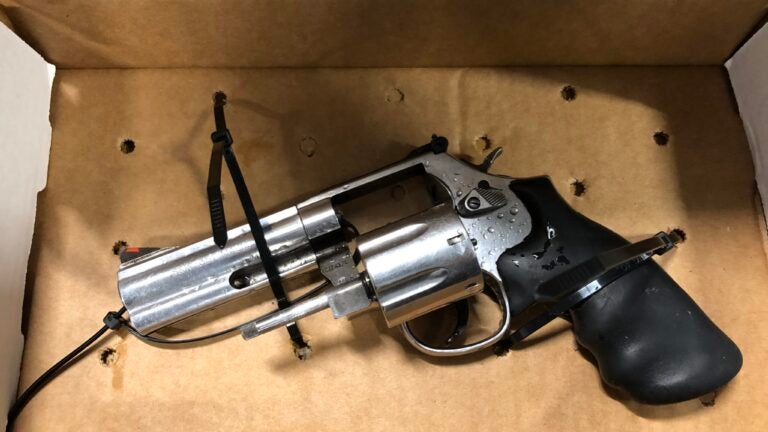 Middleborough police have identified the man accused of shooting at a state Department of Transportation public works depot Friday morning.
Raymond Gibson, 55, of Falmouth, is being charged with two counts of malicious destruction to a motor vehicle, and one count each of disturbing the peace, discharging a firearm within 500 feet of a building, and discharging a firearm near a highway. Gibson's arraignment is set for Wareham District Court on Friday, according to police.
No one was injured in the incident, authorities said.
"At this time [it] does not appear that any individuals or groups were targeted in the incident, but Gibson's motive remains under investigation," police said in a press release.
Gibson had a license to carry, which has now been suspended by the Falmouth Police Department. The gun he had on him – a .357 magnum revolver – was registered to him.
It was around 9:05 a.m. Friday that police were called to 201 West Grove St. for a report of shots fired. Gibson allegedly fired the handgun while standing along the street; police say two vehicles were hit by gunfire. Gibson then allegedly took off on foot into nearby woods.
Five people across the street from the MassDOT facility said they saw the four to five shots fired from near the road, outside the facility; it was unclear if anyone was in the facility at the time.
Heavy police presence responded to the scene, including Middleborough police, state police, including tactical teams, plus the Southeastern Massachusetts Law Enforcement Council, or SEMLEC, a regional SWAT-like law enforcement consortium that responds to major crimes.
Some of the responding officers were stationed at a large apartment complex nearby, which has 240 units, said Middleborough Police Chief Joseph Perkins at a press conference.
Around 11:30 a.m., according to police, a Middleborough officer saw Gibson lift his head up while he was laying on the ground in the woods. Police ordered him out of the woods, and he was arrested. Police allegedly found the gun near where he had been hiding.
Residents near where the incident occurred were urged to shelter in place while police searched.
"We're extremely thankful that no one was injured in this incident," Perkins said in the release. "This was not an easy response given the heavy rain from the storm and it was great work by our officer who spotted the suspect in the woods, leading to his arrest."
Newsletter Signup
Stay up to date on all the latest news from Boston.com