Local
Did you gain weight during the pandemic? Here's what an expert says you can do.
A survey revealed that over half of respondents had gained weight during the pandemic.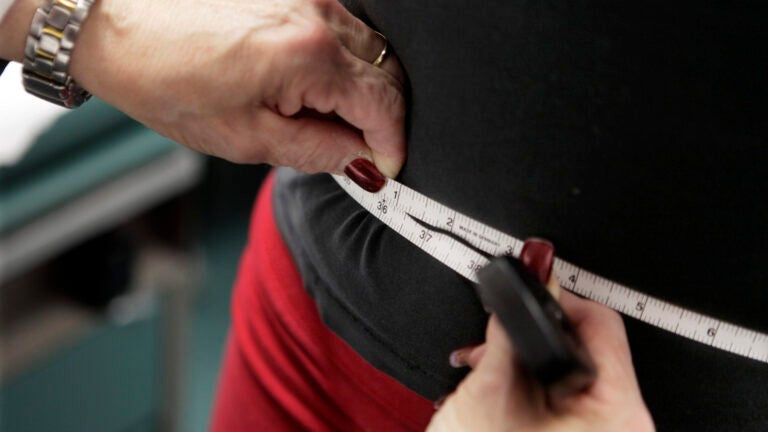 Coming out of the pandemic, many may have felt they spent the time in lockdown eating unhealthy, and gaining some weight.
But the typical reasons people think of when it comes to potential weight gain during that period – gym closures or simply inactivity – may not have played the biggest role in putting on some additional pounds.
One of the major culprits is prolonged stress, according to Dr. Fatima Cody Stanford, an obesity medicine doctor at Massachusetts General Hospital and Harvard Medical School. Stanford recently became the spokesperson for Why Weight? Communicate, a free website dedicated to giving tips on how to speak to your doctor about weight loss.
"A lot of people thought, 'Well, we were inactive, and gyms were closed'" Stanford said in a recent interview with Boston.com. "And yes, so physical activity is great in helping us to maintain our weight. But one thing that people aren't taking into account, which was a much larger factor regardless of what community you came from, what's your racial ethnic background, what's your socioeconomic status, and that was the fact that it was the stress that we didn't have an end in sight."
Survey results
A national survey of 2,044 adults conducted in March – nearly 550 of whom had obesity or excess weight – 57 percent said they had gained weight during the pandemic. About three-fourths of respondents said they gained 10 pounds or more. Meanwhile, half of the respondents said they gained 15 pounds or more.
About 94 percent said there are challenges to weight loss, like feeling hungry and being unable to keep the weight off, though nine of 10 are trying to lose weight.
However, when it comes to speaking with a health care provider about it, over half said they are uncomfortable approaching their providers due to feelings of guilt or fear of being judged. About a third have not spoken with their provider at all, according to Currax Pharmaceuticals.
The pandemic and weight gain
Prior to COVID-19, the last major pandemic was the flu pandemic in 1918 caused by the H1N1 virus, according to the CDC. It's out of living memory.
"And so we don't know how to navigate that," Stanford said. "Like what does the end look like, how do we get out of this? Will you always be sitting in front of your computer for the rest of your life? Will you have to distance? Can you not contact or interact with other people?
"Chronic stress is an increase in inflammation, which leads to increased storage of fat," she said.
Considering the emotional and mental health toll brought on by the pandemic, Stanford said that chronic stress can lead to higher obesity rates. It's the same with any stressor – systemic racism, and childhood trauma being a couple of examples.
"The pandemic has been one of the largest stressors of our lifetime," she said. "You can ask almost anyone, and they will answer that."
Added to possible other sources of trauma or stress, these can build up together, Stanford noted.
"That chronic stress which we saw during the pandemic, we see with racism, we see with trauma, we see with persons that had early childhood trauma," she said. "All of these things lead to increased obesity rates."
Obesity and medicine
Though the survey would suggest that people are concerned about pandemic weight gain, it also shows they may not talk to their health care provider about it. There are a variety of reasons, as cited in the survey – guilt, being judged, or other negative feelings that could come with discussing weight.
That comes down to how providers themselves feel about obesity, and if they recognize it as a disease.
"It is not part of the curriculum in medical schools, nursing schools, et cetera," Stanford said. "If that's the case, that means that most of the people you would interact with in healthcare know just as much about obesity as you might know."
Obesity was not recognized publicly as a disease until 2013, she noted. However, nearly 43 percent of middle-aged people in the U.S. have obesity as of February 2017, according to the Obesity Medicine Association.
"Then you can understand why there's this significant lag in how physicians and other healthcare providers communicate because there is this assumption that it's just something you did to yourself, you just need to do better," Stanford said. "That's basically what we learned – eat less, exercise more, and you should be fine. The problem is patients go out and do that, and they put forth these valiant efforts and then come back to their doctor, and their doctor and/or healthcare provider is still not listening to them because they have that bias."
The key is to change the conversations around obesity and how to address it.
"We have to be willing to recognize obesity for the disease it is and offer compassionate care for our patients," she said. "I can tell you that I spend quite a bit of time at every initial visit, like a new patient appointment, really having to undo what they've learned in the healthcare setting about how [they] negatively view themselves."
Then there are other factors that need to change in healthcare to make obese patients feel more welcome, she noted. These include making sure there are chairs in different sizes in the waiting room and making sure there are blood pressure cuffs that fit different sizes. Weight stigma is the second most common stigma behind racism, Stanford said.
BMI
While body mass index is a helpful tool for looking at large groups of the population, Stanford said it isn't helpful on an individual level. This idea has been echoed by other professionals in the field.
BMI was developed by using actuarial data from the Metropolitan Life Insurance Company, Stanford said. This data, as she wrote in a letter to the editor of Mayo Clinic Proceedings, was pulled in 1942, and an "'ideal' weight" devised. The data was pulled from white people – people of color were not included.
With her own patients, Stanford said she does not give them a target weight but instead evaluates a patient's progress from where they started, as well as looking at their percentage of excess body weight.
Talking with a doctor
There are roughly 4,000 doctors across the country that are board certified in obesity medicine, Stanford said, but she recommended that those wanting to ramp up a weight loss journey should talk with their health care provider first and see how it goes.
Treatment could mean lifestyle changes, but it could also include medications or potentially surgery.
How someone loses weight, and how fast, is individual to them, even within families. In one family, Stanford said she's treating a grandmother, grandfather, and their granddaughter. She said all of them are progressing, but they've all used different techniques.
When thinking about her patients, she says she treats them like family.
"We want people to be able to talk about their weight in a happy, healthy step forward, and feel empowered to do so," Stanford said.
Newsletter Signup
Stay up to date on all the latest news from Boston.com