Local
Dog found abandoned, abused in Randolph recovering from leg amputation surgery
"He's been living with this, in pain, for many, many weeks."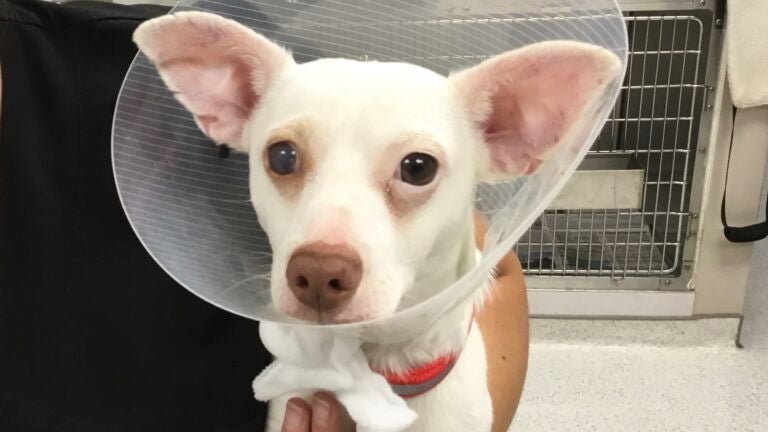 Skippy, the dog found abandoned and abused in a cage in Randolph, is skipping toward recovery.
Skippy had one of his legs amputated, Norfolk Animal Control Officer Hilary Cohen told WCVB. One of his back legs was "shattered," leaving the small white dog in what she deemed unbearable pain.
"He's been living with this, in pain, for many, many weeks," she told the news station.
Skippy was found in a cage near the intersection of High Street and Scanlon Drive around 1 a.m. Monday, Randolph police said. He was turned over to Norfolk Massachusetts Animal Control and Shelter.
Norfolk resident Eric Weloth told WCVB that he and some friends saw Skippy about 50 feet from the road that night, and they could tell he needed help.
"We saw the dog and we were just thinking: 'This is not good. No one's here for him,'" Weloth said, according to WCVB. "He was clearly just dropped off."
Skippy was reportedly out of surgery and recovering as of about 6:30 p.m. Tuesday, Norfolk Animal Control posted on Facebook. The department also said it would post when Skippy is ready for adoption.
Randolph police were seeking information on what happened to Skippy, noting that animal abuse is a "serious offense." The public is asked to call police at 781-963-1212, or Norfolk Animal Control at 508-528-3232, option 7, with any information.
Newsletter Signup
Stay up to date on all the latest news from Boston.com