Local News
An unexpected visitor: Wild Canada goose turns up at animal hospital to await mate in surgery
"They both seemed much more at ease in each other's presence."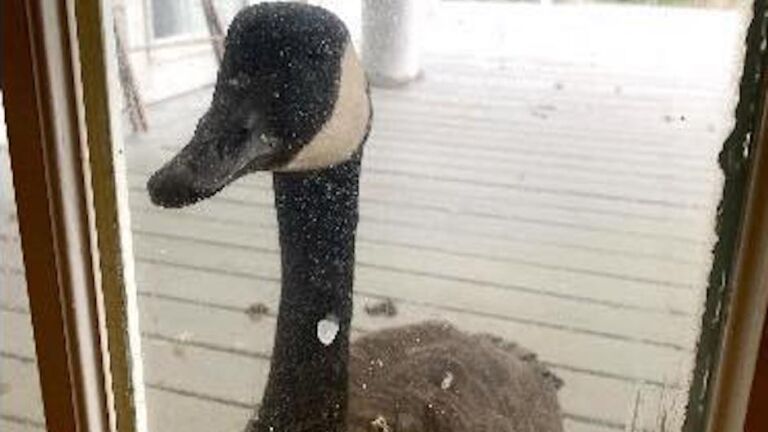 After taking in a Canada goose, named Arnold, for surgery, an animal hospital in Weymouth was greeted Wednesday with an unexpected visitor at the window.
"As we prepared to sedate Arnold and get him ready for surgery, we heard a faint tapping at the clinic door," wrote the New England Wildlife Center in their Facebook post. "We turned to see that his mate had waddled up onto the porch and was attempting to break into our clinic!"
Arnold's mate had somehow located him at the hospital where he was getting treated and seemed agitated that she could not enter. Throughout his entire surgery, she remained at the door.
After the surgery, hospital staff placed Arnold by the doorway with his flow-by oxygen to reunite the two. Once together, the mate began grooming through the door.
"They both seemed much more at ease in each other's presence," the hospital said.
The hospital was surprised to greet their first animal visitor, as they are usually accustomed to people asking to visit, which they do not accommodate. In this case, however, they made an exception for the mate.
Arnold and his mate are wild geese that live on a pond near the hospital and have been a pair for several years. The hospital took him in Tuesday after staffers noticed that he had developed a significant limp and was continuously falling over.
After a veterinary examination, they determined that he had two open fractures on his foot. The surgery included amputating one of the digits and closing the other wound in order to save the foot. Doctors believe this was a result of an attack by a snapping turtle or another kind of predator.
The hospital is now observing the recovery and providing treatment for Arnold for several weeks before releasing him back into the wild. Although he will not be able to be outside during this time in order to keep his wound sterile and prevent infections, they plan to "perform bandage changes and treatments in view of the doorway when possible so that his mate can check up on him," they wrote.
Newsletter Signup
Stay up to date on all the latest news from Boston.com